31 Mar

The Road to Mount Tongariro

There are some things we never had the time or inclination to do back in England – taking a seven hour hike up the side of a mountain was one of them. Only weeks after leaving the UK, however, we found ourselves battling up steep slopes and slipping over loose volcanic rock on our epic journey up Mount Tongariro in New Zealand.
Taking on the Tongariro Alpine Crossing
Even though I've never been good with early mornings there's something secret and special about getting up before sunrise and whizzing down dark roads towards a new adventure – it reminds me of childhood holidays in Devon or Cornwall. On this particular day we were up at 5am for the drive to Tongariro National Park to beat the sunrise and start hiking the Tongariro Crossing.
The enormity of what lay ahead hit me as we stepped out of the car into the frigid air; I looked up at Mount Ngauruhoe, which featured as Mount Doom in the Lord of the Rings film, and took a deep breath – this was going to be a tough climb.
We had decided to walk the popular Alpine Crossing, which leads you up Mount Tongariro giving a great view of Mount Ngauruhoe and the Emerald Lakes. This is supposed to be one of the best one-day hikes in New Zealand, but it's not without its dangers: Tongariro and Ngauruhoe are active volcanoes; in fact half of the crossing is shut because Mount Tongariro has been spewing smoke and chucking out red-hot lumps of rock recently.
Although the climb starts off relatively easy, about an hour in you reach steep flights of stairs which give way to rough paths littered with boulders, loose pebbles and blocks of black volcanic rock – at times I felt the road ahead was almost vertical. Clinging to the edge of the mountain, my chest heaving as I fought to catch my breath I could focus only on the physical effort of setting one foot in front of the next, feeling my calves screech and my thighs contract. The wind whipped at my face as I concentrated on picking over rocks and continuing to breathe.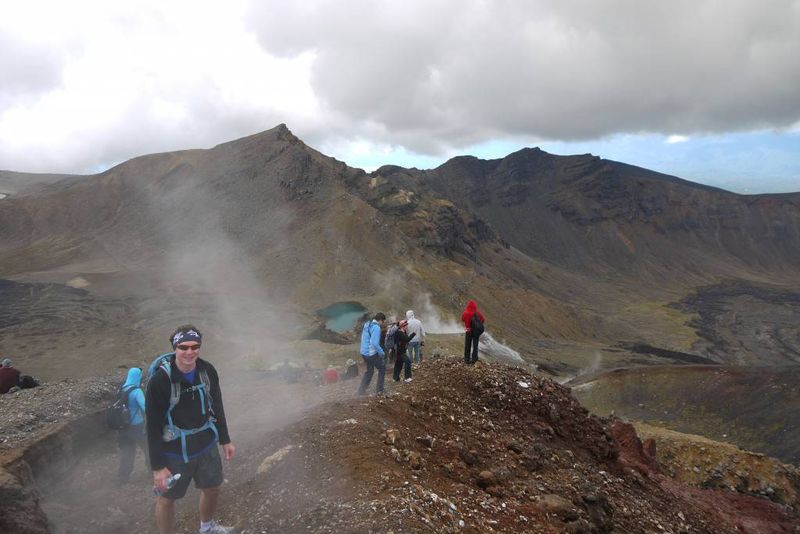 Conquering Mount Tongariro
It's so rare for me to be completely in the moment, for my mind not to be racing ahead, cycling through never-ending lists of tasks to be done, deadlines to meet, places to get to and from. But walking up that mountain I felt my mind finally fall still and my brain start to unclog. When we finally got to the top and took in the view of the volcano, the red, black and brown rocks contrasting with the emerald lakes I stood triumphantly, taking everything in.  I couldn't imagine my old self doing something like this. That's the thing with being here, of having changed things so radically – it's changing me too.
Back home my feet walk the same paths, my eyes fixed rigidly ahead. Now that I'm travelling I see the road widen and split off in all directions; feeling starts to flood back into me like blood finally pumping into constricted limbs; the blinkers fall from my eyes and I see finally what I've been chasing: that feeling of being really amazed by the world around me – of standing on a mountain under a clear blue sky on the other side of the planet.
Pin Me For Later!