12 Apr

Hiking on Fox Glacier

By the time we reached the South Island in New Zealand we thought we'd seen it all; volcanoes, beautiful beaches, geysers, glowworm caves, mountains and forests – but New Zealand had one more trick up its sleeve: Glaciers.

Our Fox Glacier Heli-Hike
What's amazing about Fox Glacier is that it's only 700 metres above sea level – there's no other place else at that latitude with a glacier so close to ground level.  That means you can opt to hike to the base of the glacier from town within a couple of hours but we thought we'd go one better and get a helicopter to drop us directly onto the glacier itself – cool, huh?
We booked our heli-hike with Fox Glacier Tours; although we'd already been in tiny aeroplanes for our skydive and a scenic flight over Golden Bay, we were still pretty excited to ride in a helicopter. Having to crouch down on its approach and wear ear mufflers to block out the noise made it even more of a novelty!
The view as we climbed up the mountains and swooped down low over the glacier was incredible. Apart from the blue-white ice everything else was so green because on the west coast of the South Island it rains so frequently – in fact, we almost felt like we were back in England it was so cool and drizzly.
Once we touched down on the glacier we strapped crampons onto our boots to stop us from sliding around, even then we had to walk flat-footed and stomp down into the ice to stay upright. We had a fantastic guide who walked ahead, telling us facts about the glacier while he hacked paths for us with his axe. We were led through an ice cave; these occur naturally as the ice moves downhill, forcing ice upwards into cave formations.
It's amazing how many different shapes the ice makes, the glacier looks pretty smooth and two dimensional from above but hiking up close you see a whole different landscape full of holes and crevasses, deep still pools and little rivers of ice-cold water which we scooped up and drank straight from our palms. The different light and depths of the ice caused some parts to look pure white while others looked bright, vibrant blue.
The ice is beautiful but it can also be dangerous; only a couple of weeks before we visited I heard a story on the news about a woman who'd fallen while climbing one of the glaciers very close to Fox. The Fox Glacier team went out to rescue her from where she lay on a ledge down a deep crevasse, with bones sticking out of her wrist and rib.  The Alpine climate also means weather conditions can change in minutes; we were lucky that the weather stayed fine during our three-hour hike, which absolutely flew by – before we knew it we were in the helicopter and heading back to earth after another amazing adventure.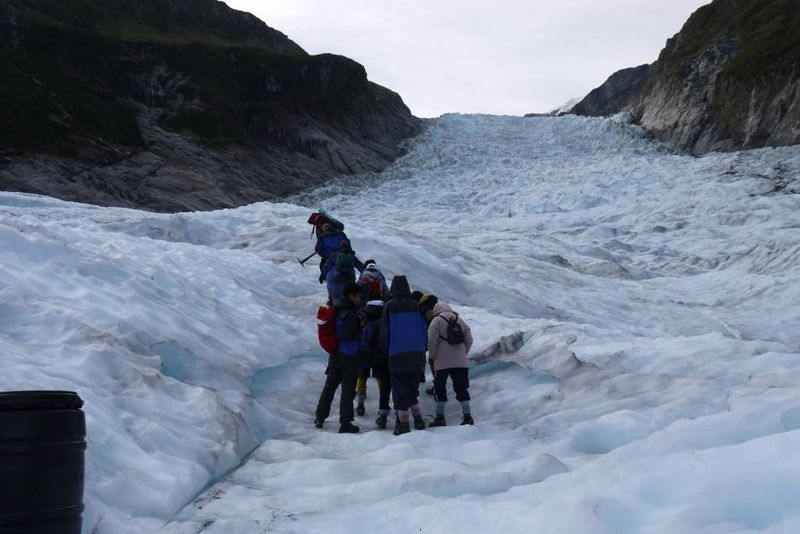 Pin Me For Later!
*Fox Glacier Heli-hikes cost £218.94 per person for a three hour trip – we received a 10% discount.