10 Jun

Our Experience of Backpacking in Australia

The second stop on our travel itinerary was a country we'd both been longing to visit for years – Australia. We were expecting a land of sunshine, beaches, chilled-out people and wonders as incredible as the Great Barrier Reef and Uluru. So, did it turn out to be everything we thought it would be? Here's our experience of backpacking in Australia
Places to Visit in Australia – Our Top 5
1) Melbourne – we fell instantly in love with Melbourne, a bustling city with laneways to explore, trams to ride, museums and parks to visit and thousands of quirky restaurants and bars.  We had the best day on the Official Neighbours Tour, we've both been watching this soap since we were kids so we were ecstatic to visit the set, check out Ramsay Street, meet members of the cast and win the trivia night.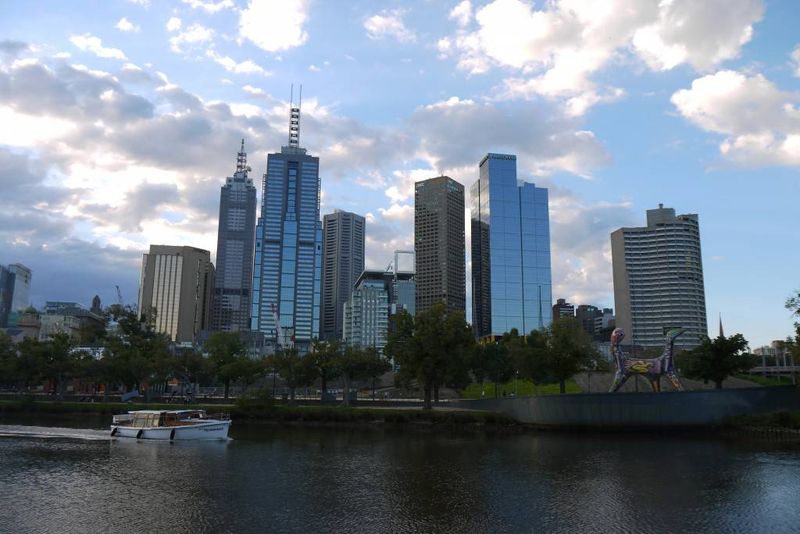 2) Hervey Bay – we loved the rustic, almost old-fashioned charm of the bay and the fact that it wasn't choked with tourists. We enjoyed the sandy, sparsely-populated beaches and spent an afternoon cycling around the harbour and alongside the sea; I never thought I'd say this about cycling, but it was such fun – even in the rain.
3) Sydney – the city didn't excite us as much as Melbourne but we had a brilliant time staying with Andrew's relatives just outside of Sydney, it felt like a home-from-home. We encountered the most spectacular scenery when we visited the Blue Mountains and gradually grew to love Sydney's bustling, iconic harbour.
4) Townsville – we stayed in a lovely hostel within walking distance to the beach. Although it's dangerous to swim in the sea during stinger season (October-May), there's a swimming lagoon and a nice esplanade to stroll along. We also took the long, hot climb up Castle Rock to watch the pink and orange sunset, which was well-worth the effort.
5) Cape Tribulation – while we were up in Port Douglas staying with fellow travel blogger Alyson, she advised us to head up to Cape Tribulation and we're so glad we did. This is one of the spots in Australia where you see the real diversity of the landscape, you can stand in the midst of the rainforest overlooking a beautiful sandy beach.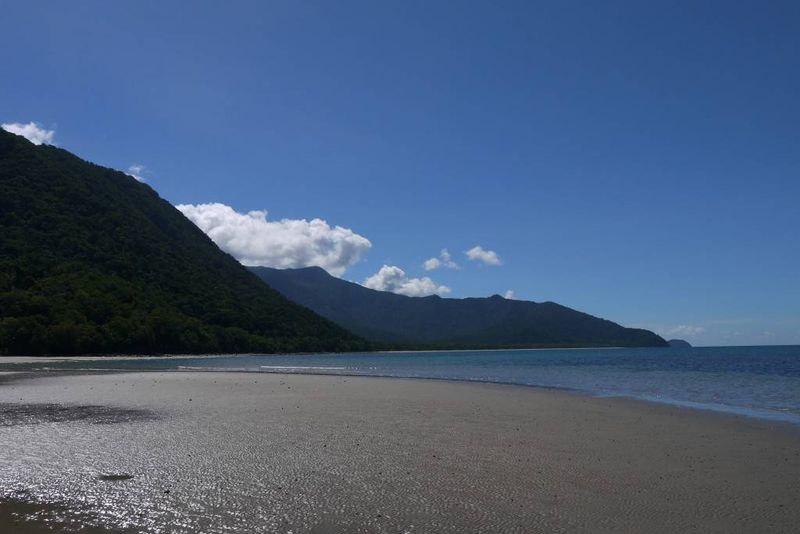 Our Impressions of Travelling in Australia
We spent five weeks exploring Australia, here's what we thought of our time in the land down-under.
Bright Lights and Bustling Cities
One of my favourite things about Australia was its large, vibrant cities. We both fell in love with Melbourne, a place so alive with people and music, museums and parks, laneways and trams, we even started to fantasise about living there. Although we felt Sydney lacked character compared to Melbourne, you can't deny that its harbour is absolutely stunning. If you love cities, Australia has some great ones, the only thing missing was, understandably, the history. There are no ancient cathedrals or cobbled streets to rival my beloved London or Bristol.
Awesome Animals…
One of my other favourite things about Australia was its animals. The only other country we've encountered such weird and incredible creatures is Kenya.  We saw plenty of colourful, exotic birds and wild kangaroos as we drove down the East Coast of Australia. However we had to visit wildlife parks to catch a glimpse of wombats, echidnas, cassowaries, crocodiles and our favourites: the platypuses and koalas.
And Dangerous Beasts
You can't talk about Australia's animals without mentioning the dangerous spiders, sharks and other beasts that can be found there. Out of the top ten most deadly snakes in the world, eight come from Australia. While we didn't come across any deadly creatures in the wild, we often couldn't swim in the sea because of crocodiles and jellyfish. We also got bitten to pieces by the less dangerous, but incredibly annoying mosquitoes.
The Land of Sunshine?
One thing that both surprised and slightly irritated us was the weather during our trip to Australia. Even though it was autumn when we visited we expected better weather than we'd get in the UK, but instead we were often greeted by cool temperatures, leaden skies and days of full-on, soaked-to-the-skin rain along the east coast. In actual fact, we had much better weather during our month in notoriously wet New Zealand than we did in Australia. Next time we visit, we'll do so in the warmer months!
Cost of Living
There's no getting around it, Australia is one of the most expensive places you can travel in. You can find out exactly how much we spent in our Australia cost post, but most of our money went on accommodation, which averaged at around £40 a night per room for two people with a shared bathroom. Car hire was pretty expensive too, costing £576. Food was also another big expense and we barely ate out and almost never drank – a pint cost around £8.50 in Melbourne!
Sheer Scale
Everyone warned me about this, but I didn't fully realise how enormous Australia was until we started travelling around. To save time we flew between Melbourne and Sydney and Sydney and Cairns and then spent three weeks driving the 750 miles down the East Coast. Overall, we probably only saw less than five percent of the whole country. We'd love to go back and check out the west coast, Uluru and revisit Melbourne and Andrew's relatives.
Natural Wonders
We saw plenty of incredible sights in Australia: the Great Barrier Reef, the Whitsunday Islands, the Blue Mountains and many beautiful beaches. However, overall we found the scenery wasn't as inspiring as we'd hoped, especially compared to what we'd just experienced driving around New Zealand, which must be one of the most beautiful places in the world. Aside from the roads between Cairns and Cape Tribulation, our drives along the East Coast were often long and boring, down miles of motorway and through barren scrubland. We also found the Great Ocean Road a bit of a letdown.
A Well-Travelled Path
Despite its size, it seemed that every other tourist was travelling the same route as us around Australia, stopping at exactly the same spots. In particular there were a lot of young, gap-year backpackers on the East Coast trail, which made places like Cairns party destinations full of noisy, overpriced, dirty hostels. We might have loved this when we were 17, but now it just isn't our thing. Next time we visit we'd like to try and step off the tourist paths.
Culture
Like New Zealand, we felt pretty at home in Australia, largely because European colonisation and immigration have created a culture which isn't wildly different to ours. Saying that, the Australians do live much more of their lives outdoors than we do, on the beach and in the parks, playing sports, barbequing and drinking outdoors. Everything feels pretty new, the buildings are shiny and glassy – there's obviously none of the history you'd get in Europe. There's a definite difference in the way Australian people approach life too, which can be best illustrated by what Erick, an Indonesian shop-owner told us in Bali: "The Australians are very easy people; I can bring them in my shop and they'll buy whatever – the British though, if they don't need it, they don't buy it."
Backpacking in Australia Tips
Given the size of Australia, we found it was often cheaper to fly between places then it was to get the bus, train or drive, it's also quicker. Check out budget airlines like Tiger and Jetstar for cheap flights.
If you choose to rent a campervan, there are plenty of free campsites around which will help you keep costs down, tourist offices often have full lists of sites nearby.
Eating out and drinking in Australia is expensive. If you want to save money, cook for yourself and buy beers from a supermarket.
Rather than booking car hire in branch, look online for a better deal. Andrew also saved money by finding independent car hire insurance online rather than through the hire company.
See if hostels have preferential rates for any trips or tours you want to take. Our hostel in Cairns offered ten percent off our day snorkelling the Great Barrier Reef.
Don't visit Northern Australia in stinger season (May to October) if you want to swim in the sea.
Watch out for mosquitoes, especially around dawn and dusk, we had a horrific time with them along the East Coast.
Don't skimp on the cost of boat trips; often the cheaper trips will cram boats full with people and have sub-standard snorkelling equipment.
Our Top 5 Travel Experiences in Australia
1) The Neighbours Tour and Trivia Night
2) Snorkelling on the Great Barrier Reef
3) Meeting Australian Animals
4) Sailing the Whitsunday Islands
5) Visiting the Blue Mountains