14 May

Kampot and the Journey to Nowhere

Sometimes the part of travel I love the most is just the movement. It's getting up in the morning, packing our bags and boarding a bus to a brand new, unknown destination with no idea what's in store for us. This particular morning in Phnom Penh, Cambodia, I was bunged-up with a cold and my head pounded as I climbed aboard the bus to the tiny, riverside town of Kampot.
Like so many towns in Cambodia, Kampot consists of just a few intersecting, dusty roads planted next to a river.  There's a small market and some stores, a school, restaurants and hotels and a band of local rickshaw drivers and motorbike rental shops. From the roof-deck of our guesthouse we watched the pink sun set over the river that evening, the mountains hazy in the distance, a light breeze chasing away the afternoon heat.
The Journey from Kampot to Nowhere
As we discovered, aside from stuffing yourself with sugary treats from the Kampot Pie and Ice Cream Palace, there's not much else to do in town besides relax and try to keep out of the fierce afternoon heat. Still groggy from my cold, however, Andrew and I decided to rent a bike for the day and head up to the lone tourist attraction near Kampot: Bokor Hill Station.
As we climbed slowly and steadily up the windy hill path I felt the air cool, clearing my sinuses and blowing away my lethargy. It felt good to be moving, even through the chilly mist and cloud, my mind wandering as I watched trees whiz by and Kampot recede further below us. I didn't much care where we were heading; past a giant Buddha statue we couldn't be bothered to stop and photograph then to an underwhelming waterfall followed by a crumbling church.
Most people come up to Bokor Hill Station to see the deserted casino, built by the French in colonial times.  We drove around in circles searching for the casino before arriving to wander its strange, ghostly hallways and look out at the wall of mist blanketing the surrounding hills; I felt as if I'd been transported to a Scottish moor; the dusty heat of Cambodia a distant memory.
Seeing the casino itself wasn't much of an adventure but sometimes travel – like life – really is about the journey. That particular day the long ride up into the hills was the whole point of the trip. What I wanted was the feeling of movement, to clear my head and my sinuses, to let my mind unravel and wander as we wordlessly rode up and down unfamiliar paths, journeying to nowhere in particular.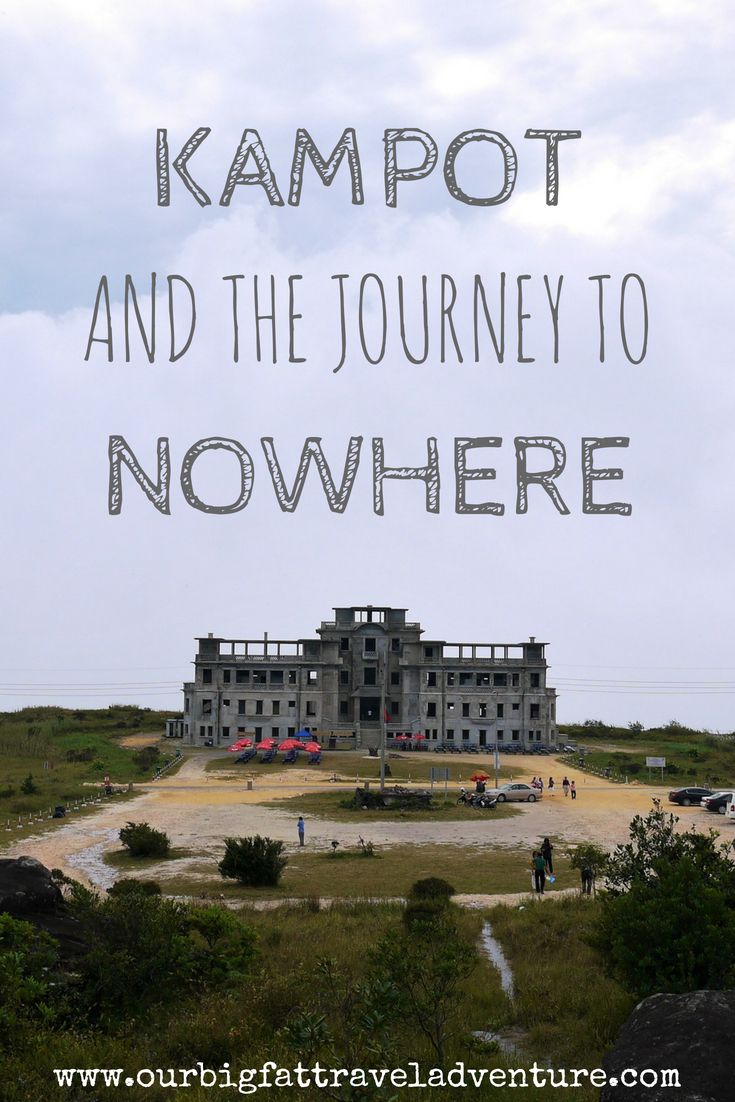 Pin Me For Later!