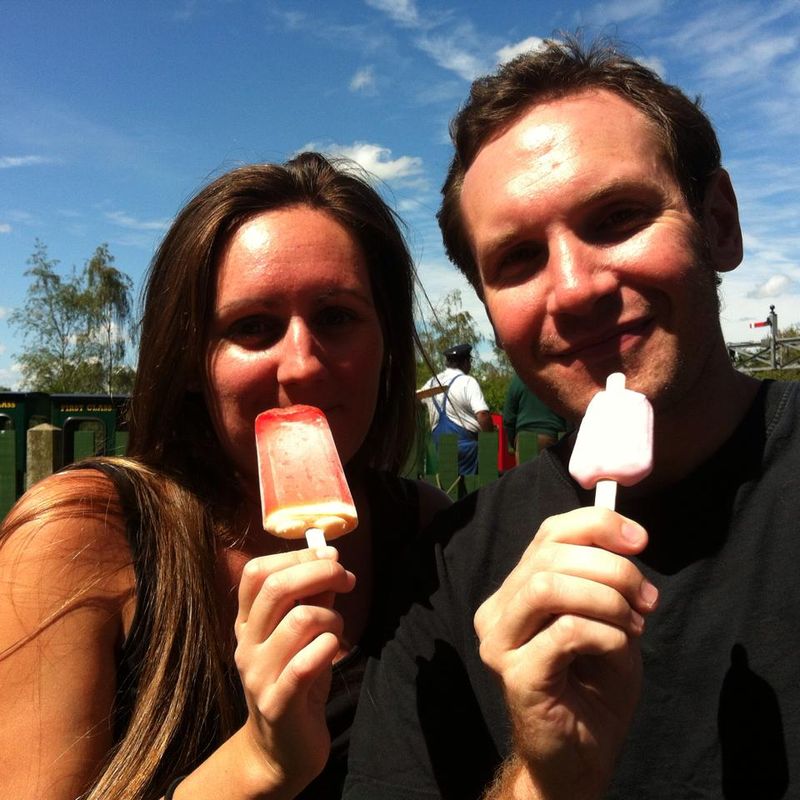 28 Jun

After the Adventure: Returning Home from Travel

After 13 bleary hours in the air we arrived back in England on the 6th June to blue skies and sunshine, a perfect reflection of the joy we felt to be back on home turf. The weeks since then have been a blur of visits and reunions, family meals, picnics, walks and planning for the future. So, how have we adjusted to life back in the UK after the adventure of our lives?
Coming Home – the Good Bits
It's no secret that Andrew and I were totally ready to take a break from travel and we definitely chose the perfect time to return to England. With the exception of a few showers the weather has been beautiful since we got back, even though the air beneath the sunshine feels nippy to me after over a year in humid Asia. The British summer evenings are long and light; stretching out while people lounge around in beer gardens, play rounders in the parks or demolish BBQ's and picnics.
We have wallowed in the Britishness of it all; the picnics and walks, punnets of strawberries and ice-creams at the beach, watching people shiver in sun dresses and shorts, determined to make the most of the sun even as the evening coolness draws in and the deluded football fans hanging out England flags in the hope of a world cup victory. We've cooked roast dinners, rhubarb crumbles and stuffed our faces with all those foods we missed in Asia; cheese, pasta, salads, pickle and brown bread, fish and chips and a million cups of strong, hot tea.
Most importantly, we've spent the first few weeks catching up with our immediate family and some friends. Yes, things have changed while we've been gone – there have been new babies, jobs and homes but I don't feel like a stranger here. Underneath all these changes and despite everything we've seen and experienced on the road, this is still my home, the place I've lived almost my whole life. I have realised that with some people, no matter how far you travel, all distance and time is erased when you meet again, you slip easily back into familiar patterns, have a millions things to say and a common bond that never frays.
What I have developed though is a new appreciation for the UK; people here are more cheerful than I remembered (although that's probably partly due to the current weather) and I've been struck by how incredible the scenery is – there's so much green space. I travelled to the other side of the world in search of awe-inspiring beauty but didn't appreciate that it also existed in the very place I had lived my whole life.
Returning Home – The Weird Bits
I'd be lying if I said that coming back home after 15 months of travel hasn't been a little bit strange. Firstly there are the small things; being able to drink water directly from a tap instead of a bottle, watching the sun set stretch out until nine o'clock in the evening instead of reliably falling everyday at six like it does in Asia and having British pound coins in my purse after grappling for so long with unfamiliar currencies.
There are bigger changes that I've noticed too; food waste bothers me more and I can see that too often here we eat for want, not need. I'm also shocked by the amount of people who leave doors unlocked, windows wide open or car engines idling while they nip out to the shops; I've become far more safety conscious since travelling, to the point that I even interrogated the window cleaner last week. There's also a debate raging in the UK right now about the 'dangers' of immigration which worries Andrew and I – if there's one thing travel has taught us it's that the UK's biggest strength lies in its multi-cultural population.
We've been 'travellers' for so long now that it's been hard to switch that off and get used to not talking and thinking about travel all the time. There have been brief moments in larger groups of people that I've felt alien, like I can't identify with the conversations and themes that I used to so easily – work, homes, plans, routine. At times I feel a flash of homesickness for the roads we've travelled down and the places we've left behind, for the rawness and intensity of Asia.
The biggest change I'm dealing with at the moment is being apart from Andrew. After 15 months of living every moment together, I'm now spending a few weeks in Southampton with my family while Andrew's in Wales with his. It's strange to be apart after the intensity of sharing absolutely everything with each other for so long; there have been fierce arguments, tears and illnesses along the way but sharing this travel experience has bound us more tightly together than ever.
What's Next?
Andrew and I will finally be reunited in London at the beginning of July; I can't wait to reconnect with my favourite city and catch up with friends. After many let-downs and frustrations we've landed two house sitting assignments which we're very excited about, especially because they involve looking after a very cute puppies!
After London we have visits planned to Wales and our University City, Bristol. In August we're off to explore a part of the UK we've never been to before: Scotland. I'm so excited about visiting the castles and lochs and I have a hunch that Edinburgh is going to join my list of favourite cities. In between all that excitement we're still planning for our return to Vietnam in mid-August where we'll hopefully begin teaching.
As one adventure ends, another begins…