07 Aug

How Much Does it Cost to Visit Burma for Three Weeks?

In February and March 2014 we flew out of our beloved Thailand to the unknown land of Burma. Although Burma was one country where we needed a lot of preparation, with Amy as planner extraordinaire, it was a cinch! We flew into Yangon from Bangkok and we organised our Burma visas and US$ during the two weeks before we entered. We spent our time visiting the main tourist sights of Yangon, Mandalay, Bagan, Kalaw and Lake Inle. We booked most of our accommodation in advance and we arranged all of our domestic transport through our hotels and left the country by flying back to Bangkok from Yangon. Here's how much it cost to visit Burma for 20 days.
Activity Costs in Burma
We didn't find a huge amount of things to do in Burma and the activity costs were quite diverse; you could pay as little as £0.20 to enter the interesting childhood house of Aung San Suu Kyi, whereas it costs £5 to see Shwedagon Pagoda. We were rushed around the National Museum in Yangon by a local man called Htun and our two tours in and around Mandalay were overpriced and underwhelming. When entering Bagan and Lake Inle your bus will stop at a checkpoint and you'll pay the entry zone fee, for us this seemed worth it for Bagan as it covered entrance to all the temples but not for Lake Inle as we still had to pay for a tour on the lake, which just seemed to be another way to sell as much stuff to tourists as possible.
| | | |
| --- | --- | --- |
| Activity | Cost | Per Person |
| National Museum, Yangon | £6.30 | £3.15 |
| Shwedagon Pagoda, Yangon | £10 | £5 |
| Bogyoke Aung San Museum, Yangon | £0.40 | £0.20 |
| Tour of Mandalay | £12.20 | £6.10 |
| Tour of the Ancient Cities, Mandalay | £21.30 | £10.65 |
| Bagan Zone Entrance Fee | £18 | £9 |
| Lake Inle Zone Entrance Fee | £12 | £6 |
| Lake Inle Boat Trip | £9.20 | £4.60 |
| Total | £89.40 | £44.70 |
Cost of Burma Hotels
We knew our accommodation costs for Burma would be high since there seems to be a shortage of hotels for the increasing number of tourists now entering the country and owners have to buy an expensive tourist license. This has put Burma firmly at the top of our Asian countries for accommodation prices, even though we took a couple of overnight buses to bring our costs down. All of our accommodation did include breakfast though, which at times was great and at others a little pathetic. We spent between £15 and £21 per night in Burma; averaging £17.83 per night.
We found the quality of most hotels and guesthouses was pretty poor in comparison to other Asian countries; our favourite place to stay was in Lake Inle at Princess Garden Hotel, pictured below, which was also the most expensive. We had hot water ensuite bathrooms and fans in Kalaw and Lake Inle and air con in Yangon, Mandalay and Bagan. The Wifi in Burma is so poor that things would have been better if it wasn't there; we would not have wasted so much time trying to get online.
| | | | |
| --- | --- | --- | --- |
| Expense | Total | Per Person | Per Day |
| Accommodation | £321 | £160.50 | £16.05 |
Burmese Food Costs
It's fair to say that we struggled with food in Burma; we pretty much ate as much as we could for our free breakfast, and had as decent a dinner we could find later in the day with a few snacks in between. This was much easier in Lake Inle and Bagan where there were a few good restaurants and bakeries where we could find some nice bread. Our favourite restaurant though was Be Kind To Animals in Bagan, the food was great and the staff really made you feel welcome. Otherwise for us, Burma didn't have much to brag about food-wise. There's a lot of Indian food that we thought we may like but it was very bland and served lukewarm which left us worrying about more stomach aches. The food was very cheap however and Burma was the lowest cost country food-wise so far; one thing worth pointing out is that we didn't drink any alcohol in Burma, it was just too expensive for us.
| | | | |
| --- | --- | --- | --- |
| Expense | Total | Per Person | Per Day |
| Food | £144.50 | £72.25 | £7.23 |
Burma Transport Costs
Even though we found the cheapest flights we could from Bangkok to Yangon, they still nearly doubled our total transport costs for Burma. The buses in Burma were pretty good value, our best was from Yangon to Mandalay; a luxury, wide and reclining-seated coach where we each had our own TV with a selection of movies – a similar bus in Thailand covering the same distance costs twice as much. The taxis generally charged a flat $3 fee wherever you were going unless it was any significant distance. We were going to get a local bus from Kalaw to Lake Inle but each one that passed was full so we took a private car for about £12 leaving other tourists to ride on the roof of the bus!
We took the circular train in Yangon which took about three hours to complete the whole loop. On our Ancient cities tour in Mandalay we had to pay for the return boat to Inwa and since we didn't want to use the poor horses and their carts we were taken around Inwa on the back of a motorbike. In Bagan we rented E-bikes twice and in Lake Inle we rented normal bikes for the day.
Expense

Total

Per Person

Flights

Bangkok to Yangon return: £104.90

£52.45

Buses

Local bus from Hotel to Aung San Suu Kyi's house on the lake, Yangon: £0.20

£0.10

Yangon to Mandalay: £22

£11

Mandalay to Bagan: £13.40

£6.70

Bagan to Kalaw: £13.40

£6.70

Lake Inle to Yangon: £26.80

£13.40

Taxis

12 Taxis in total: £40.80

£20.40

Trains

Yangon Circular Train: £1.50

£0.75

Boats

Return boat to Inwa: £1

£0.50

Bikes

Two E-bike rentals per person in Bagan: £11

£5.50

Motorbike and driver around Inwa: £3.70

£1.85

Bike rental in Lake Inle: £1.20

£0.60

Total:

£239.90

£119.95
Miscellaneous Costs
Our biggest miscellaneous cost was for our Burma visas, we sorted them out in Bangkok a couple of weeks before we left and they cost under £20 per person for a month. We had the usual laundry, toiletry and random costs too, for example, when we rented an E-bike in Bagan we got some really strange looks when we refused to ride it without a helmet. Since the company could only find one helmet for us to use we bought another cheap one and left it with them afterwards. We had to pay a couple of times for taking our camera into the pagodas and temples and give a little donation there too.
| | | |
| --- | --- | --- |
| Expense | Total | Per Person |
| Visas | £38.20 | £19.10 |
| Laundry | £9.20 | £4.60 |
| Donations | £4.30 | £2.15 |
| Toilets | £0.50 | £0.25 |
| Strepsils, toothpaste, camera charge, helmet and map | £4.10 | £2.05 |
| Total | £56.30 | £28.15 |
Total Cost to Visit Burma for Three Weeks
All in all Burma is an expensive Asian country to travel around in. The pricey things like accommodation and having to fly into the country far outweigh the very cheap food and reasonable domestic transport costs. However, if you take out the flight and visa costs then travelling in Burma is on a par with the rest of Asia, even cheaper than some countries. Here are our total costs for visiting Burma for 20 days:
| | | | |
| --- | --- | --- | --- |
| Expense | Total | Per Person | Per Day (two people) |
| Activities | £89.40 | £44.70 | £4.47 |
| Accommodation | £321 | £160.50 | £16.05 |
| Food | £144.50 | £72.25 | £7.23 |
| Transport | £239.90 | £119.95 | £12.00 |
| Miscellaneous | £56.30 | £28.15 | £2.82 |
| Total | £851.10 | £425.55 | £42.57 |
As always, we use Trail Wallet to track all of our spending; you can see all of our cost break-downs by country here.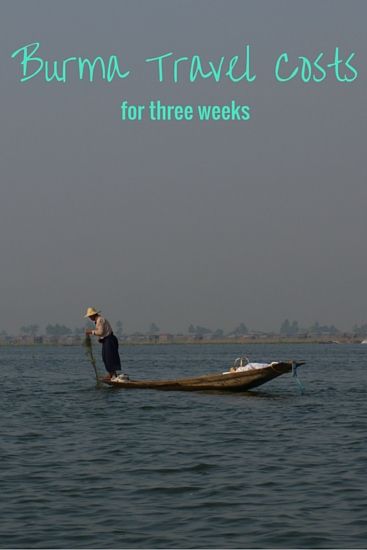 Pin Me!