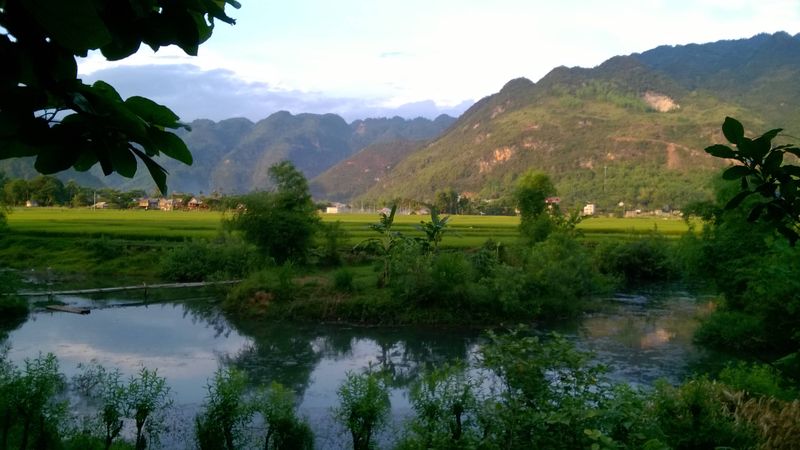 19 May

A Weekend in Mai Chau

Our time in Vietnam is drawing to a close; we have just two and a half weeks left in the country and  it feels like time is speeding up. This is our last week of teaching and we're struggling to fit in all the last-minute tasks we need to complete; packing up our apartment, sorting out finances, planning for the weeks ahead and saying our goodbyes. We're also trying to squeeze in trips to places we haven't had time to visit over the hectic school year; this past weekend we finally made it to the stunning country getaway, Mai Chau.
If you're heading to Vietnam then you'll probably need an invitation letter for your Visa On Arrival, we recommend Vietnam Visa as they provide a professional, efficient and transparent service.
Visiting Mai Chau
Our trip started in typical Vietnamese fashion, with a hellish bus journey where we were assaulted by booming dance music for four solid hours while we slowly lost our minds. Seriously, what is it with Vietnamese people and noise? Beeping horns, shouted conversations, blaring music, revving motorbikes, barking dogs and crowing roosters – this has to be one of the noisiest places in the world.
When we finally made it Mai Chau, a non-descript one-street town famous for its surrounding scenery, we immediately hired motorbike taxis to take us to the nearby village of Ban Lac Hai. On the short ride over, as my head throbbed, I squinted into the late-afternoon sunlight at the swaying fields of rice bordered by hulking mountains.
The people who live in Ban Lac are of Thai ancestry, they live in traditional stilt houses and make a living from farming, running homestays and selling handicrafts to visiting tourists. We opted to stay in a basic wooden bungalow with a tiny balcony next to a river, beyond that vivid green fields stretched out for miles.
That evening we marvelled at being able to see the stars in the smog-free sky while we ate dinner and then watched the show our guesthouse puts on each evening; some traditional dances followed by rice wine tasting. On the village field we discovered a festival going on; groups of teenagers danced frantically around blazing bonfires to the same booming dance music Vietnamese people seem to love while others had watermelon-eating competitions or had equally loud karaoke sessions.
There's not much to do in Mai Chau besides relax and enjoy the scenery. After a broken night's sleep thanks to the festival music, summer bugs, laughing geckos and the champion snorer in the hut next to us, we were jolted awake by roosters at the crack of dawn. Bleary-eyed we ate breakfast, borrowed two rusty bikes and set off to explore before the sun became too blazing hot.
Cycling slowly down dusty village roads and along paths through the rice paddies we passed grazing cows and buffalo, men chopping wood and children playing in the shade under their stilt houses or splashing around in plastic paddling pools. We rode through one village filled with stalls and shops laden with brightly-coloured handmade bags, clothes, bracelets and toys for sale; groups of Vietnamese tourists dressed up in traditional costumes posed for photos with paper umbrellas amongst the rice.
After a more peaceful nights' sleep we left Mai Chau the next morning and headed back to the familiar chaos of Hanoi. The next two weeks will be full of changes as we say goodbye to teaching and Hanoi; we'll be heading to one of the largest cave systems in the world in Phong Nha and revisiting Sapa before we board a plane to Thailand. New adventures await!
Pin Me!