19 Oct

Finding Fall in Vermont

In Vermont I felt like I was living through one long leafy dream where we drove endlessly down roads carved through forest and the trees around us transformed to shades of copper, bronze and citrus; peach, plum and rust. The days floated by prettily like the leaves fluttering from the trees and I knew that I was living through moments I would crave to have back in the future. In Vermont we'd finally found the autumn we'd been searching for and I didn't want to leave.
*Update: you can read our complete 2016 New England Fall Foliage Guide here. This includes tips on where on when to see the best foliage, what to eat, which festivals to visit, how much our fall trip to New England cost and our favourite destinations in New England.*
Falling in Love with Vermont
I fell in love with Vermont almost as soon as we drove over its border. The road curved steadily upwards, revealing a view of the forested landscape below and a jagged, dark skyline formed by the Green Mountains on the horizon. Suddenly the famous New England foliage was all around us, in the golden hues of the trees lining the road and the coloured broccoli heads of the forest in the distance.
We spent our first week in Bellows Falls, a tiny town in the south of the state with industrial roots. It's hard to believe it when you drive through Vermont now, but at one point around 60 percent of its forests were cut down before conservationists stepped in to preserve them; the old, now defunct, paper mills in Bellows Falls attest to this history. Now the state is less affluent but has become famous for its never-ending, wild beauty and stunning fall foliage.
Vermont is also known for its farming and has a home-grown, earthy, independent feel. The state has become a huge producer of cheese and maple syrup, which we saw (and sampled much of) in every farm store, shop and stall we visited. Shelves were also full of the spoils of autumn; bright yellow and orange squashes, gourds and pumpkins. So many pumpkins, they decorated every porch and shop-front and their flavour could be found in pies and cakes, coffees and soups. One afternoon we stopped in at a local orchard to buy some crisp, just-picked MacIntosh apples, which we ate with Vermont yogurt and baked into a pie.
In Bellows Falls there was no lock on our front door and we frequently saw people leave their cars idling while they nipped into a store. Whenever we visited new towns, locals would smile and greet us, sometimes offer directions or in a café, once, a man chatted with us and welcomed us to his city. Vermonters, our host Robert told us, look out for each other. The winters are brutal and last until May with thick snow and icy roads; you might have to rely on a stranger to tow your car out of a ditch or a neighbour to shovel your driveway if you're sick.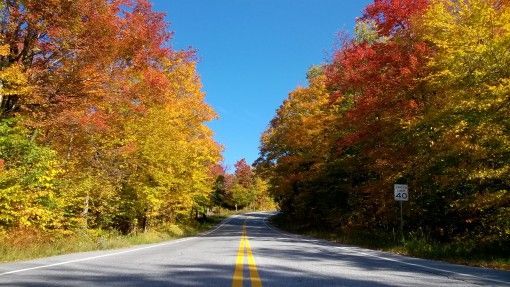 Fall in Vermont
Although unseasonably warm weather in September delayed the foliage somewhat, we were still astounded by the autumnal beauty of Vermont. We spent most of our days driving along windy scenic roads lined with colourful trees, stopping at viewpoints and picturesque towns like Grafton where we'd eat brunch and sip tea in cosy cafés before wandering the leaf-strewn streets, popping into bookstores and markets.
We visited farms, ice cream and cheese factories. At Sugarbush, a family-run farm, we learnt how maple syrup was made and sampled many of their homemade cheeses. On Columbus Day weekend we drove to Billings Farm and museum for a fall festival where we joined in with a husking bee, watched apple cider being pressed and tasted freshly-baked pumpkin bread. Some days we went walking; in Jamaica State Park we saw dozens of chipmunks and climbed up a wooded trail to catch the view overlooking the forest. In Quechee we hiked alongside the gorge, which is known as Vermont's mini Grand Canyon.
As we ventured further up through northern Vermont in our second week, the colours intensified and the scenery grew ever more beautiful. Thick forests gave way to patches of rolling green field spotted with red and white barns and grazing cows and horses. In the lively, student city of Burlington we took a boat trip on Champlain, the biggest lake in Vermont, which stretches over to New York State.
For us, the foliage was at its most spectacular in Stowe, a small skiing town in the north which sits at the foot of mighty Mount Mansfield. As we walked along the town's recreation path, we watched a girl's team play football and a hot air balloon ascend over the fields and forest. Late afternoon sun picked out golden highlights in the trees and everything glowed prettily.
Our time in Vermont has now drawn to a close, but the Green Mountain State has left a deep mark on my heart. One day I vow to return to experience another spectacular fall in Vermont.
Pin Me For Later!