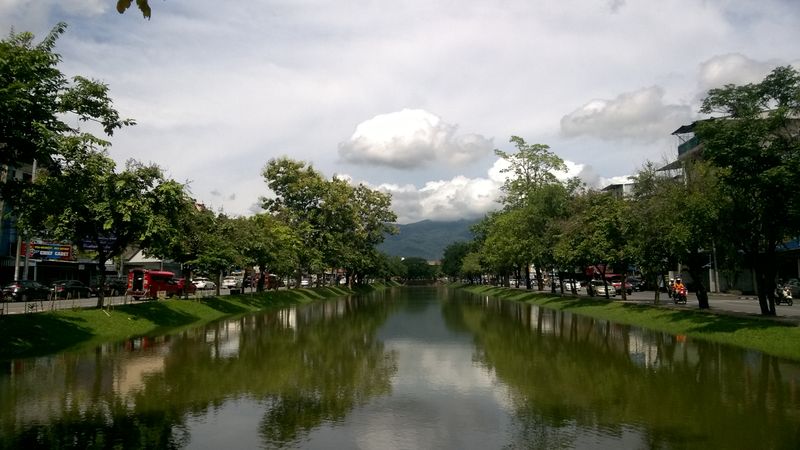 26 Aug

Moving to Chiang Mai, Week One in Thailand

Everything was at once familiar; the hot slap of humid air, the lemon-and-lime coloured taxis with tiny Buddha statues perched on the dashboards, the sparkling spikes of temple tops poking out amongst the malls and city blocks and the occasional orange-robed monk padding down the pavement. After over a year, we were finally back in Thailand.

After a disorientating 23-hour door-to-door journey we arrived at our hotel in Bangkok. All my emotions were muted by a haze of jetlag, exhaustion and flight-induced nausea. Bangkok is so familiar to us after the dozens of visits we've made at different stages of our journey; part of me felt that the year we'd just spent in the USA and Europe hadn't happened, like we'd never left Asia, as if it was inevitable that we'd end up here again.
Moving to Chiang Mai
We didn't have time to pause and absorb our new reality as the very next day we were back on a plane flying towards our new home, the place we'd pinned all our hopes of finding happiness in: Chiang Mai. We checked back into our usual guesthouse along a quiet, leafy backstreet and immediately set about the task of building our new life, starting with finding a home. I have a whole post about this coming up next week (here it is!) but for now I can tell you that after just a day and a half of searching, we found an apartment!
We'll be moving in on the 31st to our new home in the north of the city, near Nimmanhaeman road. We immediately knew the apartment was for us when we walked in and saw the view of the mist-topped green mountains through the windows. The whole apartment is filled with light and at 90 square metres, it is bigger than any flat we've ever rented back in the UK. There's space for both of us to work, a sofa and TV, two balconies and even a washing machine and a huge kitchen with an oven – something we definitely weren't expecting to find!
Our estate agent is sorting out the paperwork and helping us to get high-speed internet hooked up. The only drawback is the mattress, which is rock hard, but since we'll be spending six months in this apartment we're planning to buy a softer one. The monthly rent is at the top end of our budget at 18,000 TBH at month (£396) but we figured it was worth paying since we're going to be working from home a lot and because the area is so convenient we won't need to rent a motorbike. Did I mention the building also has a gym and swimming pool? We're so excited about moving in!
Starting Our New Life in Chiang Mai
We both feel stunned by how easy it was to find an apartment in Chiang Mai, especially after the frustrating weeks we spent fruitlessly looking for one in Madrid a few months ago. This all feels a bit too good to be true and it's daunting to be signing a six-month contract, especially since we have to pay a wad of cash upfront (three months rent plus deposit). This is a huge commitment in terms of time and money for us and I'm not sure the reality of it will sink in until we finally get the keys to our new home.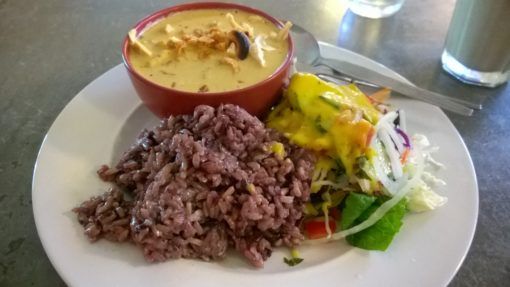 With the apartment search over so quickly we've had time to buy a Thai SIM card and get some work done. Since our guesthouse isn't very laptop-friendly we've been searching out co-working spaces like CAMP in the Maya mall near Nimmanhaeman street and coffee shops around Tha Pae Gate where we're staying. Even though I'm looking forward to working in the comfort of our apartment, I can see how it would be easy to work remotely in Chiang Mai while staying in a hotel. One afternoon we took a break at the roof-top pool of the Orchid hotel, which we discovered last year.
This week we've been slowly reacquainting ourselves with Chiang Mai, revisiting our favourite restaurants from past visits and seeking out new ones. This is probably the most vegetarian-friendly city I've ever been to and even though we plan to make use of the kitchen in our apartment I know we'll also eat out regularly here. We've been enjoying lots of spring rolls and fruit shakes, veggie curries and rice dishes as well as treats like vegan brownies and quesadillas. We're also looking forward to heading back to the Sunday Night Market this weekend.
Chiang Mai is such a travel hub that we've already been able to meet up with a couple of fellow travellers who contacted us through the blog. As time goes on we hope to make more connections in the city so if you're ever in town, let us know! We plan to publish weekly vlogs about our new life in Chiang Mai, if you want to follow along you can subscribe to our YouTube channel here – here's our first one!
The Next Six Months in Thailand
When we left Asia last June we didn't think we'd be back for a very long time and even though things have gone remarkably smoothly so far, sometimes being here just feels utterly surreal. On top of that, we've been trying to get over the long flight, adjust to the time difference and deal with the now unfamiliar heat and humidity. Although Thailand is a soft landing compared to other parts of Asia (I remember moving to Hanoi was much more of a shock), it's still going to take a while to feel totally at home here.
Pin Me!
In the meantime, we will move into our apartment and begin trying to make a proper online living, which is our main goal for the next six months. I know it won't be an easy task, but that's what we're here to try.  We'll also continue getting to know this city, exploring its hundreds of gold-tinged temples and tree-lined streets, wandering alongside the murky moat, climbing into the back of red songteaws and dipping into the city's hundreds of cafes and restaurants. I only have to look up to spot the mountains in the distance, looming tantalisingly to the north-west; once we've settled into our new life we plan to head up there and explore.