09 Sep

Life in Thailand and Taming our Wanderlust

The first full week in our Chiang Mai apartment has passed, so what have we been up to? Aside from battling stomach problems, trying to earn some money and settling into our new home, we've also been temple hopping and attempting to tame our wanderlust by planning some future adventures.
Update: Life in Thailand
After paying a hefty chunk of cash in advance rent and deposit our bank balance is looking pretty depleted, so work has been our first priority. Andrew doesn't start his online teaching job until next week so he's been focusing on updating our YouTube channel with content from our summer trip to Eastern Europe as well as filming new editions about life in Chiang Mai. You can  watch the latest edition below and follow our weekly vlogs about life in Thailand by subscribing to our YouTube Channel.
I've been working on a huge list of blog posts and improvements as well as completing some freelance writing assignments and searching for new clients. After a project fell through this month I was feeling quite dispirited and daunted about my freelance prospects, but I'm quickly learning that the first rule in this game is to be resilient, positive and determined. This tactic is starting to pay off now and I'm gaining some more work which I will build on. We'll be sharing an income/digital nomad progress update with you, probably at the end of October.
Aside from long hours working in our apartment we've been trying desperately to get healthy again. This might be TMI, but our stomachs are still struggling to adjust to being back in Asia. For that reason we've been eating a bland, bread-and-pasta heavy diet at home. When our bodies finally recover we'll be out tasting food at the night markets and checking out some restaurants around our local area. To get some exercise we've been swimming in the pool at our condo and wandering around Nimman. We also took a trip out to the Big C Extra where we hunted down a cheese grater, chopping board and computer mouse – exciting developments!
This week we went out for dinner with James and Sarah from The Whole World or Nothing, who are also using Chiang Mai as a base to work from at the moment. We went to Why Not?, a highly-rated Italian restaurant off Nimman road near our apartment; the pizza was delicious and about all our stomachs could handle. It was great to chat about travel and our shared experiences of trying to build an online income with like-minded people. It's good to know we're not alone in our life goals.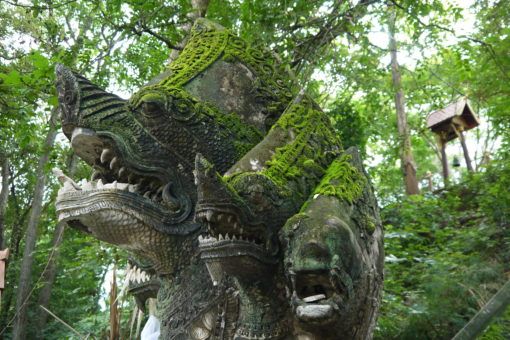 Exploring Wat Umong Temple
Over the next six months we want to get to know Chiang Mai better. So, with that in mind we took a trip to Wat Umong this week, a 700-year-old Buddhist temple located a few kilometres away from the main city.  The sprawling temple complex is set in a peaceful forest and includes a tall cone-shaped pagoda, gardens filled with stone Buddha statues in all states of disrepair and a set of ancient tunnels.
There's also a meditation centre, duck pond and collection of temple dogs at Wat Umong, as well as orange-robed monks sweeping the floors and going about their daily worship. As we explored we were stopped by some Thai students from Chiang Mai University who wanted to interview us for their English project. Chatting to them about life in the UK reminded me of my teaching days back in Vietnam.
Taming our Wanderlust
This week we've been battling to control some fierce bouts of wanderlust. It appears that staying still doesn't come naturally to us anymore and this week we've had some intense flight searching sessions and travel research marathons. We've stayed up late plotting new adventures in our apartment while the Chiang Mai traffic whizzes by beneath us, mist rolls down from the mountains and loud pop music from the bar down the road wafts through the windows.
Accompanied by cups of mint tea we've been scheming endlessly about all the different lives we'd love to lead and the thousands of places we'd love to visit in the future. Our ramblings tend to go something like this: "I know, we could take a month-long trip to New Zealand! Why don't we  check flight prices to Japan, since we're back in Asia? Wait, there's this really great teaching job in Uruguay advertised here and how about after that, we head back to Vermont and live there for a while?" Honestly, we make our own heads spin.
That's not to say that we aren't happy here in Chiang Mai though, because we really are. We've longed for this opportunity to be in one place and finally create a sustainable online income. It's great to be in our airy apartment, in a city we love surrounded by mountains and motorbikes, night markets and 7/11s. Also, a part of me desperately wants to stand still in one place and breathe, to just relish the simple things like being able to cook pasta in our kitchen and roast potatoes in the oven, settle on the sofa to watch TV in the evenings and go to sleep in the same bed, with the comfort of our soft mattress topper, every night.
We are thankful for the luxuries we have here too, ones we wouldn't be able to afford in the western world: this large, beautiful apartment for one, being able to swim everyday for free in our outdoor pool and eat out for just £5. We love being immersed in a culture so different from the one we've lived almost all of our lives in, being able to visit temples and plan trips to mountain-top villages and tea plantations.
So, right now we're trying to still our minds and focus on the present, the here and now. We're attempting to tame our wanderlust and appreciate every moment of being here, in this reality we've created for ourselves, because it's a pretty cool reality to have. As the weeks go by, I'm sure our travel cravings will subside in the same way they did when we moved to Hanoi. Until then though, it doesn't hurt to have a few trips planned…
Trips we have planned
So, what have we got in store travel-wise while we're living here in Chiang Mai?
Weekend trips in Thailand
Once our earnings have started to kick in, we plan to take a few weekend trips away to new parts of northern Thailand we've yet to visit. There are lots of tea plantations and villages around Mae Salong that we're itching to explore as well as drive the Mae Hong Song loop. 
November visa run
We currently only have 60-day Thai visas which we can extend for a further 30 days in Chiang Mai. So, come November we're heading out of Thailand to get new 60-day visas in Kuala Lumpur, which is a process we went through pretty easily back in 2013. We've hardly explored Malaysia, so after we get our visa we're going to head up to the cool of the Cameron Highlands for a few days. On the way back to Thailand we're planning to stop off in Hong Kong, a completely new destination for us.
*2017 update: we actually ended up doing a Thai visa run to Penang and another to Hanoi.  
New countries to explore
We've also vowed to explore some countries we haven't yet been to in Asia over the next year. Our flight research so far has shown us that it's cheap to fly from Kuala Lumpur to Sri Lanka, a country that's at the top of our wish list, so that's a firm possibility. We also want to visit Nepal, which is more expensive to get to but relatively cheap to travel in. We're keen to spend some time in Kathmandu, trek to Everest Base Camp and if we stay long enough, volunteer again with All Hands, the organisation we worked with in the Philippines.
We'll also be heading back to the UK for our usual summer visit to catch up with family and friends and hopefully house sit in London again. After that, we hope to finally head over to South America, a completely new continent for us!
Pin Me!
Are you enjoying these weekly, diary-style updates of life in Chiang Mai? Please let us know your thoughts in the comments below and if there's anything specific you'd like us to cover in future posts, just ask. As always, thanks for following our adventure!