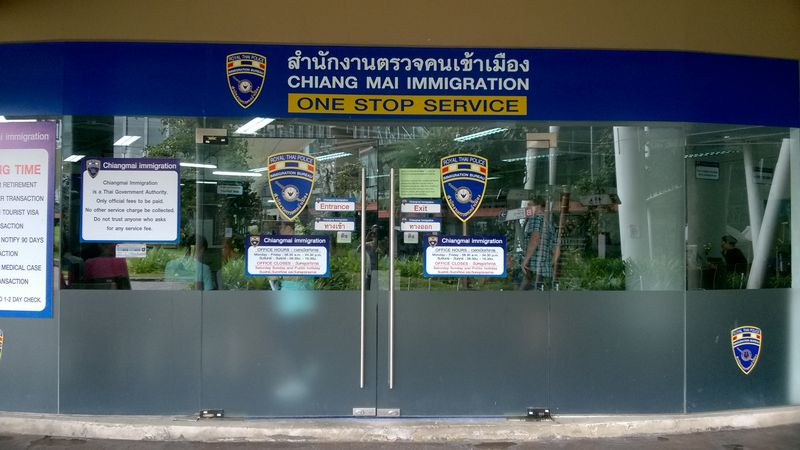 30 Sep

Getting a Thailand Visa Extension in Chiang Mai

If you want to stay in Thailand for longer than a couple of months you're going to have to navigate the ever-changing world of Thai visa regulations. This week we took our first trip to the new visa office in Chiang Mai to extend our 60-day tourist visas. In this post we'll explain exactly how to get a Thailand visa extension in Chiang Mai, including information about what documents you need and how much the extension costs.
Types of Thai tourist visas
Thai visa rules are always changing, but as of September 2016, here are the main types of tourist visa for Thailand:
Thailand 30-day visa exemption – when arriving by plane residents from 48 countries, including the UK, can enter Thailand without a visa. The visit must be for tourism purposes and last no longer than 30 days. If you're from a G7 country you can also get the 30-day exemption when you arrive in Thailand overland.
A 60-day single entry tourist visa – these are available from Thai embassies in many countries. We got our 60-day Thailand tourist visa in London and it cost us £25 each.
Six month Multiple Entry Tourist Visa (METV) –  you must apply for this visa at a Thai embassy in your home country and show proof that you have significant funds to support yourself while you're in Thailand.
You can also get business, transit, retirement, study and volunteer visas. Find out more about Thailand visa requirements on the Thai Embassy website.
Remember: your stay includes the day you arrive in Thailand and the day you leave. For example, our 60-day visa began on 21st August when we arrived in Bangkok and was set to expire 59 days later on the 19th of October. Since we've rented our Chiang Mai apartment for six months, we will need to make multiple visa applications, starting with a 30-day Thailand visa extension here in Chiang Mai.
How to get a Thailand visa extension
You can extend a visa exemption stamp, 60-day tourist visa or METV while you're in Thailand for a further 30 days, here's how:
1) Gather the following documents:
Your passport, it must have at least six months left on it before it expires.
Your departure card, which you'll be given to fill in when you first arrive in Thailand.
A passport photo 4cm by 6cm in size.
The application fee of 1,900 THB.
A photocopy of the picture page of your passport.
Photocopy of the Thai visa in your passport.
A photocopy of the latest entry stamp to Thailand in your passport.
Photocopy of your departure card.
A TM.7 form, which is an Application for Extension of Temporary Stay in the Kingdom. You can print the TM.7 form before you go or simply pick it up at the visa office.
A Foreign National Information form. You can pick this form up at the visa office.
You should also take a pen and have your Thai address and phone number with you to put on the forms. Don't forget to sign all of your photocopies.
2) Take all of these documents with you to the new Chiang Mai immigration office. This is located at the Promenada Mall, about a 15 minute drive South-East of the Old City. The office is labelled 'One Stop Service' and is situated on the ground floor. Although the mall itself doesn't open until 11am, the visa office is open from 8.30am till 4.30pm Monday to Friday, excluding Thai holidays. We took a songthaew to Promenada from Tha Phae Gate and it cost 120 THB for both of us, on the way back we were charged 160 THB.
3) Collect your forms from the desk outside of the office and fill them in. There are tables and some chairs nearby and a copy shop if you need photocopies or passport photos. The mall also has plenty of cafes and restaurants as well as free toilets.
4) Hand all of your completed forms, photocopies and the fee to one of the staff at the desk outside of the office. They'll check through and make sure everything is filled in properly and then ask you to wait inside the office until your name is called.
5) When you hear your name, go up to have your photo taken. The second time you're called you'll receive your passport with the visa extension stamp in it and any change you're owed. Check the date on your stamp is correct; mine was stamped a day too early by mistake but when I pointed this out, the man quickly amended it.
Recap and our next Thai visa run
So that's it, you're all done! To recap, our Thai tourist visa extension cost 1,900 THB (about £42) each. We found the process extremely easy; we went to the office on a Monday morning and only had to wait around 30 minutes to get our visa extension. All the people who worked there were friendly and helpful. There's even a poster at the office by the Foreign National Information Forms which has a big red heart on it and the message: Love You!
Pin Me!
Next up, we'll be making a visa run to Penang, Malaysia, in November and another to Hanoi next year. You can follow our weekly video updates about life in Chiang Mai by subscribing to our YouTube channel. Do you have any questions or advice about Thai visa extensions? Let us know in the comments below.