14 Jul

Sweet like Sri Lanka Kandy

After a tranquil stay in our jungle hideaway, Kandy was an assault on the senses. Cars and colourful tuk tuks choked the roads as our driver stuttered through the modern centre of Sri Lanka's second-largest city. Although the streets were crammed with people and noise, they were also surrounded by forested mountains and in the distance, Kandy Lake lay sparkling like a jewel in the city's heart.
Designated a UNESCO World Heritage Site, Kandy was once home to Sri Lanka's last ancient kingdom, which was taken by British colonial forces in 1815. As such, the city is stuffed with historical sites including a royal palace, sacred Buddhist temple, war cemeteries and botanical gardens. Located in the central province, Kandy is also the gateway to the highlands and the starting point for the country's most scenic train journey through tea plantations to the mountain town of Ella. If you're wondering how to get to Kandy from Colombo, check out train times in this guide.
Our Sri Lanka Kandy highlights
There are enough attractions in Kandy to keep you busy for a few days, but with limited time we started with a stroll around the lake, armed against the grey skies with an umbrella. Women clad in bright saris and school children in sparkling white uniforms traced the lake path, which we followed into the city's train station.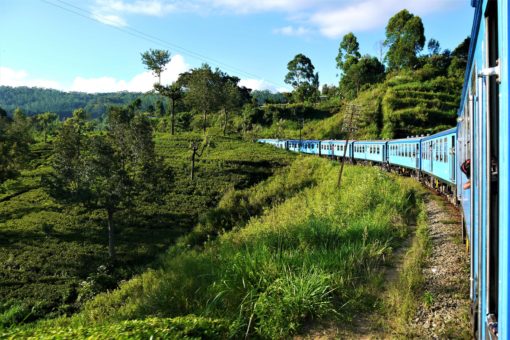 In typical Sri Lankan fashion, we were immediately helped by a smiling guard, who directed us to the counter where we bought our onward tickets to Ella, as well as tickets from Ella to Colombo, a nine-hour journey in first class which cost a staggering £6 each. Did we mention how cheap public transport is in Sri Lanka?
Kandy market
With our travel tasks done, we let ourselves be swept by the crowds down to the local market, where we wandered through lanes crammed with stalls. Each was heaving with colourful tropical fruit and vegetables; orange mangos and yellow bananas, huge green watermelons and piles of leafy veg.
Temple of the Sacred Tooth Relic
Also named the Dalada Maligawa, this sacred Buddhist temple is set on the banks of Kandy Lake, in the Royal Palace complex. One of Lord Buddha's teeth is enshrined in a golden casket, held in a stupa at the temple, which makes it an important Buddhist pilgrimage site. We visited during morning Puja, the three-times daily prayer ceremony where locals line up to leave offerings and view the sacred casket while musicians play traditional Kandyan music.

Kandyan dancing show
To end a day of sightseeing, we went to the Kandyan Art Association and Cultural Centre by the lake to watch a traditional dance show. Set to frantic drumming, we watched a performance that involved peacock costumes, fire breathing and walking on hot coals.
Where to stay in Kandy city
As one of the most popular tourist destinations in Sri Lanka, there are dozens of hotels in Kandy city to choose from. We stayed at the awesome Heaven Seven Hotel, which has incredible views overlooking the lake. The hotel was in the perfect spot for exploring all Kandy's main attractions, yet it was set slightly away from the bustle of the main roads, giving it a quiet, peaceful vibe.
Our room had huge sliding doors opening onto a balcony, where we could take in sweeping views of the lake and temple, which looked particularly majestic when lit up at night. After a hectic day of exploring we opted for a meal in the hotel's restaurant, where we were served a traditional Sri Lankan feast of string hoppers and curry. Breakfast was also excellent and we were served huge portions of toast and pastries, egg and hash browns, yoghurt and fruit.
Pin Me For Later!
*Full disclosure: we were given a complimentary stay at Heaven Seven Hotel, however all opinions are our own and we'd highly recommend staying there.