26 Oct

Polonnaruwa and those perfect travel moments

It was late afternoon in Polonnaruwa, a Sri Lankan city filled with ancient ruins, and a meandering bicycle trip had led us to the lake just in time for sunset. We parked up and watched as the sun sank behind distant hills, streaking the sky with buttery oranges and yellows. As the daylight faded I felt a swell of gratitude for that perfect travel moment, for having the freedom to experience the simple beauty of a Sri Lankan sunset.
Doing nothing much in Polonnaruwa Sri Lanka
Despite renting bicycles, we didn't get around to cycling through the Polonnaruwa ruins, a UNESCO World Heritage Site that was once the royal capital of Sri Lanka. I know, we sound like terrible travellers, but we were still recovering from our Nepal trek and I'd just spent the previous day completing a batch of freelance work. Sightseeing just didn't appeal to us and as we've discovered, sometimes the best way to soak in a destination is by just hanging out there, doing next to nothing.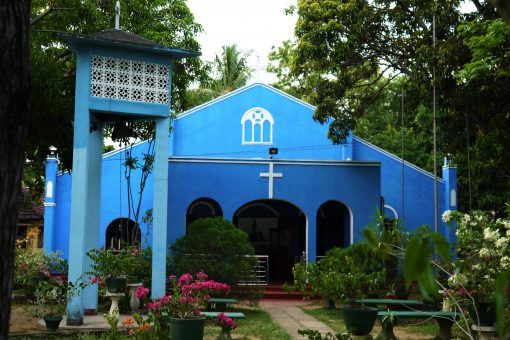 We stayed at a tiny, family-owned Polonnaruwa guesthouse tucked down a lane lined with flowered trees colourful enough to match the saris of the local women hanging out their washing. On that sunset afternoon, we peddled down the lane past a blue church while our guesthouse owner's son raced behind on his own bike to wave us off.
We headed for town, the late-afternoon light casting a golden glow over lime-green rice paddies that we couldn't help but stop to photograph. It was bath-time at the river, with people chatting in the shallows whilst rinsing clothes, swimming and lathering their hair. Reaching town, a tuk tuk driver saw that we'd stopped at a broken ATM and kindly directed us to another – have I mentioned how amazing the Sri Lankan people are?
The kindness of Sri Lankan people
From the smiley customs official at Colombo airport and hosts who plied us with unlimited amounts of spicy Sri Lankan food, to helpful train station guards and waving kids, it was so nice to be in a country where we felt genuinely welcomed. During our stay, devastating floods hit southern Sri Lanka and people organised mass donations to send to those affected. While listening to the news on the radio, our driver told us: "What's special in Sri Lanka is that everyone helps each other," a statement I had no trouble believing.
That afternoon we continued our bike journey down to the lake, stopping to play with some cute puppies, before witnessing that awesome sunset view. As the sky darkened we sped alongside the lake towards dinner and bed, bugs buzzing happily around our heads in the balmy evening air, relishing that unexpected moment of perfection.
Practical advice about visiting Polonnaruwa
If, unlike us, you want to visit the ancient ruins at Polonnaruwa you can purchase a $25 ticket from the museum which will grant you entry to the historic old city. Most people visit from nearby Dambulla one hour away but we'd recommend staying in Polonnaruwa overnight, as it's a beautiful town. You can rent a bicycle to cycle around the ruins or hire a tuk tuk or private car.
When's the last time you had one of those perfect travel moments?