07 Dec

Visiting Slovenia – tiny but lovely Ljubljana and Lake Bled

After a fairy tale trip to Neuschwanstein Castle, we set off along Germany's Romantic Road, driving through tiny Bavarian villages surrounded by forests and peaks. We climbed higher through the Austrian Alps, passing through ski towns where the snow lay like thick icing on rooftops and clung to the branches of pine trees. This winter wonderland followed us to the next adventure of our European road trip, a week visiting Slovenia.
We based ourselves in Slovenia's capital, Ljubljana, where we awoke on our first morning to soft snow falling outside our window. The cold froze our faces as we headed into the city, where we quickly realised that while Ljubljana is one of Europe's smallest capital cities, it's also one of the most beautiful.
Visiting Slovenia – Ljubljana
Ljubljana's heart lies in Preseren Square, named after Slovenia's national poet France Preseren. A bronze statue of the poet sits across from the once-red Franciscan Church that has now faded to shades of pink. A distinctive triple bridge stretches across the river, overlooked by Ljubljana's castle, which is perched on a hilltop.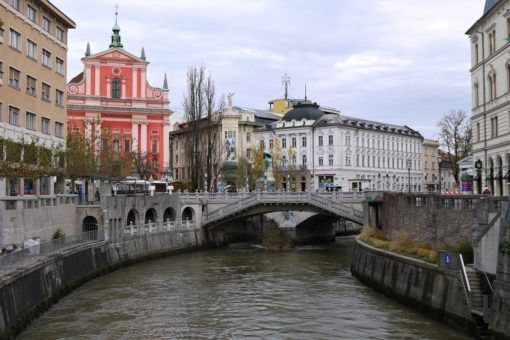 We scaled the steep hill to the medieval fortress, its towers and stone walls coated with a layer of snow. Inside we walked the eerie dungeon-like rooms of the castle's penitentiary, marvelled at the ornate ceiling paintings in the chapel and watched a film about the castle's history. Our tickets also included entrance to the Museum of Puppetry, which showcased some fascinating, yet creepy, Slovenian puppets.
As darkness began to fall we climbed the castle tower and were met with sweeping views over Ljubljana. Orange lights glowed from the white-topped houses and cathedral spires, illuminated bridges stretched over the river that cuts a path through the city.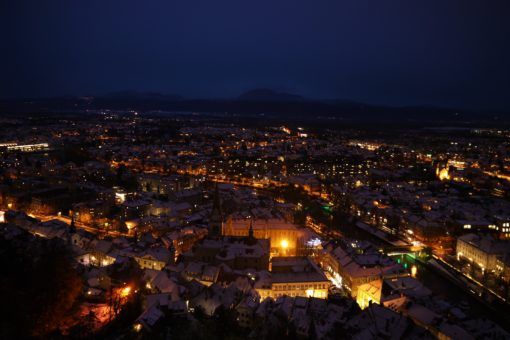 Ljubljana walking tour
It doesn't take long to explore the remaining Ljubljana attractions, as we found out on a free walking tour the next day. Slovenia was ruled by Austria for decades, so its architecture is a mix of Vienna Secession, Renaissance and early-modernist style, many of the buildings built by Slovenia's most famous architect Joze Plecnik. Some of the most striking include the cathedral, town hall and national library.
One of Ljubljana's prettiest aspects is its river, which is bordered by cobbled streets lined with cafes and bars with outdoor terraces overlooking the water. Famous sights along the river include the iconic Dragon Bridge, which is guarded by green statues of the mythical beast, said to be the dragon slayed by Jason and the Argonauts.
Nearby, the Butcher's bridge is covered with sculptures and lovelocks, while bakers who were caught serving customers old bread where dunked into the river as punishment from the Shoemaker's (or Cobbler's) Bridge.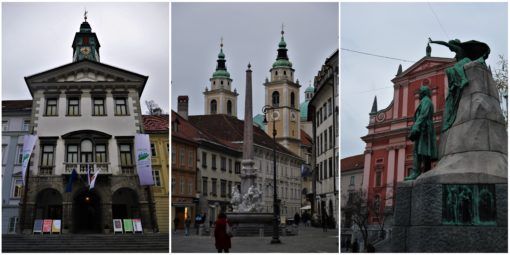 In Congress Square we saw a baroque church and the university building. Our Ljubljana guide explained that minus a small admin fee, it's free to study in Slovenia and students even get food and housing subsidies – a scenario British students couldn't even dream of. Awarded European Green Capital 2016 for eco-friendliness, Ljubljana also has a beautiful large park, Tivoli, that we took a stroll around.
We really enjoyed the free walking tour of Ljubljana which you pay a tip for at the end depending on how much you think the tour is worth. Here are some other Ljubljana tour options:
Visit Lake Bled
Aside from the capital, one of the top places to visit in Slovenia is Lake Bled and believe me, you won't be disappointed. The huge glassy lake is so calm its surface reflects the mountainous surroundings like a mirror. In its centre, there's a tiny island with a cluster of buildings including a spired church. The red roof-tops of Bled Castle sit on a hill above the lake and the huge snow-topped peaks of the Alps rise in the distance.
It takes around an hour to circle the lake by foot, but we decided to rent bicycles for just a few euros and cycle. This didn't speed up our journey much as we were compelled to stop continuously to take pictures of the lake from every angle. The guy at the bike shop recommended Bled hiking route six, so we chained our bikes halfway around the lake and trekked up the hill to get the most incredible views.
Frozen to the bone, we completed our circuit around the lake and warmed up with some tea before heading off to nearby Vintgar Gorge, which was unfortunately closed for the season. While we love travelling in the off-season because of the cheaper prices and fewer crowds (the path around Lake Bled was practically empty when we visited) it also has its drawbacks.
Lake Bohinj Slovenia
We did have one final stop of the day though, Lake Bohinj, which is a forty-minute drive from Bled. To get there we drove along roads surrounded by dramatic, towering karsts and forests. On the banks of Bohinj Lake there was a small Slovenian church set next to a stone bridge where we got some spectacular views over the lake and mountains. The scene reminded me very much of Milford Sound in New Zealand.
After just a week exploring the country, it's safe to say that I love Slovenia. The tiny but mighty country is a cheaper and less-visited alternative to expensive surrounding giants like Austria and Germany, yet it features alpine scenery that's just as stunning. We'd love to return to this land of lakes during a summer to hike and explore more of Slovenia's treasures.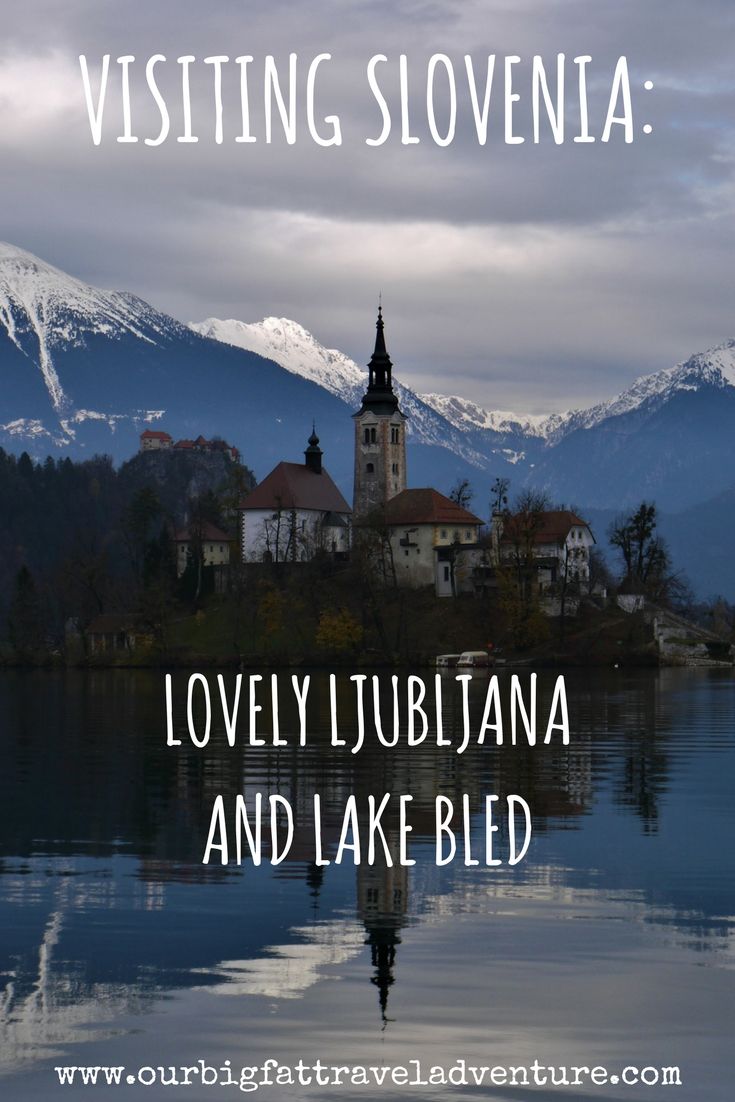 Pin Me For Later!
For our trip to Slovenia we stayed in an Airbnb just outside of Ljubljana (you can get £25 off your first stay with Airbnb using our affiliate link). If you prefer to stay in a hotel, here are some of the top options in Ljubljana. You can easily do a day trip to Lake Bled by bus, car or on a tour from Ljubljana.
Have you been to Slovenia; did you love it as much as we did?