01 Dec

Our Top 5 Destinations in Vietnam

Beeping motorbikes, lime-green rice fields and the craziest cities I've ever seen. That's what springs to mind when I think of Vietnam, one of my favourite countries. We made Hanoi our home for a year and travelled the length of the country, seeking out incredible national parks, UNESCO towns, massive caves and sand dunes. Here's a look back at our top five destinations in Vietnam.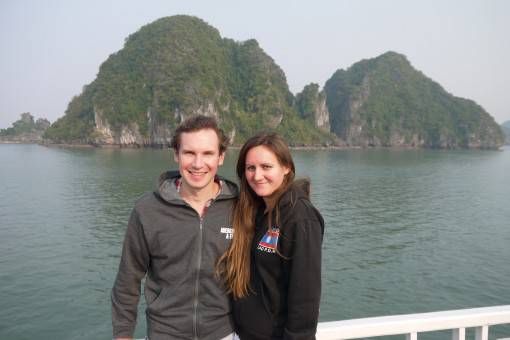 Top destinations in Vietnam: Hanoi
Vietnam's capital is the craziest place I've ever lived. Picture crowds of beeping, speeding motorbikes, pavements lined with tiny stools where people sit hunched over bowls of steaming Pho and electrical wires strung everywhere. That's Hanoi. We first visited the city back in 2013 and loved it so much we later returned to teach English for a year. It was one hell of a ride.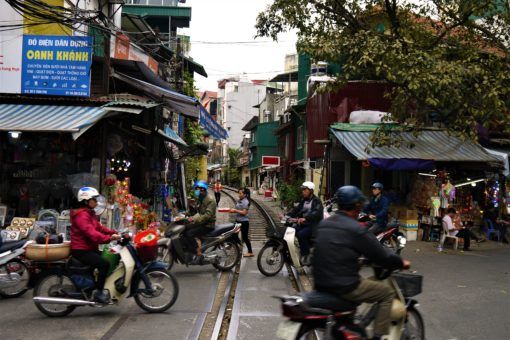 In between teaching huge classes of up to 50 kids in the public schools, we rented an apartment in the Old Quarter and a Little Cub scooter. We developed a close-knit group of ex-pat friends and got to know our Vietnamese co-workers, celebrated the TET New Year and spent weekends sat in cafes and wandering around Hoan Kiem Lake.
Tam Coc
Most northern Vietnam itineraries will include a stop in Tam Coc, which is part of a UNESCO World Heritage Site. Tam Coc is most famous for its scenic boat rides. Paddle along a river surrounded by floating rice fields and huge limestone karsts which have earned Tam Coc the nickname:  'Halong Bay on Land.'
During our trip to Tam Coc we drove to nearby Bai Dinh, the largest pagoda in Vietnam, to see thousands of Buddha statues and also visited beautiful Bird Valley. This protected reserve is home to thousands of different bird species and has some great walking trails. While in Tam Coc you can also cycle through rice paddies, visit the ornate Thai Vi temple and hike up 500 steps to Mua Cave.
Phong Nha-Ke Bang National Park
We took an overnight train from Hanoi down to Quang Binh Province to visit the longest underground rivers and dry cave systems in the world. Listed as a UNESCO site, Phong Nha-Ke Bang National Park even boasts the world's biggest cave, Son Doong. To visit it, you'll have to pay a whopping $3,000 for a week-long expedition, so instead, we visited some of the national park's other treasures on a day tour.
We started at Paradise Cave, which is over 100m high and 150m wide, filled with thousands of stalactites and stalagmites. Stretching for 31km, Paradise is Asia's longest cave system, but we saw just the first kilometre before moving on to Phong Nha Cave. For this, we boarded a boat to sail through the stunning cave as bats flew above and we heard stories about tribes who lived there over 1,000 years ago.
Mai Chau
If you're looking for the perfect place to see Vietnam's signature rice fields, head to Mai Chau in Hoa Binh. This  town is famous for its surrounding countryside and tiny villages which belong to people of Thai ancestry who live in stilt houses. We stayed in a small wooden hut in Ban Lac Hai with the most spectacular views of hulking mountains and vivid green fields.
We spent an idyllic few days in Mai Chau cycling through the countryside on dusty paths through villages and rice fields, past grazing buffalo and children playing in the shade. One evening, we watched a traditional dance show as the night sky filled with stars and tasted some local rice wine. Randomly, there was a village festival on and we joined locals who were dancing around fires and having watermelon-eating contests.
Cuc Phuong
We spent the TET New Year holidays with friends in Cuc Phuong, Vietnam's oldest national park. This natural gem is rarely visited by tourists, yet it features some of northern Vietnam's most incredible scenery. We took a three-hour bus ride from Hanoi to the park entrance and trekked in to stay at a bungalow on the shores of Mac Lake. At night, fireflies lit up the paths and we could hear all kinds of animal noises.
Cuc Phuong covers two limestone mountain ranges and is home to over 135 species of mammals, including Asian Black Bears. We visited the park's Endangered Primate Rescue Centre to see rare animals, most of which had been confiscated from poaches, and took a slightly punishing bicycle trip through the forested roads to see ancient trees, waterfalls and caves.
Those are our top five destinations in Vietnam but there's plenty more to love. Go trekking over rice terraces in Sapa, sail UNESCO-listed Halong Bay and explore Cat Ba Island. I absolutely love northern Vietnam and spent most of my time there, but heading south, we also explored the Dalat Highlands, Mui Ne sand dunes, Hoi An and crazy Ho Chi Minh City.
What are your top destinations in Vietnam?