12 Sep

Our Garden Route road trip itinerary

Ever heard of the Garden Route? It's South Africa's most famous road trip, named for its lush landscapes. After falling in love with Cape Town, we set off in our rental car to explore this beautiful stretch of coastline over two weeks. Here's our full Garden Route road trip itinerary and highlights, from trekking in national parks to cruising Knysna lagoon, exploring the epic Cango Caves and taking a self-drive safari at Addo Elephant National Park.

What exactly is the Garden Route?
The Garden Route lies along the Eastern and Western Cape in South Africa. Separated from the country's arid interior by the Outeniqua and Tsitsikamma mountain ranges, the area is filled with idyllic scenery, from native forests to glittering lakes and rugged coastline fringed with beaches. Officially, the Garden Route starts in Mossel Bay (around 400 kilometres east of Cape Town) and ends in Storms River, covering 200 kilometres altogether. However, we extended our Garden Route road trip itinerary to start in Cape Town and include Addo Elephant National Park.

What's the best time of year to visit the Garden Route?
The Garden Route is very busy during South Africa's summer season, from December to March, but the shoulder seasons are quieter and still enjoy good weather. We actually visited South Africa in winter and saw temperatures range from around 10 to 30 degrees, with two-to-three days of rain. However, prices were cheaper, attractions were quieter and it was whale watching season. If you are going to drive the Garden Route in winter (from June to September), just make sure you pack accordingly and book accommodation that has heating, we even had a few apartments that offered electric blankets!

What did our Garden Route road trip itinerary look like?
You can visit the Garden Route over as little as three or four days, stopping at its main bases: George, Knysna and Plettenberg Bay. However, we wanted to take our time, so we spent two weeks in total, booking longer stays in self-catering apartments and exploring areas from there. We rented a car for our entire three and a half weeks in South Africa from Bidvest, which cost £175. We picked up and dropped off the car at Cape Town International Airport.
Here's our Garden Route road trip itinerary, which we took in August:
Cape Town – 4 nights
George – 5 nights
Plettenberg Bay – 5 nights
Jeffreys Bay – 1 night
Colchester – 4 nights
Mossel Bay – 1 night
Cape Town – 3 nights
The Garden Route offers something for everyone, from bungee jumping to boat trips, safaris, hiking and beach relaxation. It's easy to tailor a route to your interests and add side trips. A popular option is to tack on a visit to the Stellenbosch and Franschhoek wine routes just east of Cape Town. You can also head to a private game reserve like Aquila or Shamwari for more safari action or Hermanus for whale watching trips.
Garden Route attractions
Now let's delve into what we did during our awesome Garden Route road trip.
Cape Town
While not strictly on the Garden Route, like most people, we started and finished our road trip in Cape Town, a city we loved. I've already written about our top Cape Town activities, but they include hiking Lion's Head, riding the open-top red bus, strolling around the V&A waterfront and visiting the District Six Museum and Kirstenbosch Botanical Gardens. Sailing over to UNESO-listed Robben Island to tour the prison where Nelson Mandela spent 18 years was a poignant part of the trip.

Betty's Bay
Driving distance from Cape Town: 89 kilometres, around 1 hour 30 minutes.
Most Cape Town visitors will take a trip to Simon's Town to visit Boulders Beach and its colony of nearly 3,000 African Penguins. We drove over there via stunning Chapman's Peak Pass, which has 114 turns high over the Atlantic Coast. However, we arrived late and the beach was shut but this was a blessing in disguise, as we saved the R152 entrance fee and still saw some penguins from the boardwalk.
Instead, we decided to stop at Stony Point en-route to George to visit Betty's Bay. They have their own colony of penguins here and it cost just R25 to visit. In addition, the crowds weren't so crazy and we got great views of the cute birds swimming, hopping around the rocks and waddling along the beach. All you need is a quick stop for an hour before moving on.
Practical information for visiting Betty's Bay: the entrance fee is R25 (£1.41) per person.
George
Driving distance from Betty's Bay: 372 kilometres, around four hours.
We drove straight from Betty's Bay to George, the largest hub on the Garden Route. George is regarded as the gateway to the Garden Route and links up with both Knysna and Wilderness on the coast via the scenic Seven Passes Drive. We took this route several times on day trips, once stopping at the Map of Africa Viewpoint, where the scenery resembles, well, the map of Africa.
Our first trip from George saw us drive north via the Outeniqua Pass to the famous Cango Caves. The journey took us through rocky mountains to barren red-rock fields with occasional ostrich farms, game parks and shaggy sheep. In fact, the Klein Karoo area was once the heart of the ostrich feather industry. These farms are now popular tourist attractions but as vegans, we avoided them, especially after hearing that they offer animal rides.
The 20-million-year-old Cango Caves are the largest in Africa, set in the Swartberg Mountains. You must take a guided tour, we opted for the heritage option which lasted a couple of hours and took us to five huge chambers filled with impressive stalagmites and stalactites.
You can take an adventure tour, which takes you further into the cave and involves squeezing through tiny gaps (flashback to our caving trip in Sagada, the Philippines). According to our guide, a woman once got wedged into a narrow passageway and it was 13 hours before she was freed!
The hippy town of Wilderness was just a short drive from our Airbnb apartment in George, filled with cafes. The nearby Ebb & Flow Rest Camp is the doorway to Garden Route National Park (which used to be split into Wilderness and Tsitsikamma national parks). We loved our day at the Wilderness stretch of the park, where we hiked the Half-Collared Kingfisher trail.
The 7-kilometre path was almost deserted and took us through indigenous forest, alongside a river, surrounded by over 250 species of birds. We pulled ourselves across the water on a pontoon and continued to a small waterfall, the perfect place to rest and have lunch before trekking back. We also drove on to a shorter, 45-minute Big Tree Route to see an 800-year-old Yellowwood tree.
While in George, we also spent a day exploring Knysna. The main hub lies down on the lagoon, where there's a waterfront complex similar to Cape Town's V&A.  From here you can cruise the lagoon, which is a protected marine reserve, home to the rare Knysna seahorse. We opted for a sunset cruise out to the Heads, a narrow opening to the sea and site of many shipwrecks.
To see the Knysna Heads from above, drive up to East Head, where there's a series of lookout points where you can watch the sea crash through the treacherous passage.
Practical information for visiting George:
It cost R150 (around £8.30) per person to take the heritage tour of the Cango Caves and you can book online.
Our sunset cruise on Knysna lagoon cost R235 (around £13) per person.
The day fee, per person, for the Wilderness section of Garden Route National Park is R142 (around £8 per person). Alternatively, if you're visiting for a long period of time, you can buy a Wild Card to save money on national park fees.
Plettenberg Bay
Driving distance from George: 94 kilometres, around 1 hour 30 minutes.
Plett is the place to go if you love adventure sports, with opportunities for canyoning, zip lining and diving trips. The seaside town itself has a lovely strip of restaurants and shops, as well as a beach where we spotted dolphins playing in the waves astonishingly close to shore.
Our most adventurous activity in Plettenberg Bay was hiking and our favourite walk was at Robberg Nature Reserve. This rocky peninsula juts into the sea and is a protected marine area with a huge fur seal colony and incredible views over the ocean.
There are three routes you can take around Robberg, we took the middle option, which led us around the headland and down onto a sandy, practically-deserted beach where we watched seals play in the water. From there, we hiked up to the seagull breeding grounds and had a tough scramble back along rocks to the car park. It was a challenging hike (for me) but the views made it absolutely worthwhile.
The most famous hiking paths in the area take you through the Tsitsikamma section of Garden Route National Park, including the five-day Otter Trail and seven-day Outeniqua Trail. We spent just a day in the Tsitsikamma section of the park, starting from Storms River. This area is filled with mountains and steep gorges, forests home to native wildlife and is lined by rugged coastline.
Bad weather the previous couple of days meant we weren't able to walk the Waterfall Trail, which takes you along the coast on a section of the longer Otter Trail. Instead, we took a shorter route across the iconic suspension bridge and then a longer walk through the forest on the Blue Duiker Trail.
Plettenberg Bay is a key whale watching hub and we shelled out around £50 each to take a boat trip one morning. Despite it being whale watching season, we were incredibly unlucky and didn't see any humpback, southern right or Bryde's whales on the trip. On reflection, I wish we'd stopped at Hermanus on the way back to Cape Town to try again, but given that we'd seen humpbacks and blue whales in the USA a few years ago (pictured below), we decided to give it a miss. I'd recommend trying Hermanus though, it's said to be one of the whale watching capitals of the world.
Our final trip from Plettenberg was to the Diepwalle Forest Station, an unspoiled woodland area where we didn't see a single other tourist. There are a few hikes to take from here, we went for the three-hour Black Elephant Loop, which snaked through the serene forest. I don't think we've ever been hiking in such a quiet place.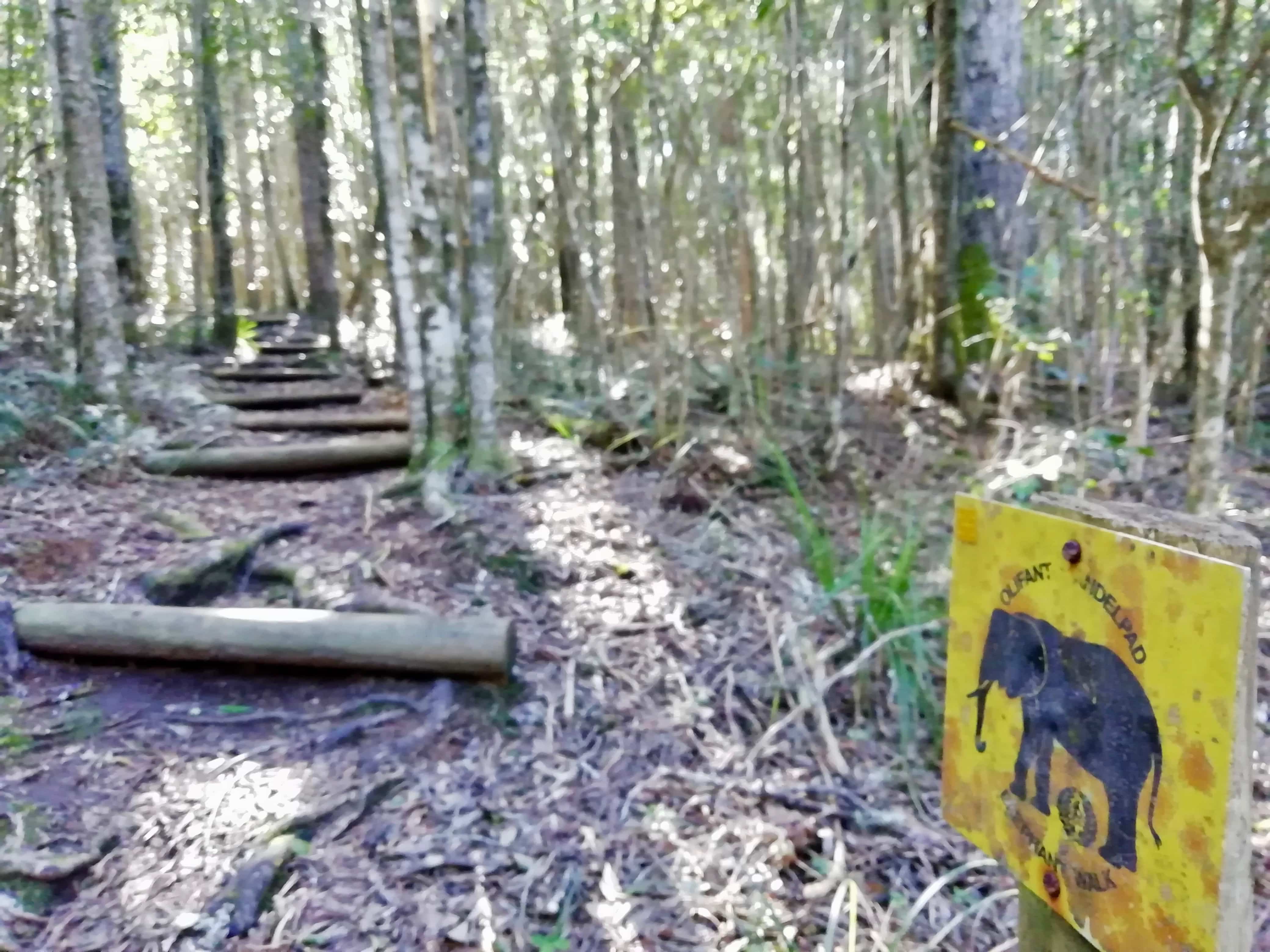 Practical information for visiting Plettenberg Bay:
The entrance fee for Robberg Nature Reserve cost around R50 (£2.80) per person.
It cost R235 (£13) per person to enter the Tsitsikamma section of the Garden Route National Park.
The entrance fee for Diepwalle Forest Station was R105 (around £5.80) per person.
Our unsuccessful whale watching trip with Ocean Blue cost R885 (£49) per person.
Jeffreys Bay
Driving distance from Plettenberg Bay: 164 kilometres, 1 hour 45 minutes.
Leaving the main Garden Route, we headed up towards Addo Elephant National Park. To break up the journey, we spent a night in Jeffreys Bay, a charming little town by the sea. The beach here is famed for its surf and huge super tubes, in fact, it had just held a top surfing competition.
We actually stayed in an apartment in an up-market housing estate, which had a network of canals you can kayak around. Like many places in South Africa, it had huge gates and heavy security and the rich surroundings were in stark contrast to the townships that lie just outside. The inequality gap in South Africa was sharper than perhaps anywhere else we've been in the world and it did make us uncomfortable. Be prepared to face this when you visit.
Colchester
Driving distance from Jeffreys Bay: 113 kilometres, 1 hour 10 minutes.
Our sole reason for staying in Colchester was to visit neighbouring Addo Elephant National Park. The town is right on the border of South Africa's third-largest national park, which is home to one of the densest African elephant populations in the world. From just 11 animals that had been nearly hunted to extinction when the park was established in 1931, there are now nearly 600 in the park.
We spent several days on a self-drive safari at Addo, which I'll write more about in our next post. Suffice to say though, the park definitely lived up to its name! We spotted dozens of elephants, many just feet away from us going about their daily business. The watering holes and underground hides were particularly great for elephant watching.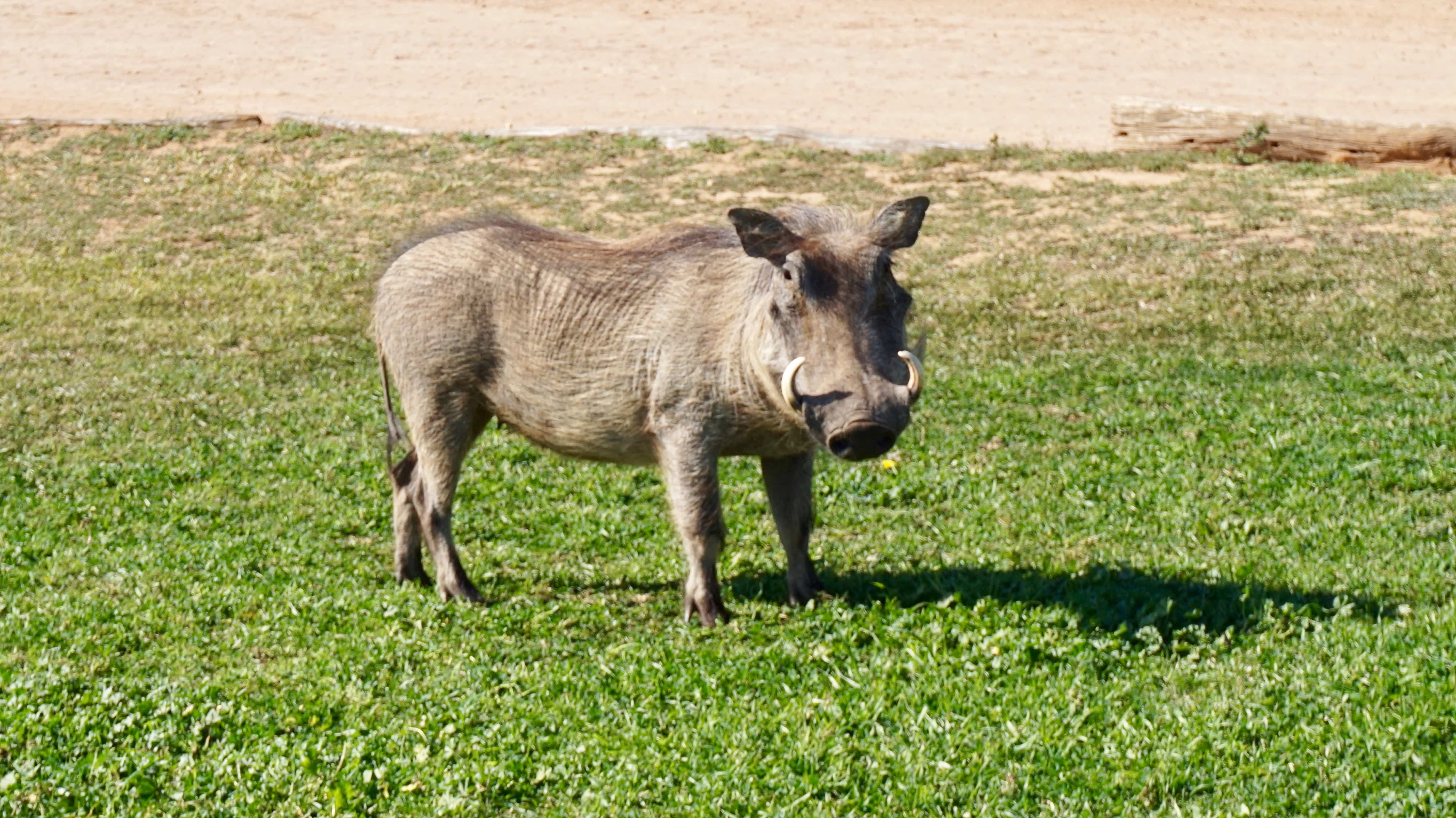 In addition to elephants, we spotted various types of bucks, ostriches, buffalo, tons of warthogs and even a couple of lions on the sunrise game drive we paid for with a guide. There's also an interpretive walk you can take and a museum to learn about the park's history, so you can easily spend two or three days exploring Addo.
Practical information for visiting Addo:
The entrance fee for Addo Elephant National Park costs R307 (around £17) per person.
We spent an additional R415 (£23) each on a guided sunrise safari drive. It probably wasn't worth the extra expense, as we saw more wildlife just driving around on our own.
Mossel Bay
Driving distance from Colchester: 400 kilometres, 4 hours 30 minutes.
We really enjoyed this old-fashioned seaside town, particularly wandering alongside the beach to watch the surfers. One day, we were even lucky enough to spot dolphins and whales from the shore. If you're in Mossel, be sure to head up to the 14-kilometre St. Blaize Trail, which leads to Dana Bay and the Point of Human Origins, caves which were inhabited by humans up to 165,000 years ago. We only walked the first part to the lighthouse for amazing views over the ocean and were surrounded by cute, gopher-like dassies.
Cape Town
Driving distance from Mossel Bay:  385 kilometres, 4 hours 20 minutes.
Our Garden Route highlights
So, what did we love most about South Africa's Garden Route? Here were our highlights:
Hiking in Robberg Nature Reserve
The self-drive safari at Addo Elephant Park
Taking the Heritage Tour at the Cango Caves
The sunset cruise on Knysna Lagoon

Where we stayed on the Garden Route
When we travel these days, we tend to book self-catering apartments through Airbnb or Booking.com. We like the privacy, it gives me peace and space to complete any freelance assignments and we can easily cook if it's difficult to find vegan restaurants. In South Africa, prices averaged around £30 per night, ranging from £22 in Colchester to £40 in Cape Town. We travelled in winter, so prices may be higher in summer. If you haven't used Airbnb before, you can get £25 off your first stay by using our discount link.
Here's a breakdown of exactly where we stayed in Cape Town and the Garden Route:
Top Garden Route restaurants
Given its setting near the coast, there are tons of restaurants on offer, especially if you're into seafood. As vegans, we found it more difficult to eat out in South Africa generally and cooked at home a lot. However, if you're looking for plant-based options, here are the best places we dined at during our trip:
How much did our Garden Route trip in South Africa cost?
We'll post a full, detailed break-down of our entire South Africa trip soon. In the meantime, here's a look at what we spent on our two-week Garden Route road trip, not including our time in Cape Town. These costs are for two people.
| | |
| --- | --- |
| Expense | Cost |
| Accommodation | £441 |
| Activities | £325.97 |
| Car hire | £175 |
| Fuel, tolls and parking | £165 |
| Food | £212.51 |
| Laundry and new socks | £14.66 |
| Total | £1,334.14  |
Additional hikes and activities on the Garden Route
Looking for more Garden Route activities and highlights? Here are some more ideas of things we didn't get around to trying:
Hiking the 41-kilometre Otter Trail, which must be booked a year in advance because it's so popular. The coastal walking trail takes you by the coast and through the national park for five days, sleeping at huts along the way.
If you're into surfing, don't miss Jeffreys Bay and Plettenberg.
Nature's Valley on the way from Plettenberg to Jeffreys Bay offers a network of hiking paths up to six kilometres long via cliffs to beaches and forests.
Try some tubing, kayaking or canyoning at the Tsitsikamma section of Garden Route National Park.
Go mountain biking on the Harkerville Trail, located near Knysna.
Walk the entire 14-kilometre Blaize Trail, which starts at Mossel Bay and heads on to Dana Bay and the Point of Human Origins.
Go bungy jumping at Bloukrans River Bridge, the world's highest bridge bungy at 216 metres.
Visit St Francis Bay, known as South Africa's Little Venice for its waterways and up-market resorts.