14 Sep

Around the World Tickets – to Buy, or Not to Buy?

Booking the flights for our trip was a huge deal. We knew that once we'd clicked that confirmation button and our hard-earned cash had left our accounts there'd be no going back; no changing our departure date or destination, no backing out. Everyone would realise that the trip we'd been talking about for so long was actually going to happen – and so would we.


By this point in our planning we'd already figured out our initial travel itinerary; we knew that we were going to fly to New Zealand first in early 2013 but we didn't have a date and crucially, we didn't know whether to buy a round the world plane ticket or book flights as we went.
Turns out the round the world plane ticket vs book-as-you-go is a hotly debated topic in the travel blogging world, so we decided to explore both options. Here's what we found out.
How Much Does a Round the World Ticket Cost?
One of the first things I did when researching ticket costs was contact Erin and Simon, a nomadic British couple who run the site Never Ending Voyage. They bought two Great Escapade RTW tickets for £2,886 when they took their first trip. However, Erin pointed out that although this was the cheaper option, they later regretted having fixed flight dates  and recommended we buy as we go, using cheap airlines like Air Asia where possible.
Still attracted by the possibility of finding cheap round the world tickets, we got several quotes for the following itinerary:
London – New Zealand
New Zealand – Australia
Australia – Indonesia
Indonesia – Philippines
Philippines – Malaysia
We were quoted the following prices for tickets valid for one year with a return flight included; we'd be charged if we wanted to change any of the flight dates:
Trailfinders said a round the world plane ticket would cost £2,196 per person
Flight Centre told us their round the world plane ticket costs £1,569 per person
Of these options, we seriously considered booking the Flight Centre ticket. Andy, the guy who put together our quote, was so helpful and gave us lots of advice. Additionally, he pointed out that if we booked through Flight Centre our trip would be ATOL/ABTA/IATA protected, which would cover us for airline failures.
While tempting, we were still dubious about being so locked into our itinerary, so we decided to research what we'd pay if we booked as we went, here's what we came up with:
Flights from London to Auckland, via Seoul cost £541 with Korean Air
Flights from Christchurch to Melbourne cost £141.50 with Air New Zealand
Flights from the Gold Coast to Bali cost £246 with Air Asia
Flights from Bali to Kuala Lumpur cost £65 with Air Asia
Return flights from Kuala Lumpur to Clark, Philippines cost £65 with Air Asia
So, the total cost of our pay-as-you-go round the world plane tickets is £1,058.50 per person.
Of course, we realise that the pay-as-you-go ticket prices may change, but given that they're cheaper and obviously more flexible, we decided this was the best option.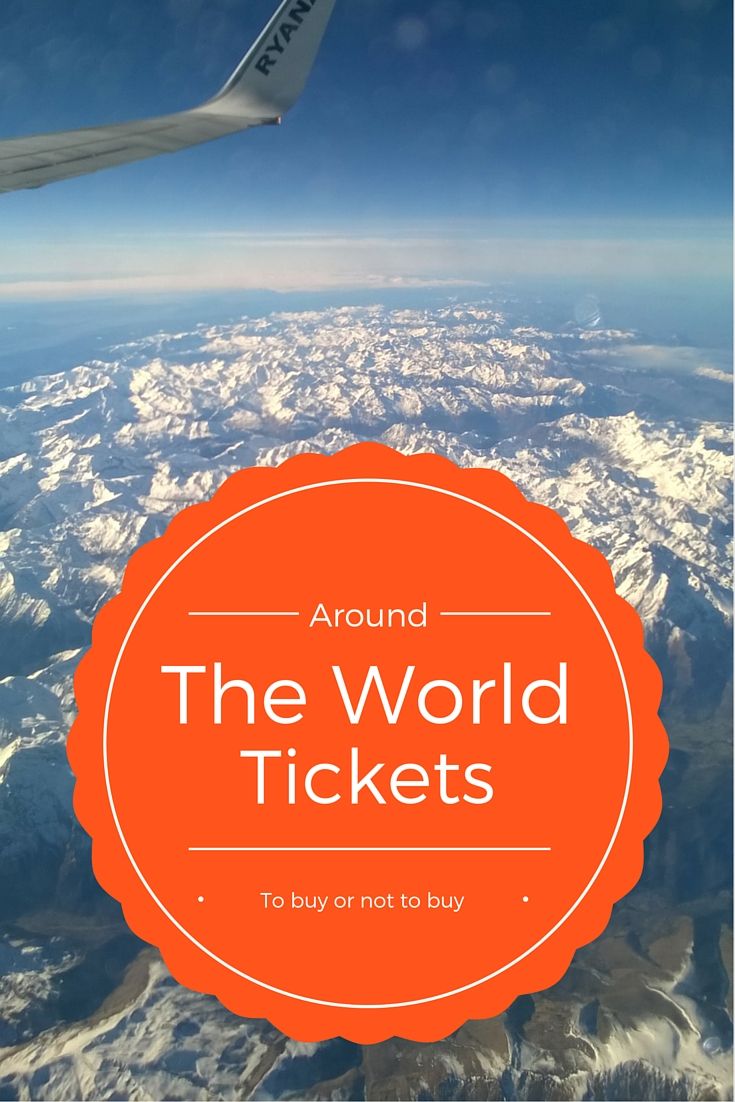 Pin Me!
So far, we've booked our one way tickets to New Zealand and our onward flights to Australia. Knowing that on the 3rd March 2013, less than six months away, we'll be on a plane to start our travel adventure is a truly awesome feeling!