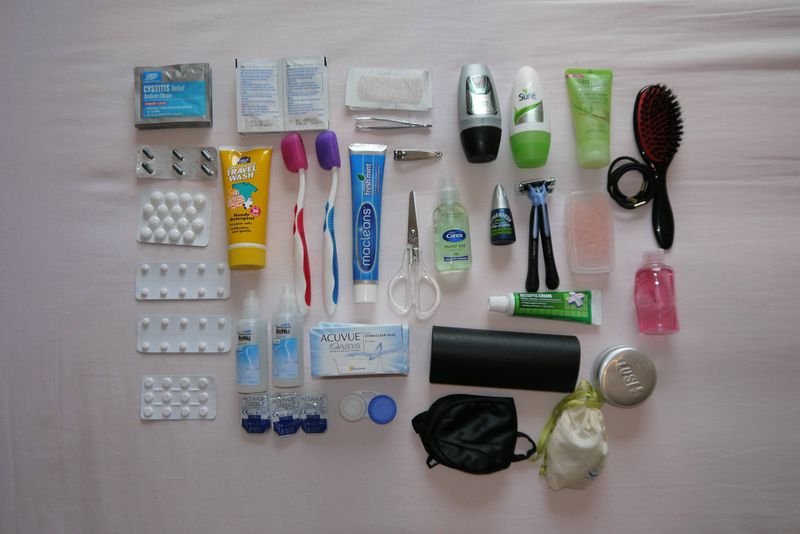 13 Jan

Our Packing List

One of the things I quickly became obsessed with when planning our trip was packing lists, I just can't get enough of them. I'm fascinated by what to take travelling and have searched out as many backpackers' packing lists as I can find. They've really helped us decide what we need to take with us and have been invaluable in the travel planning process. So, here's a look at our travel packing list.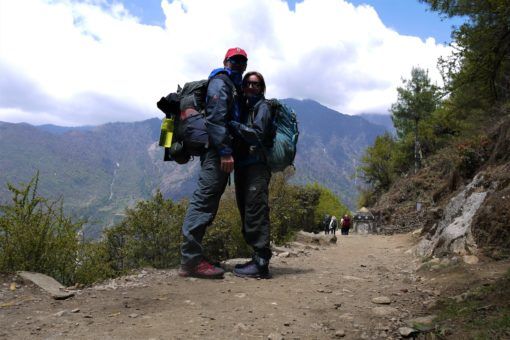 We've been slowly buying all our gear over the past year to spread out the cost, which you can read about in our pre-trip costs post. Now, seven weeks before we leave, we've collected everything and have even had a trial packing session (I know, we're keen!). So here it is, the complete packing list for our travel adventure.
Our Round the World Packing List
Here's our complete list of what to take backpacking.  If you want to find out more about travelling light, check out World Travel Family's how-to guide about travelling with a carry on bag only. Here are some of our more recent packing list posts:
Changes to our list after six months of travel
Packing for the Everest Base Camp trek. 
Preparing for our trip to South America: visas, vaccines, insurance and packing.
Packing
2018 UPDATE: Amy has updated her backpack after over five years and is now using the women's Thule AllTrail 35L. It's really comfortable and full of useful pockets and openings too. Andrew now has a 34L Thule Subterra Travel Backpack which we use as a full backpack and day bag.
2 Eurohike compression sacks
for our dirty clothes
2 Vango small compression sacks for our underwear
Vango large compression sacks for the rest of our clothes
Eagle Creek packing cube to store our toiletries and medicines
25L dry sack (to keep our electronics safe)
25L Regatta pack-away day bag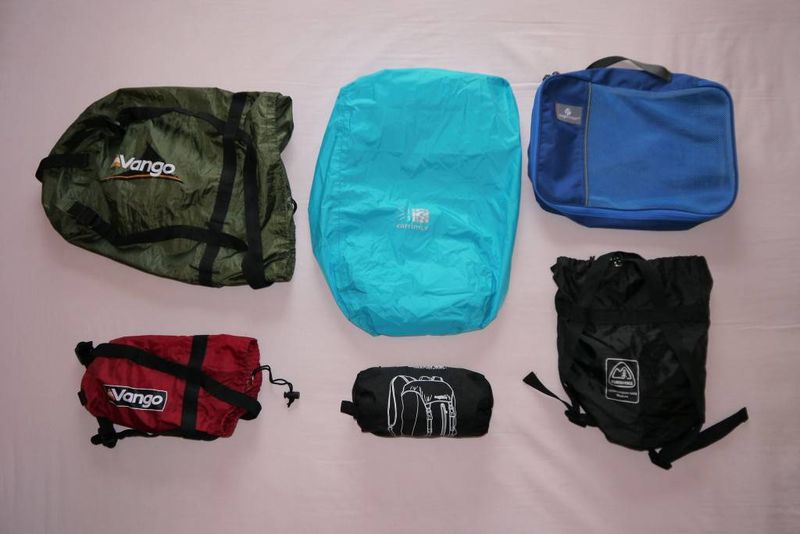 Electronics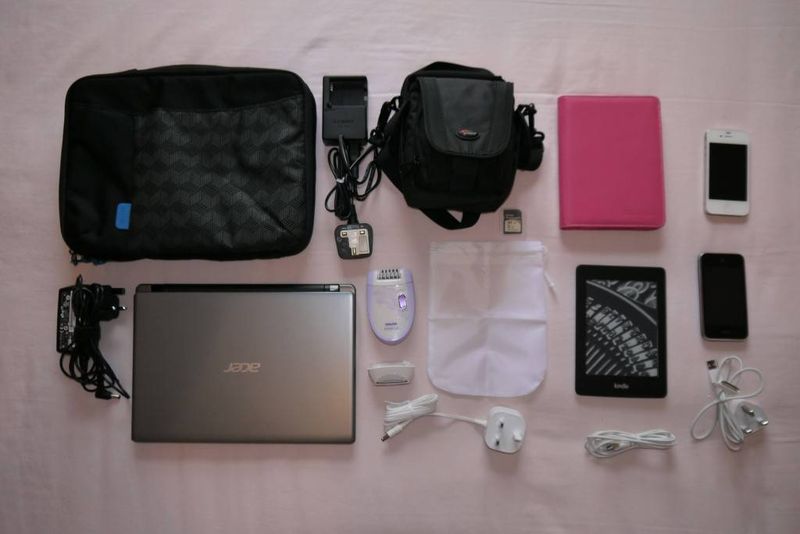 Panasonic Lumix GF3 Camera (which we used to take this picture), case and charger
16gb and 8gb Sandisk camera cards
Acer Aspire 11.1 inch laptop
, case and charger
2 Kindle PaperWhites, cases and chargers (second one not pictured)
2 iPhones and charger
External hard drive (not pictured)
Epilator and charger
Amy's Clothing
1 pair of linen trousers
1 pair of ¾ length running/exercise trousers
3 pairs of shorts
1 pair of running/exercise shorts

10 tops
2 bikinis
2 sarongs
1 pair of swimming shorts
1 scarf
Regatta micro fleece
Montane featherlight marathon jacket, which packs away into the tiny case pictured
1 long sleeved shirt
Underwear x 10 (not pictured)
Bra  (not pictured)
Socks x 4 (not pictured) including a pair of Heat Holders, thermal socks which have been really useful for me while travelling in colder places like the USA and Europe.
Andrew's clothing
2 pairs of linen trousers
1 pair of Bluffworks Originals relaxed fit trousers (pictured) which are great for whatever our plans, be it teaching in a school or hiking the nearest mountain.
2 pairs of long shorts
1 pair of running shorts
1 pair of swimming shorts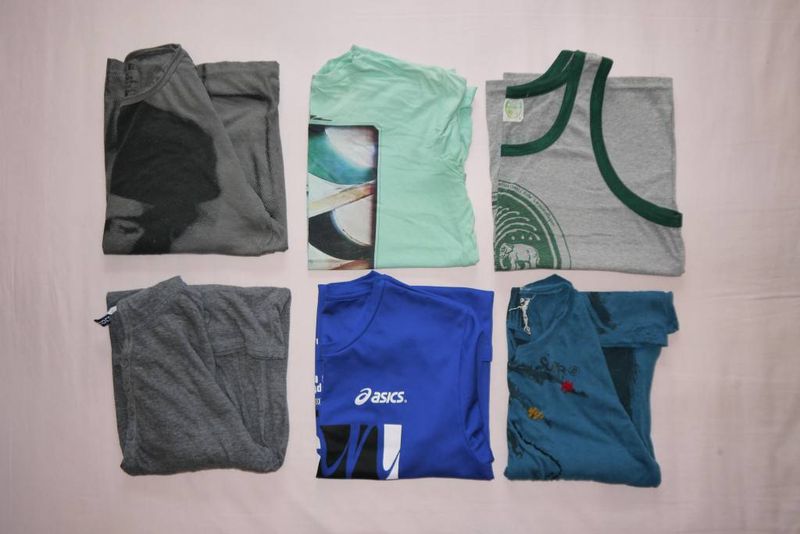 6 t-shirts (1 not pictured)
Long-sleeved top
Regatta micro fleece
Montane Singletrack jacket, which packs into the tiny case pictured above
Long-sleeved shirt
Short-sleeved shirt
Hat
Buff
Belt
Underwear x 6 (not pictured)
Socks x 3 (not pictured)
Footwear
2 pairs of trainers
2 pairs of Havaianas flip-flops
Toiletries and medicines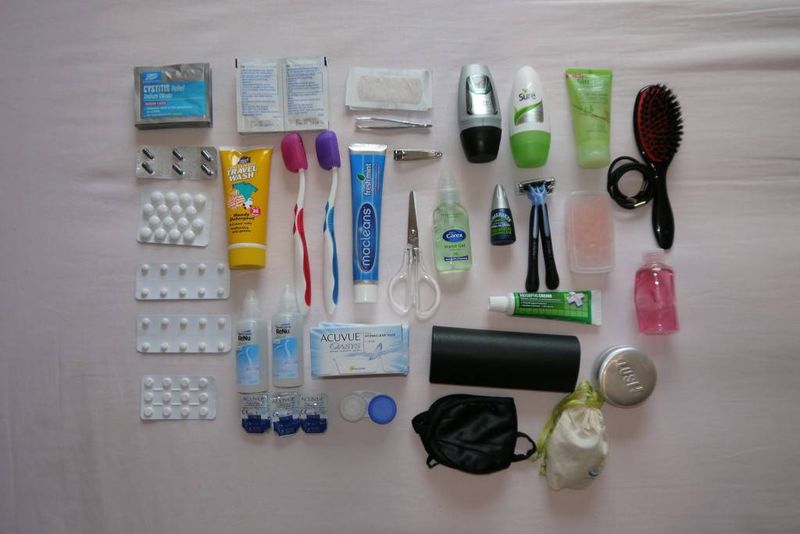 Seven month supply of contact lenses for Amy
Contact lens case and travel-size bottles of solution
Amy's eye glasses
Ear plugs
Eye mask
Moon cup (I've been using this for about a year already and I love it; it saves money and is eco-friendly)
Somerset shaving oil
Toothbrushes and guards
Toothpaste
Hairbrush and hair bands
Lush shampoo bar and tin
Face wash
Shower gel
Sponge (not pictured)
Razors
Tweezers
Nail clippers
Scissors
Deodorants
Ibuprofen
Cystitis medicine
Amy's migraine medicine
Travel sickness pills
Diarrhoea medicine
Dulcolax
Plasters
Antiseptic cream
Antibacterial hand wash
Travel wash (for hand-washing clothes)
Travel accessories
2 Trespass microfibre towels
Skross PRO PLUS World Adapter
2 cotton sleep sacks
4 combination locks
Head torch
Clip torch
Swimming goggles x 2 (I need them for swimming with contact lenses)
Two pairs of SunGod Classics2 Sunglasses. We love these because they're lightweight, stylish, have flexible frames  and polarised lenses – perfect considering we spend so much time in the sun!
Money belt
Notebook and pens
Wallet with bank cards in
Zipper bags for the following documents:
Passports
Driving licences
International drivers permits
Vaccination cards
Indonesian visas
Passport photos
Photocopies of our passports
Print outs of our first bookings
Pin Me!
Did we miss anything essential?
*There are affiliate links in this post and we will receive a small commission if you buy any travel products through these links.