06 Oct

Our Mountain Retreat in Sagada

After our exhausting trekking adventures in Banaue and Batad we were searching for somewhere to relax for a few days before leaving the Philippines. Luckily, we found the perfect place in the peaceful mountain town of Sagada; in fact, we loved it so much we didn't want to leave – here's why.
Falling in Love with Sagada
The six-hour bus journey from Batad to Sagada was a treat in itself. A cool breeze filtered in through the open windows of our bus while goats occasionally stamped on the roof (yes, there were goats strapped to the roof) and we climbed higher and higher along twisting roads into the mountains, assaulted by spectacular scenery at every turn. We tottered precariously on the edges of deep, tree-lined valleys and sped through small towns and rice fields surrounded constantly by towering mountain peaks, until finally we arrived in what became our favourite place in the Philippines – Sagada.
As we walked along the one main street past school kids and ever-present colourful jeepneys we discovered dozens of appetising restaurants with names to makes our mouths water; The Lemon Pie House, Strawberry Café and The Yoghurt House. We checked into a cute wooden lodge where, for lack of guests, they gave us the biggest room in the entire place with three double beds overlooking a gorgeous view of the mountains and pine forests.
For the first time since we'd hit Asia we didn't need or want air conditioning; the weather was cool, breezy and prone to rain, reminding us of home. I loved being able to nestle down in fleecy blankets in my own double bed and slept deeply every night. During the few short days we stayed in Sagada we got into a routine of eating all our meals at the Yoghurt House, which served absolutely delicious bowls of granola smothered in yogurt, vegetarian rice dishes, home-made cheese straws and huge hikers' breakfasts of fruit pancakes and eggs – I was in heaven.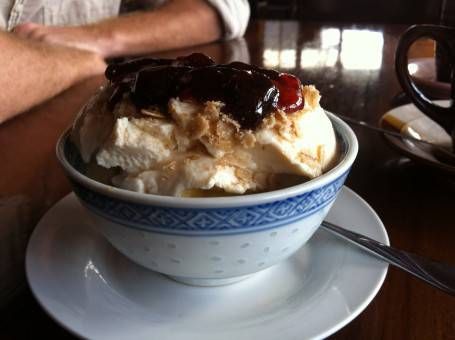 An Unexpected Tour
We headed out to explore Sagada on our second day and somehow got lost looking for the church. As we stood in the middle of a field squinting at our map three local boys came racing towards us: "Where are you going?" they asked in perfect English, "We will guide you for 50 Pesos each!"
*Update: since our trip to Sagada we've learned that it's not a good idea to hire children as guides and we do not recommend this practice. We live, we learn and we want to pass this information on to other travellers so they don't make the same mistake we did.

We agreed and our enterprising 11 year-old guides took us on an unusual tour up to the church, stopping to show us some 'Crazy Plants' which snap shut when you touch them. As we took pictures of the old church, which was bombed by the US during the Spanish occupation, its clock began to chime. "Wait here, for the evil spirits to pass," our guides warned, stopping still.
The boys led us further up the hill, the shyest of the three stopped along the way to cut me some flowers with his trusty knife (every little boy in Asia has one…) and then find me a stick for support when I slipped on some mud. Crossing the cemetery the boys paused to show us the grave of a three-day old baby who recently died. "His mother cried a lot," they explained somberly.
This stop seems less morbid when you consider the next place they took us; to the hanging coffins in Echo Valley. Although the practice now seems to have died out, for thousands of years the local custom in Sagada was to bury people in wooden or stone coffins attached to mountain sides. This kept bodies from wild animals, protected them from floods and supposedly made it easier for their spirits to reach heaven.  I found the coffins an eerie sight and couldn't help imagining people dragging bodies all the way up the valley and sealing them into these cliff-side tombs.
Hiking in Sagada, Philippines
There's plenty of hiking to do in and around Sagada to nearby waterfalls, a lake and acres of UNESCO rice paddies.  Even after our tough trek in Batad we were keen to get out and discover more of Sagada but sadly we just didn't have time to see everything. However, as well as spending a scary and exhilarating day caving, we also managed to visit a small local waterfall.  To get there a young girl led us to a dirt path which cut through a field of waist-high plants to a river. We followed the path downstream and emerged at the waterfall which was crowded with local boys playing and swimming in the sun.
Inspired by this, we also took a two-hour walk out to the Bomod-ok (big) waterfall only to arrive near dusk and find we'd never make the further trek down to the base of the waterfall and back up again before dark. The walk there and back was more than worth the effort though and we enjoyed trekking along mountain paths through tiny villages past rice paddies and old women permanently doubled-over from years of working in the fields.
Sagada is the one place we've been to on this trip so far that I truly didn't want to leave. If it weren't for our visas and the fact that we had family and friends meeting us in Thailand we might just have stayed there for weeks, trekking through the cool hills and relaxing in our mountain retreat. On our last evening in Sagada we watched the sun set over the mountains all purple and pink – like a beautiful bruise – and we promised ourselves that we'd return here before we leave Asia.