14 Oct

Changes to our Travel Packing List

It's been over seven months now since Andrew and I first packed our backpacks and set off on the road. Before we left we spent hours researching and preparing our round the world packing list based on the recommendations of other travellers. However, during our first six months on the road this list has changed quite a bit; while some things broke or got lost we added new items and got rid of stuff we didn't need as we adjusted to long-term travel. We thought it might be interesting to share  how our packing list has evolved over the first seven months of our trip; perhaps it'll even help new travellers decide what to take with them.
Our new Travel Packing List
Here's our new and revised backpacking packing list:
Bags and Packing Aids
Osprey Aura 35L backpack
Osprey Atmos 38L backpack
£10 knock-off day pack from Chiang Mai, about 25L
Although they certainly look a lot grubbier than they did when we set out, our Osprey backpacks have proven to be robust, comfortable and just the right size for all our belongings. On travel days Andrew carries our valuables in the day pack pictured above in case we have to put our Ospreys in luggage holds; we also use this bag for day trips.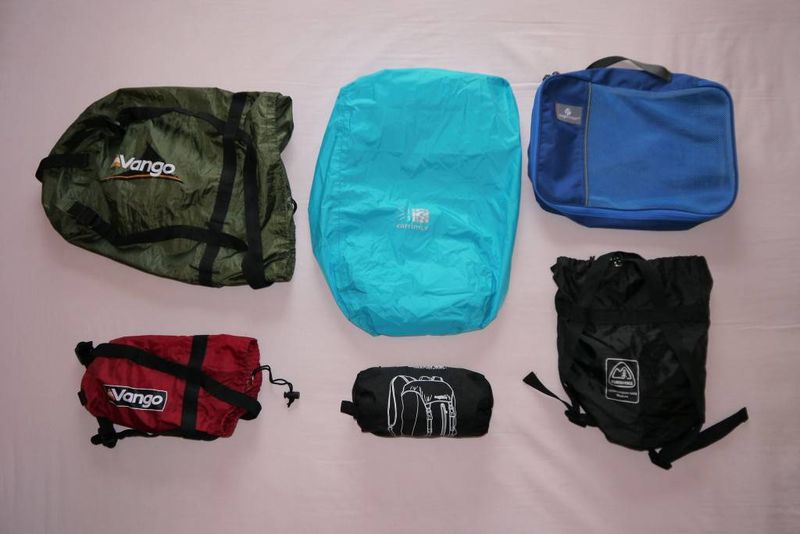 2 Eurohike compression sacks for our dirty clothes
2 Vango small compression sacks for our underwear
2 Vango large compression sacks for the rest of our clothes
Eagle Creek packing cube to store our toiletries and medicines
25L dry sack (to keep our electronics safe)
25L Regatta pack-away day bag
We continue to use all of our compression sacks on a daily basis and find them invaluable for organising and condensing our clothes. We have also been thinking about buying a travel organiser to keep everything in order. We wish we'd bought a smaller packing cube for our toiletries though; the one we have is slightly too big for our needs and gets messy quickly. Our dry sack has been useful for protecting our electronics on boat trips, especially the precarious long boat journeys we took in Borneo; we also use the dry sack as a beach bag. We were using the foldaway bag shown above as a day pack but since the straps weren't padded it was very uncomfortable to wear so we now use the new day pack; we'll probably get rid of the foldaway bag.
Electronics
This is what we had gadget-wise when we started our trip: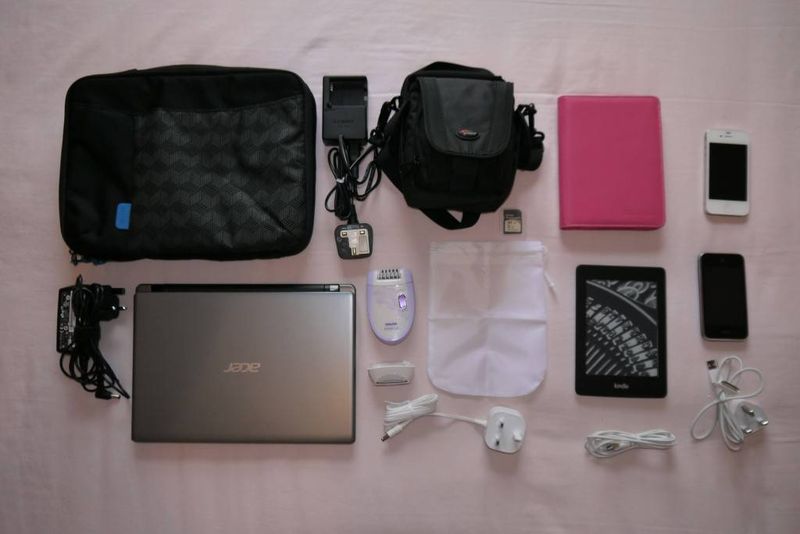 This is what our electronic stash looks like now:
Panasonic Lumix GF3 Camera (which we used to take this picture), case and charger
16gb and 8gb Sandisk camera card
Acer Aspire 11.1 inch laptop, case and charger
Acer Aspire One 11.1 inch laptop, case and charger
2 Kindle PaperWhites, cases and chargers
Memory stick
2 sets of headphones
2 iPhones and charger
Nokia phone
External hard drive and wire
Epilator and charger
We found out pretty quickly that we simply couldn't travel with just one laptop so we picked up a new one when we arrived in Jakarta – here's how we chose our new laptop and how much it cost. We also got a cheap Nokia phone in Malaysia for £10 as it turned out to be too expensive to unlock our iPhones. It usually only costs a few pounds to pick up a new sim card in each country we visit and the phone has been handy for arranging transport, accommodation and pick-ups as well as meeting up with family and friends when they visited us in Thailand. Our camera, kindles and external hard drive are still going strong and we use our iPhones as additional cameras and music players.
Amy's Clothing
Here's what I took with me when we set off in March:
Here's what I carry now:
1 pair of linen trousers
1 pair of long hippy trousers from Indonesia
1 pair of 3/4 length fisherman trousers from Indonesia
2 pairs of shorts
1 pair of running/exercise shorts
While I wore my leggings a lot for hiking in New Zealand and Australia, they were just too hot for Asia so I got rid of them. One pair of my original shorts (which were very old anyway) got ripped when we went caving in the Philippines so I had to chuck them out. I did buy two new pairs of very cheap trousers in Indonesia though; they're lightweight and comfortable but aren't very robust; the black ones got badly ripped in the laundry and the purple trousers had to be repaired in the Philippines. I'm really glad I have two pairs of trousers to protect myself from mozzies in the evenings.
Here are the tops I started our trip with:
This is what I carry now:

I started off with 10 tops and now carry eight; a couple got lost along the way and I've replaced some of the thicker ones with lighter tops from Indonesia (again, these aren't great quality and won't last long but they were extremely cheap). I also picked up a dress for just £2 in Indonesia; a strange choice for me because back home I never wear skirts or dresses. It was so hot on the Gili Islands though that I relented and bought this for comfort, it only really gets worn when we're in hot beach locations. Speaking of beaches, here's the swimwear I started off with:
Here's what I carry now:
2 bikinis
2 sarongs (one large, one small)
1 scarf
I got rid of my swimming shorts since I never used them and sent one of my smaller saraongs home with my parents because I picked up a large saraong in Indonesia instead which has been really useful. When we're near the beach I use the large sarong as a full-length cover-up and a beach towel; it also serves as an additional shawl for visiting temples, a blanket on overnight bus journeys and an extra towel.
Additional clothing I took with me at the start of the trip:
What I carry now:

1 long sleeved shirt
Trespass waterproof jacket
Underwear x 10 (not pictured)
Bra (not pictured)
Socks x 3 (not pictured)
I got rid of my Regatta micro fleece when we hit Indonesia; I used it often in New Zealand and Australia but it's just too hot for it in Asia. I don't miss the fleece at all, except on overnight bus journeys which tend to involve fierce air conditioning. I also sent my Montane featherlight marathon jacket back home with my parents as although it serves well as a windbreaker it's not waterproof at all and was pretty much useless for protecting against Asian downpours. Now I carry this waterproof Trespass jacket which my Dad gave me when he left Thailand; it takes up a bit more room than the Montane but is more useful. I wear my shirt often to protect against mozzies in the evenings or on jungle treks and to fend off the freezing air con on buses and trains.
Andrew's Clothing
Andrew's clothing hasn't changed as much as mine, he still carries the same trousers and shorts that he set off with.
2 pairs of linen trousers
2 pairs of long shorts
1 pair of running shorts
1 pair of swimming shorts
Andrew has, however, switched out some of his thicker t-shirts for cheap vests from Indonesia. Along the way one of his original t-shirts went missing too. Here's what he started out with: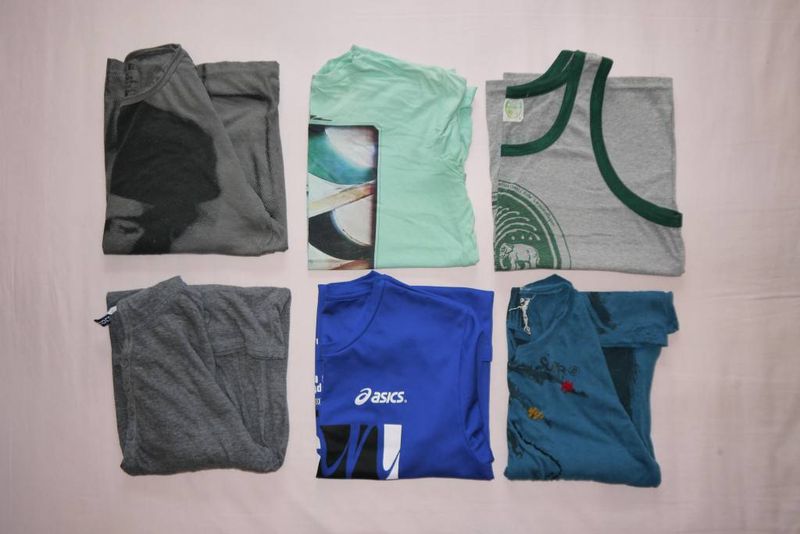 Here's what he carries now:
3 t-shirts
4 vests
Long-sleeved top
Additional clothes Andrew had at the beginning of the trip:
What he carries now:

Long-sleeved shirt
Short-sleeved shirt
Hat
Buff
Belt
Underwear x 6 (not pictured)
Socks x 3 (not pictured)
Andrew also got rid of his Regatta micro fleece and sent his Montane Singletrack jacket home for the same reasons as me; he now only uses a cheap poncho when it rains. Since his travel towel disappeared in Indonesia, Andrew has used a large sarong which we picked up in Indonesia as a towel. After taking off his belt to get through airport security in Kuala Lumpur Andrew accidentally left it behind and had to buy a new one in Thailand.
Footwear
2 pairs of trainers
2 pairs of Havaianas flip-flops
I am now on my third pair of flip flops after the strap on my original pair broke in the Philippines; I find that cheaper pairs I pick up on the road don't last as well as proper Havaianas. Our trainers have survived some pretty tough treks and gotten quite manky along the way; we're going to keep them for as long as we can though. In reality, we wear flip flops 95 percent of the time while we travel unless we're running or trekking.
Toiletries and Medicines
This is what we took with us to start with: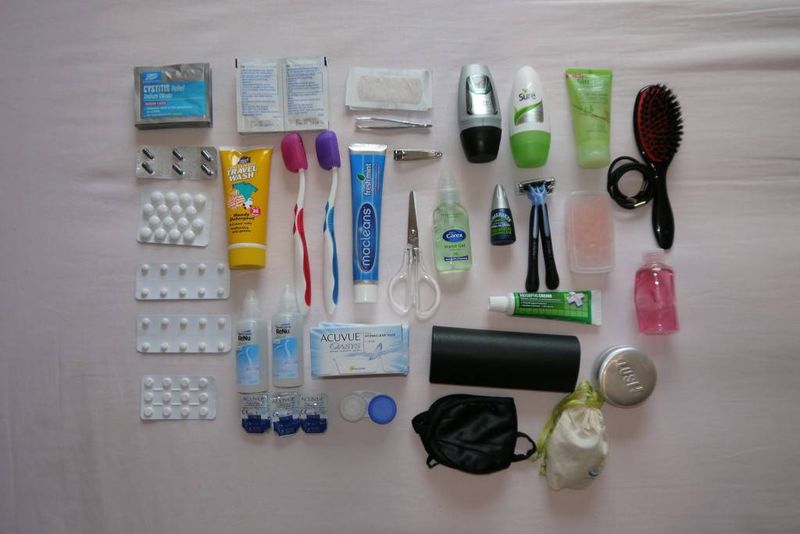 Here's what we carry now:
Amy's contact lenses – I've  just ordered a new supply of contact lenses in Chiang Mai, Thailand. It'll take a couple of weeks for them to arrive but they do cost £10 less per box than they do in the UK.
Contact lens case and travel-size bottles of solution
Amy's eye glasses
Ear plugs
Eye mask
Moon cup
Somerset shaving oil
Toothbrushes and guards
Toothpaste
Hairbrush and hair bands
Lush shampoo bar and tin
Face wash
Shower gel
Sponge (not pictured)
Razors
Tweezers
Nail clippers
Scissors
Deodorants
Ibuprofen
Cystitis medicine
Amy's migraine medicine
Travel sickness pills
Diarrhoea medicine
Dulcolax
Plasters
Antiseptic cream
Antibacterial hand wash
Travel wash (for hand-washing clothes)
Things we've added
Tampons – there are times in Asia where I haven't been able to sterilise my Mooncup so I've had to revert to tampons.
Cotton buds
Razors – I carry these because I don't always have time to epilate.
Shaving foam – Andrew uses this instead of his Somerset shaving gel now.
Soap – we often use soap instead of shower gel if we get it free from guesthouses.
Afterbite – my mum gave me this when she left Thailand; it's great for reducing swelling and itchiness when you get bitten by insects.
Paracetamol – we keep a stock of this ever since Andrew had a scarily high fever on the Gili Islands.
Oral rehydration salts – we've also added these since Andrew's had serious stomach issues a few times and become weak and dehydrated.
Doxycycline – a friend gave me some spare tablets just before we left the UK. We keep them to use as emergency medication should we suffer from malaria symptoms and aren't able get to a doctor immediately.
Suncream – my mum brought me over a stock of oil-free suncream for my face as it doesn't seem to exist in Asia.
Aftersun – I also inherited this from my parents after their Thailand visit.
Insect repellent – the only place we've managed to find repellent with DEET is in Thailand, so we'll be stocking up before we leave.
Tissues – I always carry a pack of tissues around as Asian toilets very rarely have toilet paper.
Face blotting wipes  – to cope with sun and sweat.
Things we've gotten rid of
Travel wash – we lost this somewhere in New Zealand and although we did buy more in the Philippines we now just drop our clothes off at the laundry instead since it's so cheap.
Lush shampoo bar and tin – this ran out pretty quickly and we didn't like it enough to try and replace it. My hair has also grown so much that I really need to use proper shampoo.
Somerset shaving gel – Andrew found this just wasn't comfortable because it didn't lather up.
Travel Accessories
Here are all the travel accessories we left home with:
This is what we carry now:
1 Trespass microfibre towel (we lost one in Indonesia)
Skross PRO PLUS World Adapter
2 cotton sleep sacks – these have had to be repaired as they rip easily but the few times we've used them we've been incredibly glad to have them.
4 combination locks
Torch
Swimming goggles x 2 (I can't swim without them because of my contact lenses)
Sunglasses x 2 (I am now on my third pair and Andrew is on his fourth)
Notebook and pens
Wallet with bank cards in
Zipper bags for the following documents:
Passports
Driving licences
International drivers permits
Vaccination cards
Passport photos
Things we've added
Extra notepads – I got through my first journal after only a few months.
Two books – these only cost a couple of pounds each from a second-hand bookshop in Thailand; they would have been more expensive to buy on Kindle. Also, after months of electronic reading, I just really wanted to hold a book again.
Mini sewing kit – my mum brought this over for us because we found our clothes often get slightly damaged in the laundry.
Small bag – I got this when Andrew and I were travelling separately in Thailand and I didn't have my own purse.
Waterproof iPhone case – for taking pics under water (although it leaked slightly when we snorkelled on the Great Barrier Reef)
Mosquito coils and lighter – for times when we're staying in the jungle or in beach bungalows.
Playing cards – we've only used these a couple of times but they don't take up much space.
Things we've gotten rid of
Torches – we lost one of our original torches and our head torch ran out of batteries so we ended up buying a cheap torch for camping in Malaysia.
Money belt – we didn't use this at all.
*There are affiliate links in this post and we will receive a small commission if you buy any travel products through these links.