04 Nov

Our Thai Zip Lining Tour and Safety Standards Abroad

When you're strapping yourself to a wire suspended hundreds of feet above the jungle floor preparing to launch yourself across the abyss, you want to be sure you're not going to plummet to your death, right? Well, when we went zip lining in Chiang Mai, Thailand, I found myself seriously questioning the safety standards in place and with good reason.
Ok, so after jumping out of a plane in New Zealand, zip lining should be a piece of cake, shouldn't it? The thing is, while my skydiving experience was terrifying, my fear centred on what it would feel like to fall, not the worry that I was actually going to die. I was scared of the sensation of free fall and how my body would react to the animal terror of it; underneath all that fear, however, I knew I was perfectly secure in the hands of my tandem skydive partner. The company we used, Skydive Abel Tasman, runs in accordance with national safety standards, has been going for more than 20 years and has a clean safety record. We were given a proper briefing and equipment as well as checked to make sure we were healthy enough to take part – I never once felt I was in danger of dying.
By contrast, while zip lining itself isn't nearly as scary for me as skydiving, I feared for my personal safety when we tried it out in Chiang Mai. Andrew and I would never have thought to go zip lining ourselves, but his sisters were keen so we booked the cheapest tour we could find at the last minute with a company called Thai Jungle Sports. We didn't have time to research or think things through and against my better judgment, we booked the tour for the next day.
Our Zip Lining Experience with Thai Jungle Sports
It was raining hard as we were picked up for the long drive into the jungle surrounding Chiang Mai for our tour the next day. On arrival we were given boots and ponchos for the jungle trek; although it was underwhelming in comparison to the epic hikes Andrew and I had just completed in the Philippines, we had a nice enough time exploring the forest and taking in the scenery. It was after lunch, as the rain began to pour once more, that I started to feel nervous.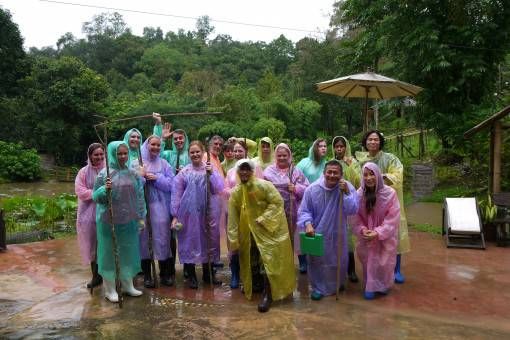 The staff strapped us into our harnesses, told us briefly how to open and close the clips we'd need to use and led us off to a practice zip line. For some reason, none of us questioned the fact that we weren't given the helmets or knee pads shown in the company's advertising leaflet. One by one we were told to attach ourselves to the practice line, suspended only a few metres above the ground. I wasn't keen on having to clip myself on, but thought that surely the staff would double check we were properly attached; however, no one spotted that Andrew's safety harness wasn't properly fastened and it fell off half way down the zip line.
Now I was even more unnerved.
Next we approached a tandem zip line stretching above a deep gorge. Andrew and I clipped ourselves to the wire as I asked our guide, again and again: "Is it safe? Are we attached?" Then we were off, speeding across the sky, rain pelting our faces, a cold wind battering our ears.  As we approached the platform on the other side, where one tiny Thai guide waited to catch us I instinctively pulled my knees right up; the wooden platform was much higher than it should have been and we would have easily crashed against it otherwise. Andrew brought his legs down to slow us before we hit the end of the wire and snapped backwards – relieved and shaky we unclipped, it wasn't exactly the smooth landing we expected.
As we stood and watched the other teams come in, things got worse. It became apparent how dangerous the landing was when one French boy came sailing in, his face transforming from joy, to panic then to pain as he crashed into the end of the line and sprang back, his leg forcefully smacking against the spiky edge of the wooden platform. Gasping in pain he hobbled away, big red marks welling up on his leg; it was clear that he was in real agony and couldn't put much weight on the leg.
Watching the rest of the teams land was now getting extremely scary; as they approached we stood on the side lines, bellowing: "Lift your legs up!" in warning. That didn't help Andrew's sister's friend; although she pulled up her knees, when the rope snapped back her leg got caught in the gap between two wooden planks, leaving a painful red graze. At that point another guide appeared and the two of them worked together to try to stop the rest of the zip liners before they could crash into the edge of the platform.
There was some unease now as we were led off to the next zip line; I was shocked at what I'd seen and felt even more unsafe than ever. The rain was still pouring down and I had no idea what the next landing would be like. Luckily it was smoother and we got by without incident, the French boy was in far too much pain to continue though and headed back to camp. At the next zip line we were warned to watch out for a tree at the end; the wire had been positioned too close to the tree and we were just inches from smacking into it as we whizzed by. At this point I just wanted the experience to be over. From then on I made sure the guides clipped me to the rope themselves and double checked its safety before I launched off.  I concentrated only on just getting through to the end, which we did, sooner than expected – I'm sure the guides cut our course short in light of the accidents and weather.
Safety Standards in Asia
Looking back on it now, I really don't know why I didn't back out of the zip lining as soon as I started to feel unsafe. Why didn't I, or anyone else, speak up and ask for the helmets and other safety equipment we were supposed to have? Why did I carry on even after people had been injured?
I'm sure it was partly down to the fact that it was pouring with rain and I just wanted to get through the experience as quickly as possible; part of it was also shock and fear at seeing people get hurt and part of it was probably not wanting to make a fuss or waste the money we'd spent paying for the tour. I wish now that I'd listened to my gut and just backed out though. Ok, so nothing serious happened and nobody died – maybe I'm being melodramatic – but there's no need to gamble with your personal safety.
The truth is, unlike skydiving in New Zealand for example, I have no idea what safety standards there are regulating adventure sports in Thailand. We didn't research the company beforehand or ask any questions about the safety precautions and we should have. I've done other risky things on this trip; in the Philippines I went caving with no safety gear in a place where, only a few days later, a tourist died. On that occasion I didn't feel unsafe though, we had a brilliant local guide who helped us every step of the way and knew the cave inside out.
So how do I judge what's acceptable and what's not? Rightly or wrongly, for me it just seems to come down to a gut feeling. Perhaps safety standards in the western world are over the top and simply put in place to ensure companies don't get sued? Am I just being paranoid or am I right to be worried about safety standards in Asia?
What do you think – would you feel safe taking part in adventure sports in Asia?