15 Dec

Our Costs for Travelling in Thailand for Two Months

We had a bit of a hectic return to Thailand due to last minute flight changes followed by a frantic few weeks travelling up and down the country with friends and family who came out to visit us. Nevertheless, we had a great time with our travel companions and squeezed a lot into our visit – here's how much it cost us to travel around Thailand for two months.

Firstly, a few notes on our Thailand costs.  We spent three months in the country in total; one month living in an apartment in Chiang Mai (the cost of which we cover in this post) and two months travelling around the country, which we discuss below. During those two months we didn't travel very efficiently and ended up going back and forth to destinations due to the fact that we had people visiting us at different times; we also spent a week apart from each other travelling separately with guests which slightly increased our accommodation costs although volunteering at the Elephant Nature Park saved us some money. The bottom line is that your costs will be lower if you travel around more efficiently than we did.
Activity Costs in Thailand
There are so many things to do in Thailand, many of which we did when we visited four years ago. Despite this, we still ended up spending a fair amount on activities this time around because we re-visited attractions with our guests and tried out some new activities such as snorkelling and cliff-jumping, visiting the Elephant Nature Park and taking on a scary zip lining trip. We also couldn't resist a few massages of course; the cheapest and arguably best were at the Elephant Nature Park after a hard day volunteering with the dogs.
| | | |
| --- | --- | --- |
| Activity | Cost | Per Person |
| Wat Pho (Reclining Buddha, Bangkok)  Entrance Fee | £4 | £2 |
| Thai Jungle Sports Ziplining Day | £62 | £31 |
| Elephant Nature Park Day Visit | £100 | £50 |
| National Museum, Bangkok | £5 | £2.50 |
| Thailand Burma Railway Centre Entrance Fee | £5 | £2.50 |
| Koh Phi Phi Snorkelling Day Trip (Andrew only) | £12 | £12 |
| Boat Trip on the River Kwai (Amy only) | £4 | £4 |
| Erawan Waterfall Entrance Fee (Amy x 2, Andrew x 1) | £12 | £6 (£4 each) |
| Koh Tao Snorkelling Day Trip | £30 | £15 |
| Nine Massages | £34 | £17 |
| Total | £268 | £134 |
 Thailand Accommodation Costs
Accommodation in Thailand can be pretty expensive unless you are prepared to dig a little deeper than what the internet or your guidebook has to offer and search the streets for cheaper options. We found some really nice guesthouses and hotels for under £10 per night, even in expensive places like Koh Samui, by looking around on arrival. Apart from one occasion when we discovered bedbugs in our room, we found Thai accommodation to be of a high standard; we stayed in private rooms, most had free Wi-Fi and private bathrooms with hot water too.
The five nights we spent at the Elephant Nature Park volunteering with the rescue dogs is included in the accommodation costs below; we paid just £40 each for the entire stay, which included a room, transport to and from the park, t-shirts and all our meals, making it a cheap week for us. We also saved a bit of cash by spending a few nights on buses or trains, although we were never able to sleep properly and found these journeys pretty hellish.


| | | | |
| --- | --- | --- | --- |
| Expense | Total     | Per Person  | Per Day |
| Accommodation | £665 | £332.50 | £11.10 |
 Cost of Food in Thailand
Food was never much of a worry for us in Thailand since it's pretty touristy and therefore offers a range of Asian and Western dishes, so even fussy eaters like Amy can eat well.  We were really impressed by some of the food we ate in Thailand; the free breakfasts at Tanita House in Chiang Mai, the Thai food at Apple and Noi's and pizzas in one restaurant in Kanchanaburi were all delicious. We also ate really well during our visit to Pai and had some amazing vegetarian food at Peppercorn in Koh Phangan and I Love Salad on Koh Tao.
In particular there's no shortage of great restaurants in Chiang Mai; we loved the veggie burgers at Peppermint Café, the pie and mash at the UN-Irish pub and all the Thai food at the night market. We didn't find many guesthouses that offered an inclusive breakfast but they are around and can really help if you're looking to reduce costs further.
| | | | |
| --- | --- | --- | --- |
| Expense | Total     | Per Person  | Per Day |
| Food | £765 | £382.50 | £12.75 |
 Cost of Transport in Thailand
As you can see we spent quite a few hours travelling around Thailand from one place to another – and back again. Unbelievably, even though we moved around so much, our transport costs were cheaper than in any other country we've visited except Indonesia. To make sure you get the cheapest prices for transport in Thailand, go to the bus or train stations to buy your tickets rather than using the tour agents. If you buy your tickets on Kao San Road, for example, then you may not get exactly what you asked for too; I ended up squashed between two people on a sofa-like seat for 10 hours when I'd paid for a VIP bus. Sadly, it's very difficult to book your bus or train from the islands without using a tour agent though.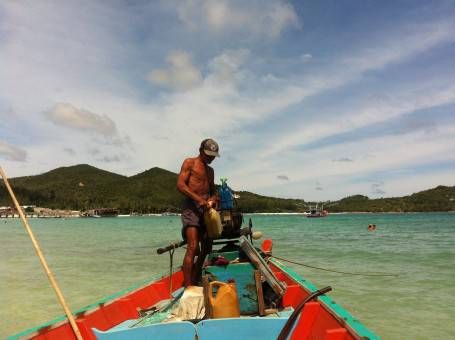 We used overnight buses and trains a lot while travelling in Thailand, which are good value but in my opinion you won't get a good night's sleep on either. Train journeys were often delayed, particularly on the Bangkok to Chiang Mai route; one of these journeys took 21 hours instead of the usual 15 and actually cost £10 extra per person than it should have because we were travelling over a national holiday and the tour companies had bought all the tickets in order to sell them at higher prices.




It is fairly easy to get around the towns and cities in Thailand by tuk tuk or songtheaw but be prepared to do some bartering to get a fair price. Whenever you use a taxi, make sure the driver uses the meter (they will usually demand a fixed price instead), since it will undoubtedly be cheaper than what you are quoted. In Bangkok it is really cheap to use the skytrain and the boats up and down the river, these helped us avoid more expensive taxi or tuk tuk journeys.
Expense
Total    
Per Person 
Flights
Clark (Philippines) to Bangkok: £86
£43
Trains
Skytrain from BKK Airport to New Road Guest House: £3.60
£1.80
Bangkok to Chiang Mai: £57
£28.50
Bangkok to Chiang Mai: £34.50
£17.25
Bangkok to Surat Thani: £25.10
£12.55
Koh Tao to Bangkok (inc. boat): £50.40
£25.20
Hellfire Pass to Kanchanaburi (Amy only): £2
£2
Buses
Night bus Chiang Mai to Bangkok: £33
£16.50
Night bus Chiang Mai to Bangkok: £23
£11.50
Bangkok to Kanchanaburi: £4.40
£2.20
Kanchanaburi to Bangkok (Andrew only): £2.20
£2.20
Night bus to Krabi (Andrew only) : £14
£14
Bus and Boat Krabi to Koh Phi Phi: £9.30
£9.30
Minibus Kanchanaburi to Bangkok (Amy only): £3
£3
Night bus and boat Koh Phi Phi to Bangkok (Andrew only): £19.60
£19.60
Bangkok to Kanchanaburi: £4.40
£2.20
Minibus Kanchanaburi to Bangkok: £6
£3
Bus and Boat Surat Thani to Koh Phangan: £13.20
£6.60
Bus and Boat Koh Phangan to Koh Tao: £22.70
£11.35
Night bus Chiang Mai to Bangkok: £22.30
£11.15
Bus and Boat to Koh Samui: £29.30
£14.65
Bus and Boat Koh Samui to Bangkok: £23.40
£11.70
Bangkok to Chiang Mai: £19.40
£9.70
Chiang Mai to Chiang Rai: £7.40
£3.70
Chiang Rai to Chiang Mai: £7.40
£3.70
Chiang Mai to Chiang Rai: £7.40
£3.70
Chiang Rai to Chiang Khong: £2.60
£1.30
Kanchanaburi to Hellfire Pass (Amy only): £1
£1
Tuk-Tuks
10 Tuk-Tuks in total: £14.40
£7.20
Taxis
16 Taxis in total: £37.80
£18.90
Songtheaws
13 Songtheaws in total (Including trips to Doi Suthep and Erawan Waterfall): £51.00
£25.50
Boats
Four boats along the Chao Phraya River (in Bangkok): £2.30
£1.15
Boat across the Mekong (entry to Laos): £1.60
£0.80
Vehicle Hire
Car hire and fuel on Koh Samui (24hrs): £11.90
£5.95
Scooter Hire and fuel in Chiang Rai (24hrs): £8
£4
Total:
£660.60
£330.30
Miscellaneous Costs
We had the usual miscellaneous costs over our two months in Thailand; laundry, toiletries, SIM card and credit. We also had to pay for Amy's supply of contact lenses for three months; these worked out to be about £10 cheaper per box than buying in the UK. While crossing the border into Laos we were silly enough to buy our dollars and KIP before getting on the boat and paid a ridiculously high fee for that. If you haven't already got any US dollars for your Lao Visa or any Lao KIP then wait until you get to the Visa checkpoint, there is an official exchange booth there (not just a Thai guy behind a desk) and you can avoid paying too much commission. We also had to get a couple of vital items from the markets like a belt and a head massager of course!
| | | |
| --- | --- | --- |
| Expense | Total     | Per Person  |
| Laundry (x8) | £26.30 | £13.15 |
| Sim card & credit | £10 | £5 |
| Toiletries & medicines | £30.70 | £15.35 |
| Contact Lenses | £36.90 | N/A |
| Loss in exchange rate at Laos border | £10 | £5 |
| Belt, Stamps, Books, Head Massager, gifts | £22.30 | £11.15 |
| Miscellaneous | £136.20 | £68.10 |
Total Costs for Travelling in Thailand for Two Months
So as you can see, we did a lot of activities and moved around a lot in Thailand but even so, we only spent just over £20 per day per person while we were there. We did find Thailand to be a little more expensive than it was four years ago when we last visited but that was to be expected. Here are our total travel costs for 60 days travelling around Thailand: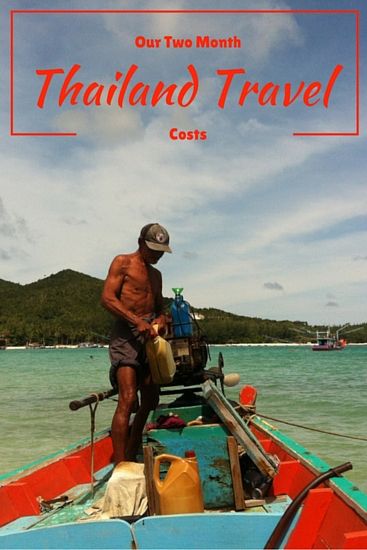 Pin Me!
| | | | |
| --- | --- | --- | --- |
| Expense | Total | Per Person or Per Month | Per Day |
| Activities | £268 | £134 | £4.46 |
| Accommodation | £665 | £332.50 | £11.08 |
| Food | £765 | £382.50 | £12.75 |
| Transport | £660.60 | £330.30 | £11.01 |
| Miscellaneous | £136.20 | £68.10 | £2.27 |
| Total | £2,494.80 | £1,247.40 | £41.58 |
We are as always using Trail Wallet to track all of our spending. You can see all of our cost break-downs here.