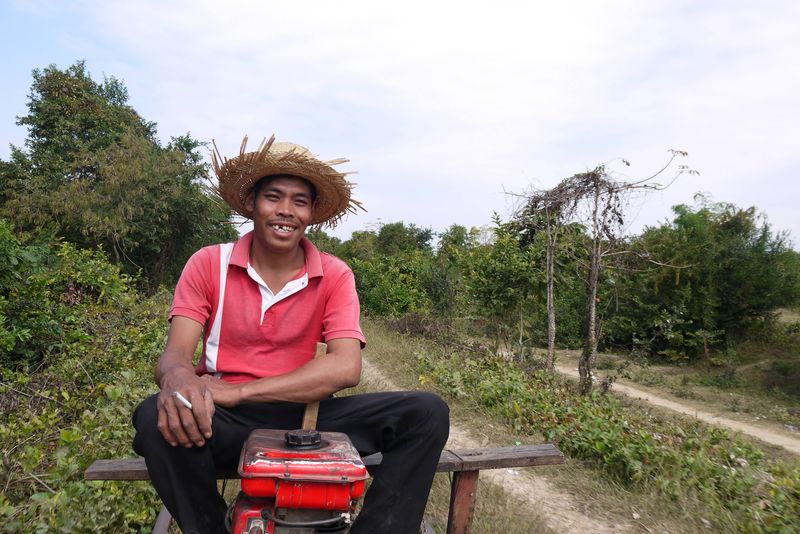 02 May

The True Heart of Cambodia

With a final, gurgling burst of smoke, our bus gave up its battle for survival and collapsed by the side of the road. As the engine cut off, the air-con died and the heat immediately began to thicken. If we didn't get off now we'd be cooked. Huffing and puffing,  I filed out into the harsh glare of sunlight onto a barren, dusty stretch of road to wait for a replacement bus. This was the second day in a row that we'd experienced a breakdown and I was well and truly fed up. What happened next, however, unexpectedly turned my mood around and reminded me of just why I love Cambodia.

In search of shade we walked aimlessly down the road, stopping to stroke a cute puppy that began bounding around our legs. As I bent down to scratch his ears, a soft voice called out from behind me in greeting. A group of shy but smiley Cambodian teenagers had materialised, keen to practice their English skills with us. Although it was a Sunday, they beckoned us into their one-room village school and a crowd of giggling teenage girls surrounded me, excitedly asking question after question without waiting to hear my replies. All of a sudden, the group parted to make way for a petite girl dressed, despite the stifling heat, in a pink hoodie and gloves, her hair tied neatly behind her.

"Hello Sister, how can I help you?" she asked, extending her small hand in greeting. As we told the story of our broken bus the girl nodded briskly and replied in fluent, fast English: "When I heard that there were foreigners in my village I knew I had to take one hour off from studying to come and talk to them."

As the girl continued to tell me of her ambitions to become a teacher and invited me into her home to see the elaborate wood carvings her mother made, I couldn't help but think how – had this bright, studious girl been born just several generations earlier – she'd be fighting to merely survive.
Coming to Terms with Cambodia's Brutal Past
Throughout our month in Cambodia I visited the Killing Fields and prisons where roughly one third of the population was exterminated under Pol Pot's insane three-year reign. The lasting effects of the Cambodian genocide, which occurred just 35 years ago, are achingly visible today; in the absence of much of the elderly population, in the hundreds of children who work on the streets, the beggars disfigured by land mines and the impoverished rickshaw drivers who persistently tout for work – it's clear that Cambodia is struggling to heal its wounds.
This is no surprise really. When all the intellectual people, doctors, teachers, politicians, police and lawyers have been systematically removed from a society, when families have been separated and dispersed around the country and the economy has been decimated, it will understandably take unknown decades for that country to recover. Saying that, however much you try to prepare yourself for these realities, it's hard not to be affected by them when you visit Cambodia.
Although I think it's incredibly important to learn about traumatic episodes in history, like the Cambodian genocide and the Vietnam War, I also think that there's an unfortunate tendency for countries to become synonymous with brutal events that occurred there. This is exactly what happened to me in Cambodia. As we travelled around the country I found it incredibly difficult to separate the Cambodia of today from the genocide that occurred there and because of this, a deep sadness settled over me.
On bus rides through the countryside I imagined all the people who had worked as slaves in the fields, half starved and brutalised by Khmer Rouge guards. In Phnom Penh and Siem Reap I thought of all the people who were forced to march out of their homes into a life of misery. I started reading books about the genocide and was particularly haunted by Loung Ung's First they killed my father, a brutally absorbing first-hand account of Loung's life as a child under Pol Pot's regime. Every time I saw someone who looked over 40 I remembered that they must have been alive during the genocide.
The True Heart of Cambodia
On the day that our bus broke down, as I stood amongst these bright, welcoming teenagers, I was reminded that while there's a lot of pain and trauma in the country, there's also a lot of resilience, strength and love. I finally realised that the true heart of Cambodia does not lie in its killing fields, its temples or its bloody history; yes, these things are an undeniable part of the country, but they do not define it.
The true heart of Cambodia lies in its people.
On a trip through the countryside, I remember the group of farmers who stopped work as we passed; leaning on their spades they called out to us in greeting, hands raised, broad smiles on their faces. Then there's the tuk tuk driver who kept stopping to buy us traditional snacks. When we tried to pay for them he waved our hands away; "They are free because you are newcomers," he explained.
How could I ever forget the hordes of grinning kids who waved, smiled and called Hello to us as we journeyed through the country, chasing our tuk tuk and high-fiving us? What about the cheeky daughter of a café owner who put one finger up to her mouth as if to say 'ssshhhh' when we caught her stealing cake crumbs from the pie cabinet? Or the raucous, singing women who massaged our feet while we sipped beer on the pavements of Siem Reap?
In particular I'll always remember all the young Cambodian women who wanted to talk with me – most especially that girl in the pink hoodie who greeted me warmly as Sister and told me:
"It's my duty to show you real Cambodian life; while you're in this country you are Cambodian."
Those people represent the real heart of Cambodia.
Pin Me For Later!