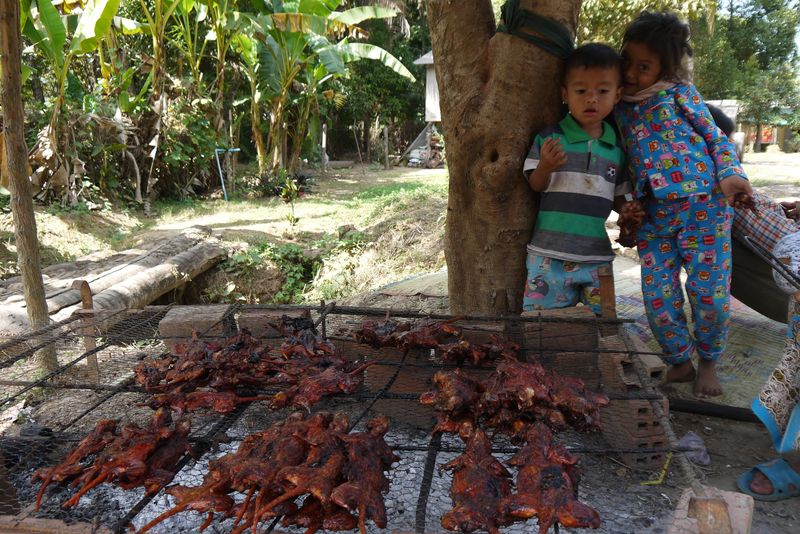 17 May

Battambang – A Slice of Real Cambodia

Battambang ended up being one of those places we couldn't seem to leave. At first glance, the town doesn't have much to offer save for a ride on the famous bamboo train, but we had some of our most memorable Cambodian experiences venturing out into the surrounding countryside and catching a breath-taking circus performance. I felt we really caught a glimpse of 'true' Cambodia during our stay in Battambang.

An Evening with the Phare Ponleu Selpak Circus
On one of our first evenings in Battambang, Andrew and I perched uncomfortably on low wooden benches under a domed tent roof, evening darkness creeping in around us. There was a buzz of anticipation in the air; the low murmur of voices growing steadily louder while a crowd of cross-legged children squeezed onto the floor in front of us. All of a sudden, in a blur of fire, shouts, movement and drums, a group of Cambodian performers burst onto the stage.
For the next hour we were utterly absorbed in the performance; the acrobatics and dance, storytelling and fire-rope jumping. All of the young people in the Phare Ponleu Selpak Circus are from disadvantaged backgrounds; some are former street kids, others come from poor rural areas and some were born in Khmer Rouge refugee camps. Despite their tough start in life, the performers wore bright smiles and their boundless energy was infectious, spreading over the crowd until the whole tent was one noisy, humming hive of happiness. It was the best evening's entertainment I've experienced in a long time and a beautiful reminder of the resilience of the Cambodian people; here's a short video clip of the circus performance we saw.
Our Battambang Tour of the Countryside
The next morning we were up early for a tour we'd booked with a Tuk-Tuk driver we met the day before; he was keen to practice his English skills with us and stopped regularly to tell us stories and facts about life in Cambodia. Firstly we took in some of the city sights; the local market, colonial palace and train station as well as the big black Buddha statue the city is named after. The story goes that the Buddha stirred some rice with a magic stick which turned him black but was later lost; Battambang means 'lost spoon'.
Then we were whizzing out of town into the flat, parched countryside, our Tuk-Tuk kicking up clouds of red dust as it bumped down uneven paths. We stopped to take a ride on the famous bamboo train, which was literally a square of bamboo on wheels powered by an engine and controlled our nonchalant driver, who had a cigarette dangling permanently from his mouth. The train was surprisingly fast and jarred almost painfully each time we went over a join in the tracks; when a train came from the opposite direction we'd have to get off and dismantle our train to let them pass.
Afterwards, as we climbed back into our Tuk-Tuk our driver handed us a traditional Cambodian snack of sticky rice with baked banana rolled up in Bamboo leaf. Smiling, he waved away our offer of payment and sped onwards towards the river, stopping periodically to show us native plants, fishermen and vegetables grown on the banks of the river; we were also introduced to local people baking fish to store and barbequing rat to sell to passersby. As we drove by people would smile and wave at us with wordless, characteristic Khmer warmth.
After a stop at a winery our driver bought us more snacks; banana fritters cooked by a pyjama-clad woman – as we'd discovered, wearing pj's during the daytime is all the rage in Cambodia. Lunch was followed by a climb up a steep flight of steps to see the ancient Banan temple, which proved to be a taste of things to come at Angkor Wat in Siem Reap.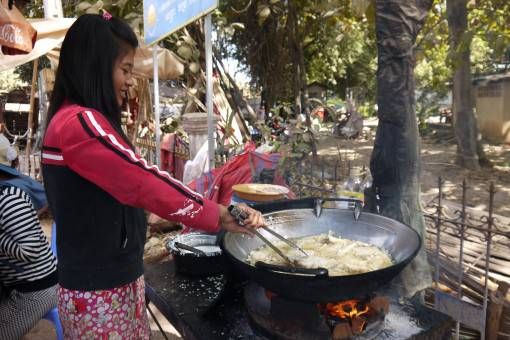 As we drove deeper into the countryside, we were besieged by local kids shouting Hellos and running after us; adults smiled and waved and farmers stopped work to call out to us in greeting. "The Cambodian people out here in the countryside are very pleasant," our driver explained. That really is an understatement – not for the first time during our time in the country, we felt overwhelmed by the friendliness of the Cambodian people.
As the afternoon wore on we reached our final stop at a temple and killing cave where many Khmer Rouge victims, including their own soldiers, were slaughtered during Pol Pot's reign, their bodies thrown into the chasm below. Andrew and I made the journey alone and on foot up the last section of the hill, on our drivers advice we carried small sticks with us to ward off naughty macaques waiting at the top – after our terrifying trip to the Monkey Forest in Bali we've sadly developed a fear of wild monkeys.
From the top we took in views of the countryside below, a flat patchwork quilt of greens, thirsty yellows and scorched browns beneath us. As the sun slid lower in the sky we hiked downwards to meet our driver, who was armed with more treats for us, this time dry banana chips for us to munch while we waited for the final surprise of the day.
At dusk, a million-strong swarm of bats fly from the caves to feed in one continuous snaking line of fluttering wings and small furry bodies. We watched the creatures flow from the cave like wasps from a hive and streak across the orange-red sky towards the moon, the perfect end to our incredible day discovering a slice of real Cambodia – a country etched forever in my heart.
Our Battambang countryside day tour cost £12; a trip to the Phare Ponleu Selpak Circus cost £6 per person.