24 Jun

Malaria Pills and Travel Vaccinations: Reader Question

Back when we were planning our travel adventure Andrew and I did some thorough research on what kinds of vaccinations and malaria pills we'd need for our journey. Now, over a year later we're occasionally asked by readers whether we've updated our shots and kept on taking the malaria pills so here's an update on how we keep healthy while travelling.

We are by no means medical professionals, do not rely on the information we've posted below; always ask a doctor for advice on travel vaccinations, health and malaria prevention.
Travel Vaccinations
Vaccinations we had before leaving England: We researched which vaccinations we'd need for the places we were planning to travel to before we left and detailed them in this post. We had a few free shots which were covered by the NHS: hepatitis A and typhoid boosters and two Hepatitis B vaccinations. We also paid for rabies vaccinations from First Contact travel clinic in London; we each had a course of three shots to cover us for a year which cost £20 each, totalling £120 altogether. It's important to note that we would have needed more shots if we'd actually been bitten by a rabid animal.
Vaccinations we've had while travelling: we left it too late to get our third Hepatitis B vaccination in England so we had to get it at a travel clinic in Jakarta, Indonesia instead; this cost us £15 each with a £30 doctor's fee on top. We also considered getting Japanese encephalitis vaccinations in Indonesia but they'd run out of stock in Jakarta and after carrying out some further research we decided the risk was minimal and opted not to get the shots; the same goes for tick-borne encephalitis.
We'll need to get a Typhoid booster when we visit England over the summer but other than that we're covered for the next five years or so. However, our rabies shots have expired and although I'm glad we'd had them after a terrifying visit to the Monkey Forest and our volunteering stint at the Dog Rescue Project, I don't think we'd bother getting them again unless we were specifically planning to work with animals.
Malaria Protection
Before leaving England: according to UK health information malaria is high-risk in practically every Asian country we've visited but we left the UK with just a small supply of Doxycycline donated by a friend, which we've still yet to use. We had planned to stock up on Malarone in Jakarta but after seeing how expensive it was (£6.50 per daily pill!) we got a fourteen-week supply of Laryum for £67.20 (£4.80 per weekly pill) instead. This was pricey, even by UK standards but since we were going to the jungles of Borneo and Lombok and the Gili Islands where malaria is apparently rife, we felt it necessary. Luckily, while we were in Bali I met up with my little brother who sold me some of his unused Malarone pills on the cheap.
What we've used on our trip: I took the Malarone and Andrew took the Laryum pills which covered us until the end of our time in Borneo. Since then, despite planning to buy more pills in Thailand, we've ended up taking nothing. Now, although I know of many travellers who choose not to take anti-malarials, I know others who do take them – in the end it comes down to weighing up the risk factors for the places you're going to and coming to a personal decision. Andrew and I both decided the risk of contracting malaria in the destinations we were heading to was minimal so we chose to use preventative methods such as using DEET and covering up to avoid bites. This strategy has worked for us so far and I doubt we'll buy pills for further travels in Asia but everyone should make their own decision on whether to take anti-malarials or not.
Accidents and Illness on the Road
Andrew and I have been pretty lucky on our trip so far, we haven't had any serious accidents or illnesses at all. There have been some minor cuts and bruises, colds and stomach complaints as well as the time I got bitten by a mozzie and my mouth swelled to elephant-man sized proportions – oh, and then there was the time I whacked my forehead on the wing mirror of a bus. Apart from that though, we've been fine.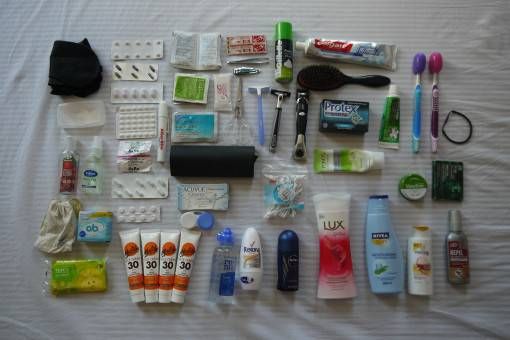 Before leaving the UK we took some basic medical supplies with us, plasters, paracetamol and ibuprofen, stomach medicine and antiseptic cream, which have all come in useful. We've been able to easily restock our medical kit in every country we've been to and have supplemented it with some rehydration salts and Afterbite lotion, which have been useful after bouts of food poisoning and insect bites. You can see exactly what medicines we carry with us in our packing list post.
Travel Insurance Update
Since we haven't needed to go to the doctors or a hospital since we've been travelling (and we haven't had anything lost or stolen), we haven't had to use our travel insurance at all. However, having comprehensive travel insurance has given us peace of mind that if anything serious had happened, or does happen in the future, we'll be covered for treatment by our insurance. We chose Globelink as our insurance provider but you can see our comparison of different insurance providers here. Our policy expired just a couple of days before we returned to England so we'll need to organise cover for when we head back out to Asia in September; if we get teaching work, our insurance may well be covered by our employer.
Do you have any questions or comments about the information above? If so, let us know by leaving a message below.