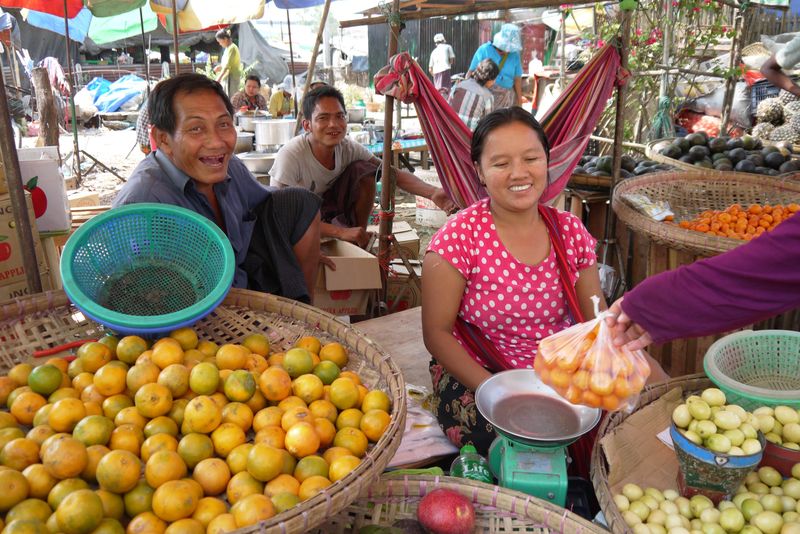 07 Jul

Our Favourite Thing About Burma

It was our first full day in Burma and we were floundering around Bogyoke market without a clue where to go next when Htun appeared. Immaculately dressed in smart trousers, polo shirt and shiny shoes, Htun removed the cigarette from the corner of his mouth and greeted us like old friends; within minutes he was leading us through the market, buying us fruit and walking us over to the city museum. This act of kindness turned out to be the first of many we experienced during our time in Burma; as we soon realised, the people well and truly make this country.
The Kind People of Burma
One of the biggest lessons I've learned while travelling in Asia is that for the most part, people really are kind. We've experienced so many acts of hospitality on this trip, from the woman who wordlessly offered us her sugar cane while we waited at a train station in Vietnam to the family who invited us to stay in their longhouse in Borneo and the young Cambodian woman who greeted me, without hesitation, as 'Sister'. Whether it be smiles and waves or offers of help and friendship, I've been humbled by how welcoming people in this part of the world are.
The political situation in Burma means that the country only started receiving a substantial amount of visitors over the last few years; perhaps because of this we found the people in Burma to be some of the friendliest we've encountered so far. Htun wasn't a one-off, during our first few days in Yangon we were overwhelmed with kindness; there was the guy at the petrol station who gave us free bottles of water along with directions, the group of young boys who invited us to play ball with them, the man with the red-stained Betel juice teeth who wanted to take our photo and the multiple smiles and waves we received just walking around the city.
One day we decided to take a trip on the Yangon circle line, a rickety train which runs in a constant three-hour loop around the city. After an hour or so in the blistering heat with no vendors in sight, we were forced to get off at a make-shift market to search for some water. The tracks and platforms were filled with people hunched over mats laden with colourful fruit, vegetables and luminous sugary drinks. We stopped to buy some oranges from a smiling family and someone pulled up stools for us to sit on while we waited for the next train. A woman with white smudges of Burmese make-up on her cheeks and forehead shared tiny green fruit with us as we sat and when we finally boarded the next train, people waved to us as we pulled away.
While exploring the ancient temples of Bagan, which is one of the most famous attractions in Burma, we often came into contact with local tourists who presumably hadn't met many foreigners. As we hopped from one ancient stupa to the next on our electric bike Burmese tourists approached us, groups of women excitedly asked if I'd pose for photos with them and others brought their kids over to shake our hands. All we could do in return was smile; repeating the Burmese greeting, Mingalaba, while they in return responded with Hello. When the badly repaired wheel of our e-bike burst, within minutes a local man offered us help, whipping out his mobile phone to call the bike shop for us.
As I'll discuss in my next post, we found Burma a pretty complex and difficult country to visit; accommodation prices are high, it takes forever to get from one place to the next, there are problems with the emerging tourism trade and we were sometimes underwhelmed by the historical sites and tours we took while we were there. Despite all this, we were truly humbled by the people we met in Burma and the kindness they showed us – they made our trip well and truly worthwhile.