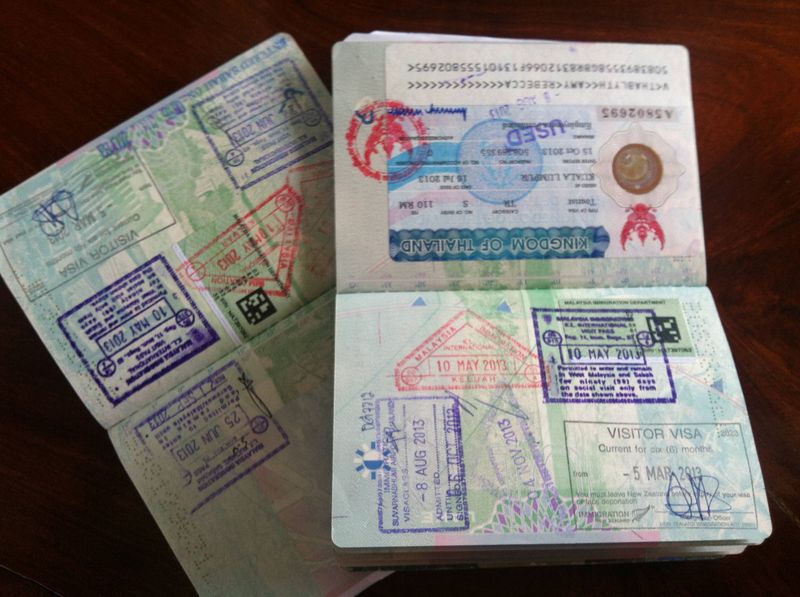 09 Oct

Changing Direction – Travel Plans for 2015

Yes, I know what you're thinking, isn't it a little bit early to be deciding where we'll be this time next year? Not for me. I know that some people enjoy going with the flow and making spur-of-the-moment decisions but I'm not one of those people. Andrew and I have been making travel plans for 2015 ever since we moved into our apartment here in Hanoi and we've come to some surprising decisions about where we want to go next.

Fear and New Directions
Uncertainty keeps me awake at night. I like to know where I'm going and what I'm going to be doing the next day, but conversely, I also like to dream. I like to grow new ambitions, set difficult challenges for myself and pluck new goals from the air – even though this terrifies me. One of the ways I deal with my fear of the unknown and find the courage to set out in new directions is to plan and research like crazy.
I remember the build-up to our big departure from the UK in 2013 as one of the most stressful and emotional periods of my life, but it was also one of the most exciting. There were times when I literally couldn't sleep at night because my mind swirled with too many dreams of faraway places. I felt like Andrew and I talked of nothing but travel, stacking our dreams and ambitions higher and higher, as if in a giant Jenga game. I examined maps, researched flight prices and plotted itineraries. I read endless travel blogs, made lists and mapped our savings targets on Excel spreadsheets. What's more, I loved it.
Similarly, leaving the comforts of home again to live in Vietnam, where we have definitely struggled to find our feet, has been a huge but exciting challenge. I arrived here with no teaching experience and was thrown into a classroom; I was totally out of my depth. Fortunately, I think the toughest of times are now behind us. We're becoming used to the routines of daily life and unbelievably, I'm beginning to actually enjoy teaching, which is something I never would have thought possible after the first disastrous lesson I delivered.
I'm proud that Andrew and I have persevered through the rocky beginnings and have begun enjoying this new adventure. Through teaching and living in Vietnam I'm learning so much about my capabilities, children and life in Asia and I can already see how this chapter of our lives will lead us on to more exciting things. Speaking of which, where will our path lead when we finish our teaching contract in May? Now that we're anchored in one place we've had plenty of time to plan new adventures for next year.
Our Travel Plans for 2015
When we first came back to Vietnam I had grand plans of visiting Japan, South Korea, Sri Lanka, India and Nepal once we'd completed our teaching contracts but I've changed my mind about this now. After an incredible summer in the UK, adjusting back into Asian life has been tough for us. Don't get me wrong, we love this continent and living in Vietnam is proving to be pretty amazing, but by the time May rolls around we will have spent almost two straight years in Asia and to be honest, we are craving a change of culture.
What's more, when we began researching flight prices to all those countries we realised that just getting from one to the other was going to wipe out a huge chunk of the money we're working so hard to earn. Now, we've spent almost all of our cash over the last couple of years on travelling, mostly in Asia, but it's always been worthwhile to us because we've been passionate about exploring this continent. The fact that we're now hesitating over spending money to see more of Asia has made us realise: we do not have a burning desire to go to these countries RIGHT NOW. One day, we'd love to, but for now, the passion just isn't there.
Instead, we've decided we need a complete change of direction.
Europe, America and Beyond
So if not Asia, then where? Where do we have a burning desire to visit? When I close my eyes and ask myself that question the answer comes almost immediately: America. Specifically New England. I've been obsessed with this little corner of the world since I started reading Stephen King books when I was a kid and the thought of road-tripping down the coast, hopping from one sea-side town to the next and exploring the national parks and cities makes my heart beat a little faster.
What's more, I dream of taking this trip during Autumn, which is my favourite season and one I've missed for the past two years while we've been in Asia. The thought of crisp, frosty mornings, toasted orange-brown leaves and cosy jumpers is about the most appealing thing I can imagine right now. If all goes well, next October and November we'll be driving through a spectacular Autumn in New England.
But what about the summer? Well, after we finish our teaching contracts in Vietnam we want to revisit Thailand, one of our favourite countries, before we leave Asia. We plan to spend a couple of weeks relaxing and clearing out the Hanoi smog from our lungs in Koh Chang before we board a plane back to England at the end of June. We had such a great time in the UK last summer that we hope to head back every year to catch up with family and friends, get our London fix and do some more house sitting.
Towards the end of August we'll fly to New York, but before we begin our New England road trip we plan to head up to Canada for a month to explore the south-eastern side of the country, from Toronto to Montreal. Our plans end with a flight back to the UK in December 2015 so we can enjoy our first cold Christmas in two years back in our homeland surrounded by family.
As to 2016, who knows? As always, I have plenty of dreams and travel plans swirling away in the back of my head; house sitting and volunteering in Europe, teaching in Spain, a backpacking trip through South America – the list is endless.
Do you love to plan your travels as much as I do? What do you think of our plans for 2015?