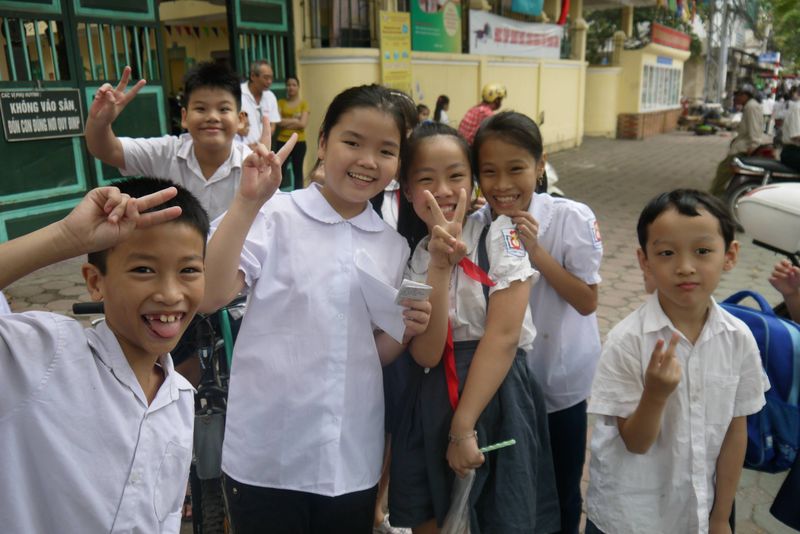 31 Oct

What's it actually like to Teach English in Vietnam?

When we set off to travel the world in 2013 I never imagined that I'd end up teaching English to five-year-old kids in Vietnam. Back in London I worked as an online writer and continued freelancing during the first six months of our travels through New Zealand, Australia and Asia. I am more used to offices and computer screens than noisy classrooms and the feel of chalk on my fingertips, so just how did I end up here? What's it actually like to teach English in Vietnam?
2018 and 2019 teaching opportunities in Hanoi – the language centre we used to work for in Hanoi is now recruiting teachers for 2018 and 2019. If you're a native English speaker with a degree and TEFL qualification, contact us now and we can put you in touch with the director for an interview.
If you're heading to Vietnam then you'll probably need an invitation letter for your Visa On Arrival, we recommend Vietnam Visa as they provide a professional, efficient and transparent service.
Why Teach English in Asia?
Once we began travelling we realised that our savings and my meagre freelance earnings wouldn't keep us afloat for long and after a year and a half of fast-paced travel we were as burnt out as our bank balance.  However, our wanderlust was far from quenched so we hatched a plan that would allow us to continue to travel, earn money and establish a temporary home base abroad – we decided to teach English in Asia.
While teaching English abroad was an obvious choice for Andrew since he's a qualified teacher in the UK, I was completely unsure of how I'd manage in a classroom. I had no experience with children and no idea what to expect aside from what I'd learned in a TEFL course, all I knew was that I'd either sink, or swim.
So what's it like to Teach English in Vietnam?
Getting a job teaching English in Vietnam was the easy part. Learning how to teach, control a class of 50 noisy kids and deal with living and working in a completely different culture has been incredibly tough – here are some of the biggest challenges I've faced:
Dealing with disorganisation
It's taken almost two months for the language centre we work for to sort out our teaching schedules. During that time we've been sent to multiple schools all over the city and had our hours cut and then increased at a moment's notice. It's common to receive a schedule just a day in advance so there's barely any time to plan lessons and we're constantly chasing the language centre for the resources and curriculums we need to teach properly. I'm a very organised person so this kind of chaos really unsettles me but even Andrew, who is the king of last-minute planning, has struggled with this laid-back Vietnamese style of (dis)organisation.
Illness
Since I arrived in Hanoi I've been plagued with illness. I've discovered that schools are essentially giant germ factories that my feeble immune system just cannot cope with. According to the many teachers we know, getting sick and losing your voice is an occupational hazard, particularly during your first year on the job. My voice seems to be particularly weak since after my first two lessons it completely disappeared; even with the help of a microphone I have a constant sore throat from straining my voice in the classroom.
Language issues
We're told to use English only in the classroom which is particularly hard with grade one and two students (five and six year-olds) since they speak very little or even no English at all. Although we have Vietnamese teaching assistants who will translate instructions for us, learning how to teach English to children from scratch has been incredibly challenging. This is a topic for a completely new blog post (or a PHD thesis or two) but to put it briefly, I didn't appreciate just how difficult it is to learn English, especially if your native language is tonal and your mouth physically cannot form certain sounds like "th". Oh, and if you're five years old and have the attention span of a gnat then it's all the more difficult.
Cultural differences
We expected Vietnamese schools to be very different from UK schools but it's still hard to get used to some of the more extreme cultural differences. One of the most shocking things for me is that Vietnamese teachers are allowed to hit kids (albeit gently from what I've seen) if they misbehave; Andrew has also witnessed a teacher grab a child by the ear. However, as one teaching assistant explained to me, this is becoming more of a sensitive topic in Vietnam.
Children with learning difficulties are also placed in regular classes without any support and left to their own devices; one boy with more severe learning difficulties has a habit of grabbing onto the teacher and refusing to let go. The first time this happened to me I was less shocked by his actions than the way the other kids tackled him to the ground, dragged him back to his seat and told me: "He's crazy". My Mum happens to be a (pretty amazing) special needs teacher in the UK, so I know a bit about the resources available there and it's sad to see the contrast in how kids are treated in Vietnam.
There is a glimmer of hope on the horizon though, according to a Vietnamese teacher, in the last few years the Government has acknowledged this issue and several schools catering for the needs of these children are now opening.
Class sizes
While we teach classes of around 20-25 children at the language centre, public school classrooms are typically tiny, lack air conditioning and are packed with 50 or more children. Even with a microphone to project your voice and a teaching assistant to help with discipline it's tough to control such large classes, especially because kids often see our lessons as 'fun time'. In contrast to Vietnamese classes, which seem to involve a lot of silent writing work, our lessons focus on speaking and listening, on singing songs and playing games which leads to a lot of noisy over-excitement. Added to this, we don't have any real disciplinary powers and we're not even allowed to send kids out of the room, which means it can be difficult to establish control.
Teaching – the Good Bits
Now that almost two months have passed and I've settled into teaching, the good aspects are definitely outweighing the bad. Here are the best bits about teaching here in Hanoi:
The kids
I've never worked with children before or had much of a desire to do so. My plan was to teach adults or older teenagers so when I found out I'd be teaching in primary schools I was really worried. As it turns out, the kids are the best (and sometimes the worst) part of the job. Yes, they're noisy, grubby and like to hit each other a lot but they're also creative, funny and full of enthusiasm.
Given that we're the novel foreign teachers who come in to play games, sing songs and have fun with them, the kids are always happy to see us too. We receive what feels like a hero's welcome every time we show up at school with dozens of kids rushing over to high-five, hug and say hello to us – it's hard not to be happy when you're working in such a love-fest. The problem is often containing the excitement in lessons and making sure that everyone gets to speak and play equally; as I've discovered, there's a fine line between having fun and hyping the kids up so much that you cannot calm them down. In short, the children I work with surprise, annoy, frustrate and amuse me on a daily basis but one thing's for sure, I'm never bored.
The Challenge
Teaching is a huge challenge for me in so many ways. I haven't got the strongest voice or physical presence and I've found it harder than I thought I would to be strict with the kids; classroom control is one of the hardest parts of the job for me. Luckily my obsessive organisation and planning tendencies have come in useful as I enjoy lesson planning and the challenge of constantly creating new, exciting classes. After each class I try to reflect on the good and bad aspects of the lesson and think about what improvements I can make. It helps that I have Andrew to discuss these issues with and get advice from.
Getting an insight into Vietnamese life
Teaching has allowed us to integrate into Vietnamese life in a way we couldn't when we were travellers. We work with Vietnamese teachers and assistants who we've gotten to know and of course, we spend most of our time in the company of local kids. Working in public schools has given us a unique insight into the lives of ordinary people in Vietnam and we find that locals are far more friendly and receptive to us now that we work within their community.
Our schedules
Back in London I used to work 40-hours a week, not including extra freelance hours, with just 20 days holiday a year. Here in Vietnam I teach a maximum of 22 hours a week and because the pay is so good and the cost of living here is so low, we can save enough money to take the rest of the year off when we complete our teaching contracts in May. Work for nine months, visit Thailand, the UK and America for another seven? Sounds like a great deal to me!
Being in one place
While we absolutely loved our initial 15-month travel adventure, it was incredibly fast-paced and we were pretty relieved to head back to the UK in the summer for a rest. Now we're enjoying having our own apartment again and settling in one place long enough to learn our way around, discover our favourite cafes and spend evenings at home cooking and downloading TV programmes. A bit of normalcy is just what we need right now but establishing our base here in Asia, in a completely new culture and working in a new job provides enough excitement to stop us from getting bored and restless.
Pin Me!
Earning and saving money
After watching our savings account diminish month after month it feels great to see our bank balance grow again and with it, our plans for how we'll use that money next year. After so long without a proper working routine it also feels surprisingly nice to get up and go to work in the morning too.
Overcoming fears
I strongly believe that in life, you need to do things that scare you in order to learn and grow. As I discovered working in an office for four years in London, one of the worst things life can be for me is boring. I may find taking on a new challenge, like moving to Vietnam to teach, terrifying to begin with but once I push through that fear I gain strength and learn so much from the experience.
Building a sustainable travel strategy
Through teaching English we are able to build a sustainable travel strategy; we can work and live in a new destination for a chunk of the year, spend summers at home in the UK and a few months exploring a new part of the world. This seems like a great plan for the next few years.
Are you looking for a TEFL course? TEFL UK are offering our readers discounts on their online and in-house, fully accredited courses, you could save nearly £30! If you want to take advantage of this great offer then send us a message using our contact form (include your name and 'TEFL UK' as the subject) and we'll get you the following discounts:
120hr Advanced Interactive TEFL Program, our price – £90 (usually £99)
150hr TEFL Masters Program, our price – £150 (usually £179)
70hr Intensive Teaching Business English Program, our price – £79 (usually £89)
TEFL UK Accredited 20hr Teaching Practicum, our price – £129 (usually £149)
Want to teach in Vietnam?
Would you love to teach in Vietnam but feel too overwhelmed to take the leap? Then we'd recommend contacting Teacher's Friend Vietnam. This small, independent company is run by real teachers who have actually lived and worked in the country. Georgie and her team will help you find jobs with reputable schools that will provide you with a work permit, excellent resources, ongoing training and a great salary. They'll also help you find an apartment, get a visa, find a motorbike, meet other like-minded people and offer support throughout your time in Vietnam.
Teacher's Friend offers packages for teaching in Hanoi, HCMC and smaller cities and the countryside. If you're interested and are a native English speaker with a Bachelor's degree, clean police check and a practical TEFL certification of at least 120 hours (or are willing to obtain one), contact Teacher's Friend to get started. Georgie is kindly offering our readers a 10% discount on packages, just use the code TFV01 when you contact them.
Find out more about teaching English abroad in these posts:
Have you, or would you ever consider teaching English abroad? Do you have any questions about teaching English in Vietnam? Feel free to ask in the comments below.