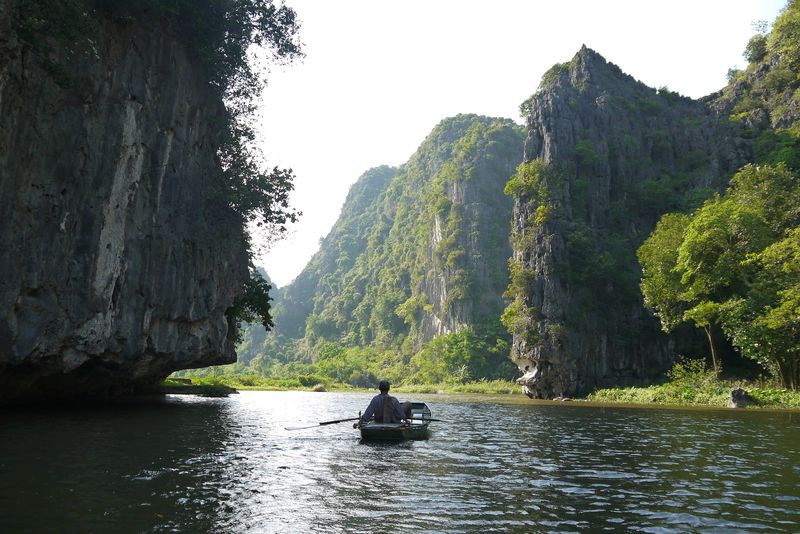 02 May

Time to Leave – Tam Coc and our Motorbike Crash

We'd been sat on the bus for an hour, yet we still hadn't left the station. The sun was heating up the inside of the vehicle in sync with my rising temper and the beat of the awful music blasting us at full volume. We'd been waiting months for this holiday, this precious escape from the city into the countryside, and we couldn't even make it out of the bus station in Hanoi.
If you're heading to Vietnam then you'll probably need an invitation letter for your Visa On Arrival, we recommend Vietnam Visa as they provide a professional, efficient and transparent service.
Finally we began to slither forwards while the conductor – who'd told us we'd be leaving over an hour ago – prowled around outside searching for last-minute passengers. My frustration had reached fever pitch now, the fury a terrible itch which prevented me from sitting still or relaxing. It wasn't just the lying bus conductor and our slow crawl out of the city that had sent me into this rage; a build-up of everyday annoyances had been cementing my love-hate relationship with Vietnam for weeks now.
Loving and Hating Vietnam
In the last two weeks alone, the puppy in our courtyard, who we've loved and watched grow since we arrived here, was killed by a speeding car. Andrew was racially abused by a student at his middle school. Driving home one evening a woman strolled out in front of our bike without looking and seconds later a car drove straight at us through a red light, the driver beeping his horn furiously. A taxi driver took me the longest route home to run up the meter and I've been bullied by intimidating drivers whenever I walk to work. The noise, the chaos, the pollution – we're over it.
Luckily, two Vietnamese national holidays have granted us this entire week off school and a chance to escape Hanoi and get out into the beautiful countryside village of Tam Coc. When we finally arrived at our hotel, headachy, exhausted and stressed, we settled on the balcony with a cup of tea and gazed out over the lime-green rice fields studded with rocky mounds. The air was clean, the sun was shining, a cool breeze was blowing and the sound of traffic and beeping horns was replaced by the croaking of frogs from the lilly-padded river beneath us and the soft putter of a boat engine. My love for Vietnam was rekindled.
Tam Coc and our Motorbike Crash
Unfortunately, our new-found sense of peace didn't last long. The next morning after a pancake-breakfast overlooking the rice fields, we rented a motorbike and eagerly set out to explore the area. Once upon a time I was terrified of motorbikes and would refuse to get on one but travelling in Asia and living in Vietnam has numbed my fear; after eight months of riding around Hanoi Andrew is a confident driver and I'm a docile passenger. This made our crash all the more shocking.
Gazing out at the scenery I was blissfully unaware of any danger until I heard Andrew shout: "Shit!" and felt the bike swerve violently, skidding out beneath us as we tipped onto the gravelly road. I had no idea that a dog had just darted out in front of us, all I remember is seeing Andrew's head (mercifully protected by a helmet) bounce off the road and feeling an electric shock of panic as I looked down at my bloody knee with its skin torn off and deep scratches laced with gravel.
Hobbling to the side of the road locals gathered around us; minutes later a Vietnamese woman appeared on a push-bike carrying a tray laden with medical supplies. Their kindness made me cry as they cleaned and bandaged our wounds, my tears stinging along with the embarrassment of looking like the foolish foreigners who've crashed their bike – the type of people I would have looked upon with a mixture of pity and exasperation.
We retreated to our hotel to lick our wounds; the lovely staff bought us supplies from the pharmacy and helped to clean us up. Luckily we'd been driving very slowly so there was no damage to the bike and our injuries weren't serious; Andrew had grazes and bruises down the left side of his body and an extremely dead leg. My knee was swollen and covered with road-rash, which would prevent me from walking properly for days. As well as a sobering reminder of how dangerous motorbikes can be, the crash felt like the final straw on top of all the other frustrations we've been experiencing. It felt like an omen telling us that it's time to leave Vietnam. We've had an incredible adventure here, but when we leave next month we will do so happily.
Recovering in Tam Coc
The past few days we've been recovering from our crash in Tam Coc and trying not to let it sour our time in this beautiful place. We headed down to the wharf and took a late-afternoon boat ride down the river, soothed by the sparkle of sunlight on the water and the soft slapping of our driver's oars, which she paddled effortlessly with the soles of her feet. All around us vivid green floating fields of rice stretched out to meet fur-covered limestone peaks, which were perfectly reflected on the river's glassy surface. We sailed through dark grottos, savouring the dark cool of the air as we floated along. At that time of day there were few other tourist boats to contend with; instead local fisherman and traders crawled along in wooden row-boats or waded shoulder-deep through the water, scooping up treasures.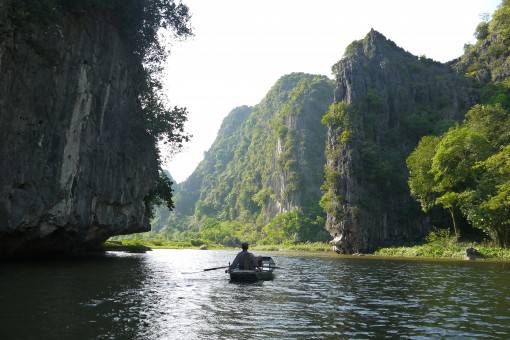 Knowing we needed to 'get back on the horse' sooner rather than later, we rented a smaller motorbike and gingerly set off to explore Bai Dinh, the largest pagoda in Vietnam. We spent a sweaty few hours circumnavigating the huge complex which is full of thousands of Buddha statues, a wooden bell tower and a tall pagoda which stretches up towards the sky and can be seen from miles around.
The unexpected highlight of our week turned out to be Bird Valley. The park is a beautiful, protected area of forest home to thousands of different birds. A boat trip through Buddha Cave, so-called because of the stone mounds inside which resemble Buddhas, was included in the ticket price. The 40-minute ride was a surprising treat; by the light of our driver's torch we spotted glittering stalactites and dozens of tiny hanging bats.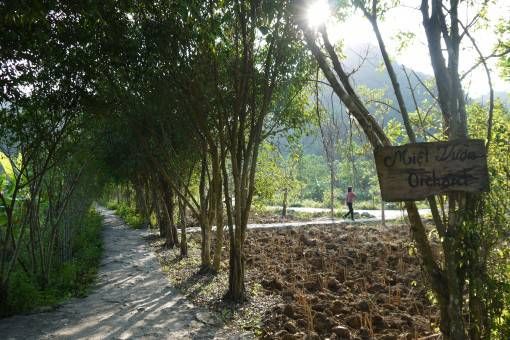 We spent hours in Bird Valley exploring its orchards, trails and bird gardens. The park was flooded with Vietnamese tourists in happy holiday moods; many smiled and said hello to us, a University teacher chatted while we ate fresh pineapple from the orchard and a large family walked with us through the forest, the kids practising their English while their father offered us oranges. It was a beautiful, calming afternoon.
My lasting memory of Tam Coc is of the drive back from Bird Valley, of turning to see the buttery sunset over the mountains and rice paddies. Still somewhat bruised and battered, in the end we managed to leave Tam Coc, which is probably the most beautiful place I've been to in Vietnam, on a positive note.
Pin Me!