09 Jul

Lessons from Asia and Moving On

It feels strange to have finally left Asia after spending almost two years there. For us, travel has been inextricably linked with this part of the world. When I think of backpacking my mind conjures up images of long, cramped bus journeys and never-ending terraces of rice, gold-carpeted beaches and heaving cities full of motorbikes and street markets. I think of wading through soupy, humid air, the smell of citronella insect repellent, incense from temples, and spices from road-side food stalls; I hear beeping horns, crowing roosters, prayer calls and the lapping of the sea.
We've been back in England over a week now, my tan is fading and our backpacks have been shelved. Everything feels calm and quiet here compared to Asia, there's so much green open space and we blend into the crowds rather than stand out, there's no language barrier to contend with and life feels so effortless. It's no secret that we found the past year in Hanoi pretty intense, so all this simple familiarity comes as a bit of a relief, but a part of me is still struggling to catch up with this change and adjust to the fact that, for the foreseeable future, we will not be returning to Asia.
Lessons From Asia
Whenever I pause and try to take stock of all we've seen and experienced since we left the UK in 2013, I feel totally overwhelmed. We are still the same people we were before we boarded that plane to New Zealand, but we are also subtly changed from all we've experienced since then. First and foremost, travel has taught us to live a different kind of life, one filled with change and adventure but specifically the time we spent in Asia has had, what I suspect will be, a profound and lasting impact on our outlook on life.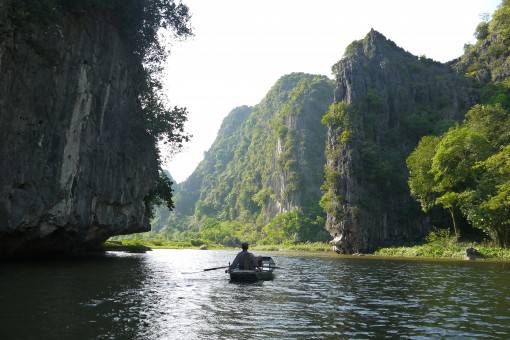 Whilst travelling in Asia we were confronted with the effects of poverty, war and natural disaster for the first time in our lives. We walked through the killing fields of Cambodia and looked at photographs of some of the thousands of people massacred by the Khmer Rouge. We met people in Leyte, the Philippines, whose relatives had been killed and their homes destroyed by Typhoon Haiyan. In Laos and Vietnam we saw the scars of past wars, the bombs that still litter the countryside and birth defects caused by chemical weapons. We rode the Death Railway in Thailand and confronted the legacy of colonialism in almost all of the countries we visited. We saw how corruption, animal cruelty and lack of civil liberty and human rights are woven into the fabric of daily life in much of Asia.
All this has made us realise how fortunate we are to have been born in the UK. This random stroke of luck means that we enjoyed healthy, secure upbringings. It means that we have access to free healthcare and education and that we take free speech, the ability to get a good job and travel anywhere we want to, for granted. In short, we have so many opportunities and choices, which I now know is a rare privilege in this world. Our lives have been free from pain and struggle, which is something I never truly understood until we travelled and lived in Asia. Yes, there is poverty, corruption and there are social problems in the UK, but nowhere near on the same scale as in Asia.

This all sounds rather bleak, but we also learnt how beautiful Asia is and how awesome life there can be. I will never forget the many beautiful sunsets we saw, particularly over the ancient temples of Bagan in Burma and the fields of rice in northern Vietnam, or the steep staircases of green and yellow rice terraces in the Philippines and sleeping under the stars in the jungles of Borneo. I still remember, vividly, the intensity of life in Asia, the swirl of colours, smells, noises and movement; the chaos of travelling to work in Vietnam, the rush of riding a tuk tuk through the dusty Cambodian countryside or the simple pleasure of relaxing on a hammock in the shade.
Time and again we were blown away by the many kind and friendly people we met in Asia, to mention just a few; the stranger in Taiwan who bought us sweets as a welcome present, the many curious people who wanted to have their photos taken with us in Burma and the Vietnamese women who cleaned and bandaged our wounds after our motorcycle crash. I don't think a day went by in Asia when we weren't treated to some small act of kindness; a smile, wave, offer of help or cry of 'Hello'. In particular, I fell in love with many of the boisterous, loud, often irritating, kids I taught in Vietnam and the friends we made while living there.
Despite differences in culture and lifestyle, I also came to realise that people are very similar wherever they're from, we all generally strive for the same things: happiness, security, health, a family, job and home. In Hanoi I'd gossip and chat with my Vietnamese colleagues about holidays, boyfriends and work the same way I used to with friends in London. In the middle of the jungle in Malaysian Borneo we were invited to stay with a family in their longhouse. After dinner, coffee was poured and we all settled down to watch a soap opera on TV in the same way we do now we're back in England. We all have national holidays and festivals, cultural quirks and traditions. Wherever you're from life is, as they say in Thailand, Same Same, But Different.
There are too many highlights of our time in Asia to mention and my mind spins when I try and recount them all, there have been so many amazing moments; visiting Angkor Wat, snorkelling in topaz waters, eating banana pancakes for breakfast, squeezing through underground caves, cycling through rice paddies. Yes, travelling in Asia could be irritating, baffling and frustrating, but it also made for the most exciting, exhilarating period of my life. I am incredibly grateful for the time we spent in Asia and I will miss this beautiful corner of the world. Now though, it is time to move on – adventures in America and Europe await.