28 Aug

Travel Packing List for the USA

I woke up this morning in a bit of a panic. This was brought on by the realisation that we have just five days left in the UK before we fly to New York. I started this summer with lists of plans and projects to tackle, I had articles and e-books to write, research to undertake for our move to Europe after Christmas and of course, things to organise for our fast-approaching trip to the US. Have I managed to tick even half those projects off my task list? Not even close, but we have had some amazing catch-up time with family and friends, so it's definitely been a summer well spent.

*Update: you can read our complete 2016 New England Fall Foliage Guide here. This includes tips on where on when to see the best foliage, what to eat, which festivals to visit, how much our fall trip to New England cost and our favourite destinations in New England.*
Our US Travel Packing List
Despite my panic, our plans are already in good shape for the US. To avoid expensive autumn prices in New England we booked our accommodation months ago through AirB&B, so we already have an itinerary planned. Today we went through our clothes and gear, which really helped us get everything organised. We haven't published a packing post for a long time, so if you're interested to read about our travel gear essentials or are just a bit nosy like me, here's a look at what we're taking on our three-month US adventure.
Bags and Packing Aids
We are still using the original Osprey packs we set off from the UK with in 2013. They're a bit grubby but they're extremely durable and comfy to carry.  We use compression packs and packing cubes to organise and condense our gear so that most of our things fit into our main packs. We have added a cute 20L bag which we'll use as a daypack and to keep our valuables with us when we travel on buses. We're also taking a fold-up holdall with us which we picked up in Vietnam in case we buy anything while we're there.
Osprey Aura 35L

Osprey Atmos 38L
Karrimor U-Bahn 20L Backpack

Fold-up holdall from Vietnam
2 Eurohike compression sacks
for our dirty clothes
2 Vango small compression sacks for our underwear
2 Vango large compression sacks for the rest of our clothes
Eagle Creek packing cube to store our toiletries and medicines
Electronics
Most of our electronics have been with us since the beginning too; our GF3 camera and Kindles, external hard drive and iPhone. We also use our old silver Acer, which is still going strong, unlike the extra one we picked up in Indonesia which only lasted a few months before the hard drive got fried. We're hoping travelling with one laptop will work this time because we'll only be using it to update the blog, browse and Skype; we're not planning on working online. A few things we've added include Andrew's new Lumia phone which has a great camera on it, a Tentacle gadget adapter which Andrew won online and a Three sim card which we'll use to contact AirB&B hosts in America.
Panasonic Lumix GF3 Camera (which we used to take this picture), case and charger
16gb and 8gb Sandisk camera cards
Acer Aspire 11.1 inch laptop
, case and charger
2 Kindle PaperWhites, cases and chargers
Memory stick
2 sets of headphones (only one pictured)
1 iPhone 4 and charger
Nokia Lumia 730 and charger
Skross PRO PLUS World Adapter
Three Sim Card
External hard drive and wire
Amy's Clothing
Packing for travel in the US has been very different from packing for Asia. This time we've included bulkier cold-weather items like fleeces, scarves, cardigans and coats. We're planning to layer tops on to keep warm and we've stuck to jeans, which is what we'd wear during the autumn back in the UK.
2 pairs of jeans
1 pair of shorts
8 tops
1 zip-up fleece
1 fleece
1 cardigan
1 thin jumper
1 scarf
1 coat
2 bras
8 pairs of socks
10 sets of underwear
Andrew's Clothing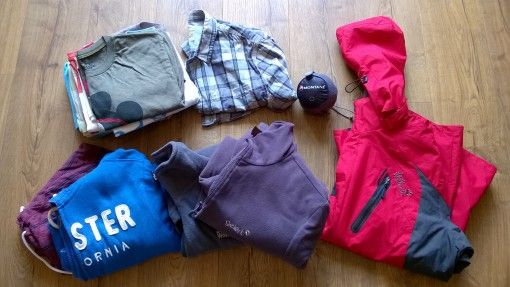 1 pair of jeans
1 pair of trousers
2 pairs of shorts
8 tops
1 zip-up fleece
1 fleece
2 hoodies
1 coat
1 hat
10 sets of underwear
8 pairs of socks
Footwear
No flip-flops on this trip! We're taking walking shoes and trainers, as well as a pair of easily foldable slippers to keep my cold feet warm in the evenings.
2 pairs of walking shoes
2 pairs of trainers
Slippers
Toiletries and Medicines
As hard as I try, I can never condense our toiletry bag and it always ends up in a mess after a few days on the road. One of the problems is my eye gear: a supply of contact lenses (which I picked up cheap in Thailand), solution, case and glasses. I also can't sleep without earplugs and an eye mask and I have a complicated skin-care routine. After travelling through Asia we have a tried and tested medical kit which covers the bare essentials: painkillers, decongestants, plasters, migraine tablets and cystitis medicine; we also carry antibacterial gel everywhere with us. One thing I definitely couldn't live without is my Mooncup, it's amazing how much money and hassle it's saved me over the years.
Amy's contact lenses
Contact lens case and travel-size bottles of solution
Amy's eye glasses
Ear plugs
Eye mask
Moon cup
Toothbrushes and guards
Toothpaste
Comb, hairbrush and hair bands
Face wash
Soap and dish
Sponge
Razors
Tweezers
Nail clippers
Scissors
Deodorants
Ibuprofen
Paracetamol
Cold and flu medicine
Cystitis medicine
Amy's migraine medicine
Vitamin C tablets
Plasters
Antibacterial hand wash
Insect repellent
Sun cream
Tissues
Cotton buds
Cotton wool pads
Cleanser
Shower cap
Travel Accessories and Documents
Our locks and microfibre towel have all been really useful so far and I don't travel anywhere without a journal. We keep scans of our important documents online and use a special app to keep our bank details secret but accessible should we need them. One important item I have added is a travel hairdryer, which may sound extravagant but I've deemed it essential since we'll be in a colder climate and my hair almost reaches my waist.
Travel hairdryer
1 Trespass microfibre towel
3 combination locks
2 pairs of sunglasses
Notebook and pens
Wallet with bank cards in
Passports
Driving licences
International drivers permit
*There are a few Amazon affiliate links in this post, so if you click through and buy any of these products we will earn a very tiny commission to go into our travel fund. 
So, what do you think of our packing list, are we missing anything?