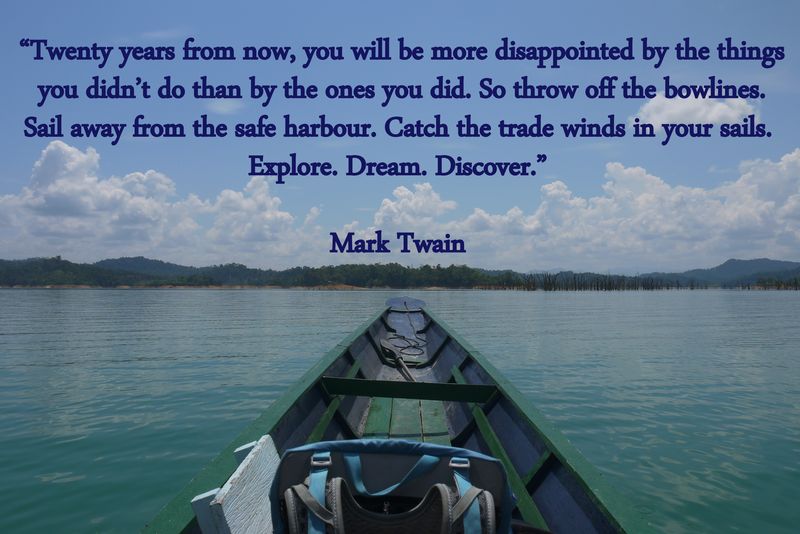 27 Sep

"Explore. Dream. Discover." Thoughts on Travel and Visiting The Mark Twain House

When we were living in Vietnam I thought about getting a tattoo to commemorate my time in Asia. What I wanted was for Andrew and I to get matching words inscribed on our bodies to mark the importance of the journey we've taken together since we left the UK two and a half years ago. The tattoos would quote the famous words of Mark Twain: "Explore. Dream. Discover."
We didn't get the tattoos. Andrew's track record with needles isn't great, so instead, we crashed our motorbike and I got a lovely purple scar on my knee to remind me of our Asian adventures. My little brother, however, has many tattoos, including an elephant he had done with a bamboo needle in Thailand and the word "Huckleberry", which he had inscribed during his travels in America after the novel by Mark Twain, a man whose work is as iconically American as the Statue of Liberty.
Visiting The Mark Twain House in Hartford
Since we arrived in America it feels like we've been on a crash-course in American history. In New York we visited Ellis Island Immigration Museum, the place where thousands of people began a new life in America. In Boston we walked the Freedom and Black Heritage Trails, learning about slavery, its abolition and the Revolutionary war which led to American Independence from the British. This week in Rhode Island we've been learning about Roger Williams, the first person to successfully argue for separation of state and church.
There was more history to be found during our trip to Connecticut, starting with The Mark Twain house in Hartford. We took a tour of the home where Twain, whose real name was Samuel Clemens, lived with his family for 17 years. During that time Sam penned some of his most famous books, including The Adventures of Tom Sawyer, Life on the Mississippi, The Prince and the Pauper and The Adventures of Huckleberry Finn.
We had an amazing tour guide, a self-confessed Twain nerd, who spoke about Sam as if he was an old friend, bringing him to life as an affable, slightly arrogant and outspoken character through the stories he told us about Sam's family and their happy years in Hartford.  We also learnt about Sam's early life growing up in a slave-owning community in Mississippi, the years he spent as a boat pilot (where he adopted the name Mark Twain, which means 'safe waters'), his work as a newspaper reporter, world traveller, writer and the tragic deaths of his family members.  All these things influenced and are reflected in Twain's books and their themes.
The Hartford house itself is more of a lavish, three-storey mansion which has been fully restored. Designed by Sam and his wife Livy, the architect who built it went way over budget and the house eventually bankrupted Sam, costing around £20,000 a year to maintain – about the equivalent of £400,000 these days.  The house is full of treasures from Sam's travels; tribal prints on the walls, a library where he told bedtime stories to his daughters, dining room where he showed-off to guests and a third-floor billiard room with a small, unassuming desk in the corner where Sam wrote some of the most famous pieces of American literature.
Wandering around the museum after the tour, I was fascinated by the relics and grainy black and white photos from Sam's travels. Unbelievably, although I've often come across his famous travel quotes and I even considered getting his words tattooed on myself, I've never actually read any of Twain's travel books; The Innocents Abroad, Roughing It, A Tramp Abroad, Following the Equator, but I now intend to.
Being in America is a return to full-time exploration for us and over the last few weeks I've been reminded of how much I love to travel, just for travel's sake. When I explore I learn so much about history, culture and life and I meet amazing people. I relish being able to chuck my backpack in the car and drive off to a new place every few days. Travel forces me to constantly evaluate what I want to do in my life and it reminds me that one day I may not have the money, health or opportunities I do now, so I must make the most of this freedom while I have it. As Twain summed up so wisely:
Our tour of the Mark Twain House in Hartford, Connecticut, cost $20 for two people as we purchased discount tickets from Groupon – tours normally cost $19 per person.