10 Nov

"Now that's the way to take a vacation…."

"You're here for three months?" a guy from Maine asked us, "Now that's the way to take a vacation!" For cost and visa issues, we limited our US trip to three months;  compared to the two years we've just spent in Asia, those three months sounded very short, but travelling here in the US has made me feel incredibly grateful for this trip and the lifestyle we've carved for ourselves.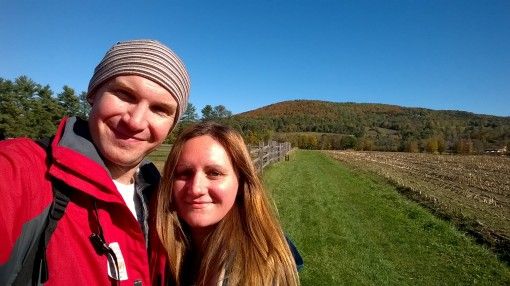 Travel and America
From conversations we've had with many lovely Airbnb hosts we've met while travelling in the US, it's clear that our travel-orientated lifestyle is quite novel by American standards. Back in the UK people don't generally find our lifestyle quite so interesting but people we've chatted to in New England have been fascinated by our story, keen to ask about where we've been, how we afford travel and generally how we make this life work.
I'm not sure what this fascination stems from; perhaps it's due to the fact that America is notorious for its poor holiday allowance?  From what I understand, US companies aren't obliged to give any leave at all and if they do it's often for just ten days per year.  Is it that people feel they can't quit their jobs and travel like we have because they rely on their employers to provide private healthcare in the US? Do Americans generally holiday in their home country, like the French, because it's so big and diverse rather than venture overseas? Whatever the reason, we've spent a fair bit of time explaining our 'three-month vacation' while we've been travelling in America.
Our 'Lucky' Lifestyle
Travel has been a huge part of our lives for over two and a half years now and sometimes I get complacent about how great the life we've carved for ourselves is. When you make travel your top priority and a constant part of your life it becomes your normal, your everyday. After just a few months on the road it can feel like you've been travelling forever and some days, the life we used to live of full-time work in London feels like a hazy dream.
Recently, I wrote about how we could afford to travel in an attempt to show that you don't need a lot of money to explore the world, that if you're lucky enough to have been born in a country which offers good education and work opportunities then you can save up or work abroad to fund a trip. I still firmly believe that this is true and when people tell us we're 'lucky' to be able to travel, I agree that while we're fortunate in many ways, we've also worked damn hard to achieve what we have.

Still, travelling in the US has been like a mental slap; it has reminded me how incredible our current lifestyle is. Like most people I know, for the majority of my life travel meant taking a one or two week holiday every now and again; a sunny break from the daily grind of work and the dismal British weather. Just a few years ago I never would have believed that Andrew and I could travel long-term, work, teach, volunteer or housesit pretty much anywhere in the world – now I know that we can.
As we reach the tail-end of our trip here in the US and begin to look forward to Christmas in the UK, our thoughts are also turning to what happens next in 2016. Unusually for us, the New Year isn't packed with plans, in fact, we have no idea where we'll end up. While this partly scares me to death, I am also trying to embrace the possibilities ahead and remember why we chose this lifestyle: for the freedom to see new places and try new things. In 2016, this freedom starts with a one-way flight to Spain…