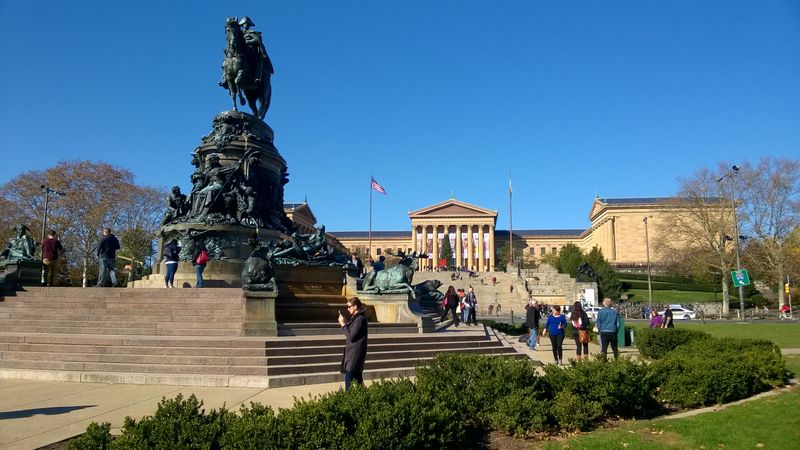 11 Dec

Five Days in Philly

I'm not going to lie; Philly came as a bit of a shock after spending two months in idyllic New England. Gone were the tiny towns full of independent shops and cute cafes, the craggy coastline and sweeping forests. When our bus pulled up in Philadelphia we found ourselves back in a concrete jungle, ready for five days of intense city sightseeing; what we hadn't banked on was an Airbnb bedbug disaster and the tougher side of city life in Philly.
Bedbugs and the Gritty side of Philadelphia, Pennsylvania
From the moment we arrived, Philadelphia struck us as a tough, gritty city; we felt a million miles away from the quaint, peaceful New England we'd just left behind. In Philly the subway was dingy and run-down with people begging on the platforms and we were shocked at the number of homeless people we saw on the street clutching cardboard signs asking for help. While we were sightseeing we saw people sleeping in parks, when we visited historical landmarks men would want to take our photo to earn tips and we'd be asked for spare change at least half a dozen times a day.
While we've encountered poverty and homelessness practically everywhere we've travelled in Asia and I recognise that these problems exist in all major cities, London included, we weren't expecting to see it on such a large scale in a major city in the USA.  On the one hand Philadelphia was full of old historical buildings, tall office skyscrapers and glassy, modern shopping streets, restaurants and bars, on the other hand, the city felt full of poverty and social inequality – there seemed to be a huge gulf between rich and poor. It was incredibly sad.
We'd booked a room through Airbnb in what turned out to be a sketchy neighbourhood, where policemen stood guard outside the subway station and sirens rang out throughout the night. Although we've previously lived in what are perceived to be some tougher areas of the East End in London, I never felt unsafe there. By contrast, I certainly wouldn't have walked around that neighbourhood in Philly by myself at night.
To make matters worse, on the second day I woke up with bedbug bites on my arm. After an awkward conversation with our host, we packed up and left. Instead of heading to a museum, as planned, we spent the day calling Airbnb to arrange a refund, searching for a new place to stay and laundering all of our clothes. Luckily, we found a replacement room at the last minute in a lovely house; unfortunately the area was even worse than the last and another guest advised us not to wander around the neighbourhood after dark.
To be fair, we have had mainly great experiences with Airbnb and in this instance we found their customer service was excellent. If you haven't used the site before you can get £20 free credit to spend on the site if you sign up using this link.
Visit Philly in Five Days
Despite these complexities, overall we found Philadelphia to be a vibrant, diverse city full of history and we enjoyed our stay there – here's what we got up to during our short visit to Philly.
Independence National Historical Park
Philadelphia used to be the Capital of the USA and it is now the fifth largest city in the country. Thankfully, the main sites are all situated in the National Historical Park, which is dubbed 'America's most historic square mile'. We started at the Visitor Center, where you can pick up maps, get advice on things to do in Philly, arrange tours and watch some short films about the historic events that occurred in the city.
Tour of Independence Hall
Many key events of the American Revolution occurred in Philadelphia, including the signing of The Declaration of Independence, which took place at what is now known as Independence Hall. To visit and view the room where The Declaration was signed, you need to get free tickets for a ranger-led tour of the hall from the Visitor Center.
The Liberty Bell Center
This famous bell was shipped to Philadelphia from England in 1752 and inscribed with the biblical quote: 'Proclaim liberty throughout all the land unto all the inhabitants thereof'. The bell was originally used to call people to assembly and public meetings in the State House, but it later became famous after a fictional story was published about the bell ringing on the day Congress signed The Declaration of Independence.
The bell, which became cracked beyond repair, was adopted as a campaign symbol by slavery abolitionists and later civil rights groups and suffragists to call for liberty and justice for all in American society. We caught a glimpse of this famous bell and learnt about its history at the Liberty Bell Center, which is free to visit.
National Constitution Center
Our visit began with a dramatic live show called Freedom Rising, which told the story of how the US Constitution came to be. Next we spent hours exploring the main exhibition; We the People, which goes through each article of the Constitution, showing how they're enacted in everyday life using multimedia and interactive displays. This really made us think about issues which seem unconstitutional, like the death penalty, holding people without trial in Guantanamo Bay and restrictions on gay marriage.
There were also interesting exhibitions in the museum about the history of gay rights and food legislation in the US as well as the Signers' Hall, which has bronze statues of those who signed the original Declaration of Independence. Tickets for the National Constitution Center are normally $14.50 for adults but we got a cheap deal on Groupon and paid just $8 per ticket.
Reading Terminal Market
If you visit Philadelphia, be sure to eat lunch at Reading Terminal Market. This huge covered market is full of food stalls, restaurants and shops as well as a seating area where you can gorge on all your tasty treats.  We ate here several times, trying the salads, donuts and grilled cheese sandwiches; Andrew even had a famous Philly Cheesesteak.
Eastern State Penitentiary
We think the Eastern State Penitentiary is one of the top places to visit in Philadelphia. We spent the better part of a day in this imposing, gothic castle-like building taking a free guided tour, wandering around with an audio guide, checking out art exhibitions in the cells and listening to special talks in restricted areas of the prison. The most disturbing parts of our visit were the death row block and The Hole, a series of underground punishment rooms; one man who was put down there for 30 days almost went blind.
The penitentiary has a fascinating history; it was originally built with a new method of rehabilitation in mind which focused on totally isolating each prisoner so that they had time to reflect and repent. To facilitate this goal, the building was uniquely designed with long corridors housing individual cells and yards which branched out from a centre circle in a spider-like formation. The penitentiary cost millions of dollars to make and was one of the first buildings, even before the White House, to have central heating, electric lights and flushing toilets.
As time went on, people realised how psychologically damaging isolation was and issues of overcrowding and overspending surfaced, so the penitentiary changed. Prisoners shared cells and the yard, learnt a trade and took jobs in the prison; the most trusted inmates even worked in the hospital ward and assisted with surgery. During our tour we saw a recreation of Al Capone's lavish cell and learnt about some daring escape attempts; some prisoners dug a tunnel out of the prison while another group built a ladder and scaled the walls.
The most interesting exhibition in the Penitentiary examined the history of the US prison system. Did you know that the US has by far the biggest prison population in the whole world?  We were also shocked to learn that private companies run prisons as businesses (which may partly account for the high numbers of people being locked up). Most worrying was the racial makeup of the prison population; in 2010, black inmates accounted for 40 percent of the prison population but only 13 percent of the general US population, Latino inmates made up 21 percent of the prison population and only 16% of the general population.
We paid $14 per person to visit the Eastern State Penitentiary.
Franklin Court
Benjamin Franklin spent most of his life in Philadelphia and is buried in the graveyard just off National Independence Park. We visited Franklin Court, the square where Franklin's house used to be; there's now a museum and footprint of the house in its place.
Washington Square
We took a stroll around Washington Square, which was once a burial ground before it was transformed into the green, park-like space it is today. Now it houses a veteran memorial and grave for the unmarked soldier.
Franklin Square
When we visited, Franklin Square was decked out in Christmas decorations and a festive light display was being held. We listened to a brass band, watched the carousel and took a look around the Christmas market tent.