17 Dec

2015 Travel Round-up

2015 has been a year of two very different halves for us; the first spent in Asia, the second in America and the UK. We lived in Vietnam's crazy capital city, Hanoi, where we saved over £14,000 (and nearly lost our minds!) by teaching English. We relaxed on beaches in Thailand, house sat in London, toured South Wales and took the best road trip ever through New England in the USA. As we prepare to celebrate Christmas in Blighty for the first time in nearly three years, here's our 2015 travel round-up.

2015 Travel Facts and Highlights
Let's start with some fun facts, highlights and top posts from 2015:
– This year we earned £21,100 by teaching English in Vietnam. Thanks to the amazingly low living costs in Hanoi, between £700 and £800 per month, we managed to save over £14,500 of our earnings.
– Although we were abroad for nine months of the year, we took just five flights (costing £1,499) and visited four countries (Vietnam, Thailand, the UK and the USA) in 2015.
– Our three-month trip to the USA cost £7,890.
– Some of our most popular blog posts this year were:
What's it actually like to teach English in Vietnam?
How we've survived travelling as a couple
Teaching English in Vietnam: pay, visas and finding a job
How we can afford to travel full-time
What's the cost of living in Vietnam?
Reflections on life after two years of travel
– Here are some of our top travel highlights from 2015:
Road-tripping through New England
Hiking through the rice terraces of Sapa
Visiting one of the largest cave networks in the world
Our luxury stay on the island of Koh Chang
Celebrating the TET New Year holiday in Vietnam
– The worst moments of the year:
Crashing our motorbike and scarring my knee in Vietnam
My traumatising first teaching experience
Finding out we'd been driving illegally in Hanoi
Our Crazy Life in Hanoi
Sat here in the middle of a grey December day in the UK, it's hard to believe that we spent the first five months of 2015 living and working in Hanoi. Our days were a whirl of boisterous kids and lesson planning, singing songs and playing games; we drove a motorbike through throngs of beeping traffic to work, bought mangos everyday from the market and became a part of the community through working at local government schools. When we weren't teaching we were wandering the maze-like streets of the Old Quarter, having dinner with friends in our favourite Hanoi restaurants, strolling around Hoan Kiem Lake, having foot massages and chilling out in our apartment.
We kicked off 2015 with a weekend escape to Cat Ba Island and celebrated the Vietnamese TET New Year in February with visiting friends from the UK. We took the night train to Sapa, a mountain town surrounded by never-ending rice terraces which I fell deeply in love with, and cycled around Vietnam's oldest national park: Cuc Phuong.  The remaining months of the academic year were tough as we became disillusioned with the Vietnamese school system, crashed our motorbike and struggled with illness after illness and the general chaos and pollution of Hanoi.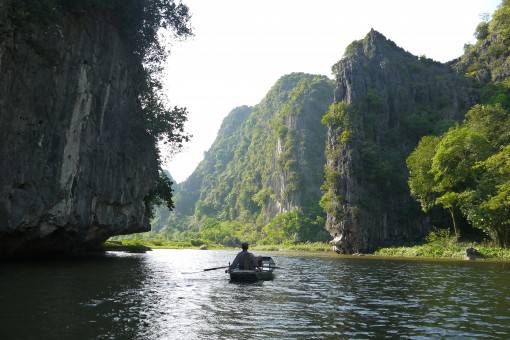 Despite the tough times, when the school year ended I was awash with conflicting emotions; I was relieved to finish work and excited to start travelling again, but I was also incredibly sad to say goodbye to the kids at school, the friends we'd made in Hanoi, our apartment and the city we'd come to call home. During our last few weeks in the country we explored the spectacular countryside retreats of Mai Chau and Tam Coc and visited the most incredible cave system we've ever seen in Phong Nha-Ke-Bang National Park. At the end of May we flew away from Vietnam having made some incredible memories, friendships and over £14,000 in travel savings.
Recovering in Thailand
Hanoi took a hell of a toll on our health and we arrived in Thailand in June physically and mentally exhausted. From Bangkok we headed a few hours south straight to Koh Chang, a less touristy island we'd never visited before. It was low season and incredibly quiet, so we had the resort pool almost entirely to ourselves and were given a free upgrade to a luxury villa with a sea view. We started to eat and sleep properly again, clear the Hanoi smog from our lungs, tan our pale bodies and slowly come to terms with saying goodbye to our life in Vietnam.
We couldn't leave Thailand without revisiting our favourite haunt: Chiang Mai. We love this northern Thai city and over the past few years it has become our Asian home, the place we retreat to periodically to recuperate from our travels, work and stuff our faces at all our favourite vegetarian restaurants and the Sunday Night Market.  We have many happy memories of hanging out with visiting family and friends in Chiang Mai, renting an apartment, volunteering at the nearby Elephant Nature Park and celebrating Songkran.
Our two weeks in Chiang Mai this summer whizzed by in a blur of tasty meals, long afternoons at the swimming pool, walks around the old city and general relaxation. At the end of June, after the most incredible two years of my life, we bid an emotional farewell to Asia; leaving was especially poignant as we have no idea when we'll be back in this corner of the world.
Summer in the UK
We spent July and August back in the UK, visiting all our favourite people and places and plotting our autumn trip to the USA. We stayed with my family in Southampton, went sightseeing around Andrew's home turf in Wales and took trips to Devon and our University City, Bristol. We also spent a fast-paced week in London cat sitting and catching up with friends.
Three Months in the USA
This autumn we took a long-awaited trip to the USA where we hired a car for eight weeks and drove through New England; from Massachusetts through New Hampshire, Rhode Island, Connecticut, Vermont and Maine. We took a detour to see the mighty Niagara Falls and a day trip to the sought-after summer getaway, Martha's Vineyard. We drove along Cape Cod, toured Ivy League Universities, learnt about the American Revolution, hiked, biked, kayaked, leaf-peeped, ate and pretty much had the time of our lives.
The last month of our USA trip was spent exploring some major cities; Philadelphia, Washington DC and New York City. These visits were full of history and museums, iconic landmarks and non-stop city sightseeing; while we had a great time we were also exhausted by the end of it. Our final week in America was spent with Andrew's relatives in New York, where we experienced our first incredible Thanksgiving.
A couple of weeks have passed since we returned from the USA and I still can't stop thinking about the amazing experiences we had there, especially during our road trip in New England. As each day passes I fall more in love with the memories of our time there; the long drives through forests, the golden autumn leaves, the wonderful people we met, the craggy Maine coastline, national parks and delicious food. In particular, I cannot shake my love of Vermont, a state I vow to return to one day.

Christmas in the UK and beyond
So here we are in December, back in the UK and ready to enjoy the festive season with family. As I write this, Andrew is on a train bound for Wales,  while I'll spend Christmas in the South of England surrounded by my family, their pack of eight hounds and my boisterous, lovable nephew Alfie.
This is our frst Christmas in the UK in almost three years and although I never used to enjoy the holiday much when we lived here, I now find myself delighting in the festivities; tree decorating, taking Alfie to see Santa and eating lots of delicious Christmas food, including tons of mince pies!
Happy Christmas Everyone! Stay tuned to hear about our exciting travel plans for 2016.