07 Jul

Krka National Park, One of Dalmatia's Most Beautiful Natural Treasures

There's a place you can go in Dalmatia where mountain-fresh water tumbles over rock, crashing in continuous heavy curtains into topaz pools. As you follow shady paths through dense forest, toads croak on the riverbed and the earthy smell of nature scents the breeze. It's a landscape formed of limestone karsts; a place where you'll find fortresses, waterfalls and ancient caves, churches and a red-roofed monastery which sits on a tiny, isolated islet. This place is Krka National Park.
Exploring Krka National Park in Croatia
Krka is the lesser-known sister of the Plitvice Lakes National Park, which is Croatia's most popular tourist attraction and a UNESCO World Heritage Site. Plitvice has some world-famous waterfalls which connect sixteen lakes spread over 300 square Kilometres. As tempting as Plitvice sounds (and I would love to go there one day), there are some other spectacular waterfalls in Croatia at Krka National Park, which lays just an hour's drive from our apartment in Split.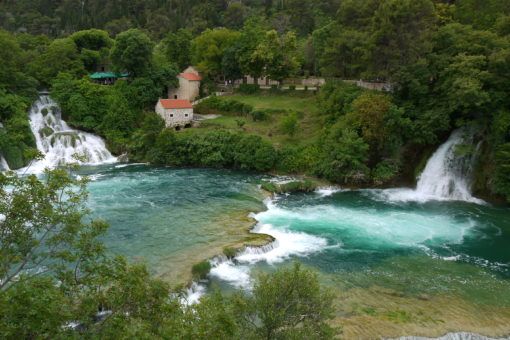 Andrew and I made the journey to see the Krka waterfalls in a rental car with our visiting friend Bonner. We arrived at Lozovac, one of the five park entrances, and made our way along a rocky track to the start of the 1900 metre educational hiking trail. A raised wooden path took us through a tangle of forest alongside rushing rivers to Krka's most popular waterfall, Skradinski Buk. Along the way we stopped at lookout points to take photos of the river Krka and paused to read information about the surrounding wildlife, flora and fauna.
Skradinski Buk Waterfall
At 800 metres, Skradinski Buk is the longest waterfall on the river Krka and has 17 different levels. At the bottom there's a wide set of grassy falls tumbling into a pool where visitors can bathe in the icy turquoise water amongst the fish. While I sat on a rock on the riverbank watching the continuous rush of water, Andrew and Bonner took the chance to wade out into the water and cool off. You can spend hours at Skradinski Buk taking photos, wandering the wooden walkways, swimming and picknicking, but as the afternoon set in we took to the car to discover more of Krka.

A Tea Stop in Skradin
Exploring the waterfalls was thirsty work so we made a stop in Skradin, a small Mediterranean town on the Krka River. Like so many ancient Croatian towns we've visited in Dalmatia, Skradin is all narrow streets and shuttered stone houses, with its own fortress, church and clock tower. We settled outside a café to refuel with hot tea and coffee and consult our map of the park.
Visovac Islet
Just driving through the Croatian countryside is a treat, watching the passing scenery rush by in a whirl of vivid greens and shimmering blue from the nearby rivers and lakes. We pulled in at a lookout point to spot Visovac, a 14,000 metre squared forested islet which was first inhabited by hermits from St Augustine in the 14th Century. They later built a church and monastery on Visovac which you can visit by taking a boat trip down the Krka River.
Roski Slap Waterfall and Ozidana Cave
Winding our way through mountain roads we arrived at a tiny hamlet. Park rangers directed us to follow the path on foot towards a steep flight of steps leading to the base of Roski Waterfall. On the way we stopped to greet a friendly black dog and her owner, a smiling, suntanned old man, beckoned us over to a wooden box where her three puppies lay sleeping on a rug like tiny fat sausages.
At the foot of the falls we were surprised to discover a quaint shady garden and some stone watermills next to the lake. A wooden pier jutted out into the water, providing great views of the surrounding limestone mountains and Roski Slap. From there, we could have opted to scale 517 stone steps to visit the Ozidana Cave, which was inhabited by humans as far back as 5000 BC, but as evening was drawing close we decided to bring our adventure at Krka to a close and make the long journey back to Split.
Other Places to Visit in Krka National Park
We only saw a fraction of what's on offer at Krka National Park. You can spend days hiking along the Park's trails and take boat trips along the river as well as visiting more of Krka's natural treasures including fortresses, the Roman military camp at Burnum archaeological site and Manojlovac Slap, a stunning 60 foot waterfall. If we'd had more time we would have continued up from Roski to the Krka Monastery and its neighbouring church which sits on top of some Roman catacombs.
How to Visit Krka National Park, Croatia
The easiest way to visit Krka is to either drive there or book a tour from Split or Zadar, although public buses do run infrequently. The Krka National Park entrance fee varies depending on season:
November, December, January, February and March: 30.00 Kn for adults, 20.00 for children (aged 7 to 18).
April, May, June, September and October: 110.00 Kn for adults, 80.00 Kn for children.
July and August: 150.00 Kn for adults, 90.00 Kn for children.
Opening times for the park vary depending on the time of year; check the Krka National Park website for precise details, maps and more information about visiting. There are five different entrances to Krka and parking is free, there's also a free shuttle bus from the Lozovac entrance which takes you down to the start of the educational trail.
Pin Me!