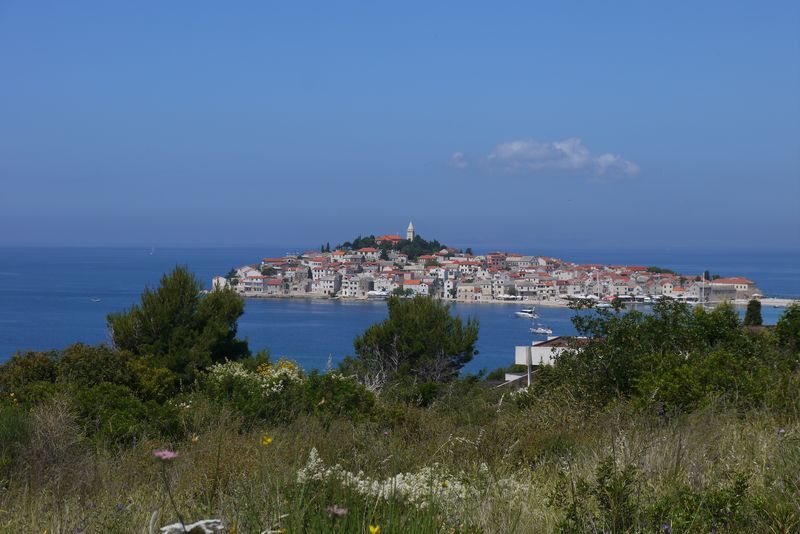 10 Jul

Day Trips from Split – Gorges, Islands, Old Towns and Lakes

The Split-Dalmatia County has it all: from steep gorges, waterfalls and colourful lakes to seaside towns crafted from local stone and islands surrounded by impossibly calm, blue waters. When we settled in Split, we unwittingly picked the perfect base from which to explore the Croatian coast. With our friend Bonner in tow, we packed the trunk of our rental car with snacks and sun cream and set off to discover the best day trips from Split.
The Best Day Trips from Split
Renting a car gave us ultimate freedom to explore Split's surrounding sites, which lie just an hour or two away from the Old Town, here's what we got up to.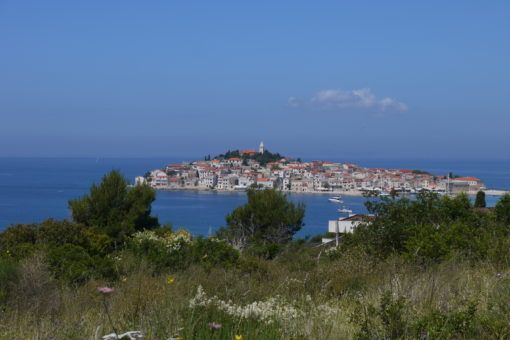 Primosten
The coastal road leading north from Split's Old Town makes for a fantastic drive. The journey snakes along the rocky coast-line next to the Adriatic Sea, past marinas and clusters of houses. We got our first glimpse of Primosten, a town sometimes described as the Monte Carlo of Croatia, from a road-side look-out point. Picking our way through stones to the edge of a grassy cliff we could spot Primosten in the distance, a colourful bunch of white, red-roofed houses jutting out into the sea.
The Monte Carlo reference started to make sense when we walked past the harbour, where dozens of expensive sail boats and yachts were moored.  The town felt almost deserted in the mid-morning heat as we made our way up steep streets, past cottagey houses made of local stone. Our ramble led us to a tall white church with a graveyard perched on a hill, overlooking the sea beneath.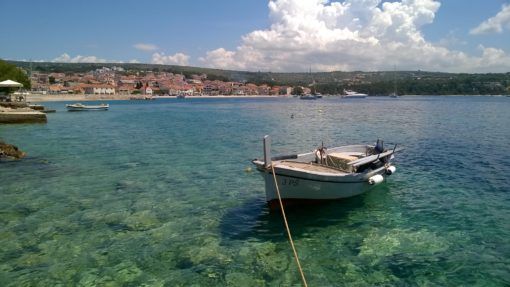 Trogir
Trogir is a port town set on a small island connected by a short bridge to the mainland. The town is set within medieval walls and has earned UNESCO status for its mix of Roman, Renaissance and Baroque architecture. Trogir felt like a smaller version of Split's Old Town; the streets were narrower, a tangle of stone paths lined with shuttered houses and decorated with colourful flowers and washing strung overhead. Every so often we'd stumble into an open plaza and discover a towering church or cathedral; a fort sat at the island's end, guarding the town from the sea.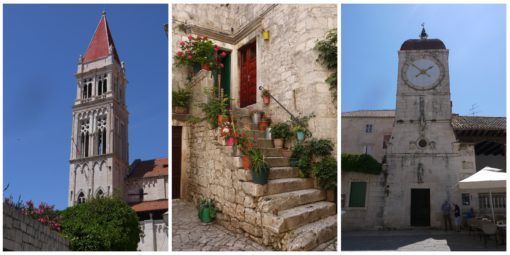 We passed several peaceful hours in Trogir simply wandering the streets and stopping to select an ice cream from the huge array of flavours, which ranged from tempting banana, chocolate and raspberry to more exotic melon, caramel or hazelnut and the downright strange: Red Bull. We relaxed in a tiny café, sipping on hot tea, which is always served black with honey here in Croatia, before waving goodbye to Trogir.
Klis and Solin
We followed twisty roads from the coast to Klis, one of the largest fortresses in the Split-Dalmatia county. From the fort's precarious perch on a cliff we got panoramic views of the surrounding area looking out over the bay. Unfortunately we arrived too late to view the ruins in Solin, which was once the largest Roman settlement on the eastern Coast of the Adriatic and the birthplace of Diocletian, the Emperor who later built his palace in Split.
Instead of exploring the Roman ruins we found ourselves by a white church set in a park. Kids played on the grassy lawn while people gathered for an evening service which was broadcast outside via loud speakers. With the river edged by weeping willows, the setting looked almost English except for the odd palm tree and rocky mountains in the distance.
Krka National Park
A visit to Krka is one of the most popular Split day trips. The park is a natural treasure trove full of crashing waterfalls and fast-moving rivers, topaz pools and thick forest. As well as hiking through the park's many trails, there are ancient forts, monasteries, islands, lakes and caves to explore. The nearby town of Skradin makes for a great lunch stop during a visit to Krka. You can read more about our day exploring Krka National Park, one of Dalmatia's most beautiful hotspots, here.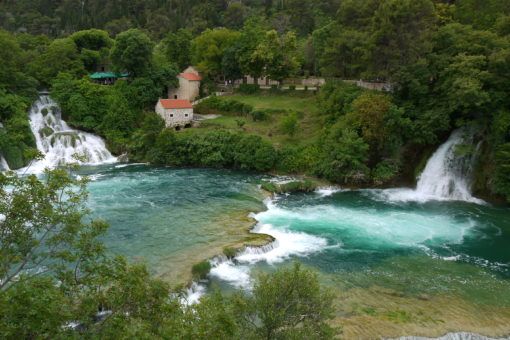 The Imotski Lakes
Our longest journey was a two-hour drive to Imotski, an old Venetian town right on the border of Herzegovina. Imotski is famous for its red and blue lakes, both sit at the bottom of steep caverns formed by the collapse of limestone caves; the rocks around the red lake are tinged a rusty-colour, hence the name. From above, the lakes look like giant paint pots, perfect holes of vivid liquid colour set against moon-like rock.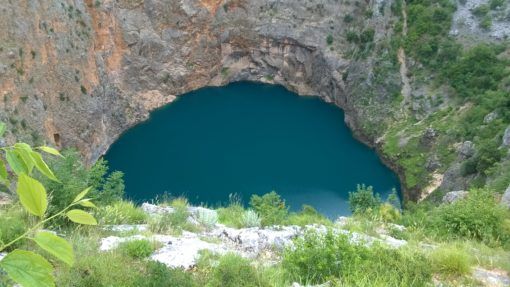 Omis and Cetina Gorge
To the South of Split you'll find Omis, a tiny seaside town that was once patrolled by bands of pirates. These days the area is famous for the Cetina River and Gorge, which runs through Omis; Bonner spent one day canyoning through the gorge, sliding over rocks and bobbing down the river. After settling by Omis Harbour for a drink, we drove inland along forested roads which led us up to ear-popping heights and the town of Zadvarje. From here we got an aerial view looking over Cetina Gorge and some towering waterfalls, which looked tiny from our birds-eye vantage point.
Split Islands
From Split, you can easily hop over to one of the nearby islands of Brac, Hvar, Solta or Vis. Ferries and catamarans leave regularly from the harbour just outside of Split's Old Town and take just an hour or two. We opted to visit both Brac and Hvar during our stay on the Dalmatian Coast; you can read more about our island hopping adventures in this post.
Our first stop was the third largest island in the Croatian Adriatic, Brac, where we spent the afternoon on what is deemed Croatia's most famous beach: Zlatni Rat, which means Golden Cape. The long thin beach slides out into the sea like a tail, with green trees in the middle. Like most beaches in Croatia, Zlatni Rat is pebbly rather than sandy, but we still enjoyed a few hours of relaxation watching wind and kite surfers zip across the water's surface and wading into the cold, clear sea.
Our last day trip from Split was to Hvar, which is often referred to as the most beautiful of Croatia's Adriatic islands. We explored the lanes and plazas of Hvar's Old Town and walked to the hilltop fortress; from there we could look down over the town across the sea to the nearby Pakleni islands. The rest of the afternoon was spent in a shady spot by the water, while Andrew swam and searched for colourful fish, I sat and watched boats pass by.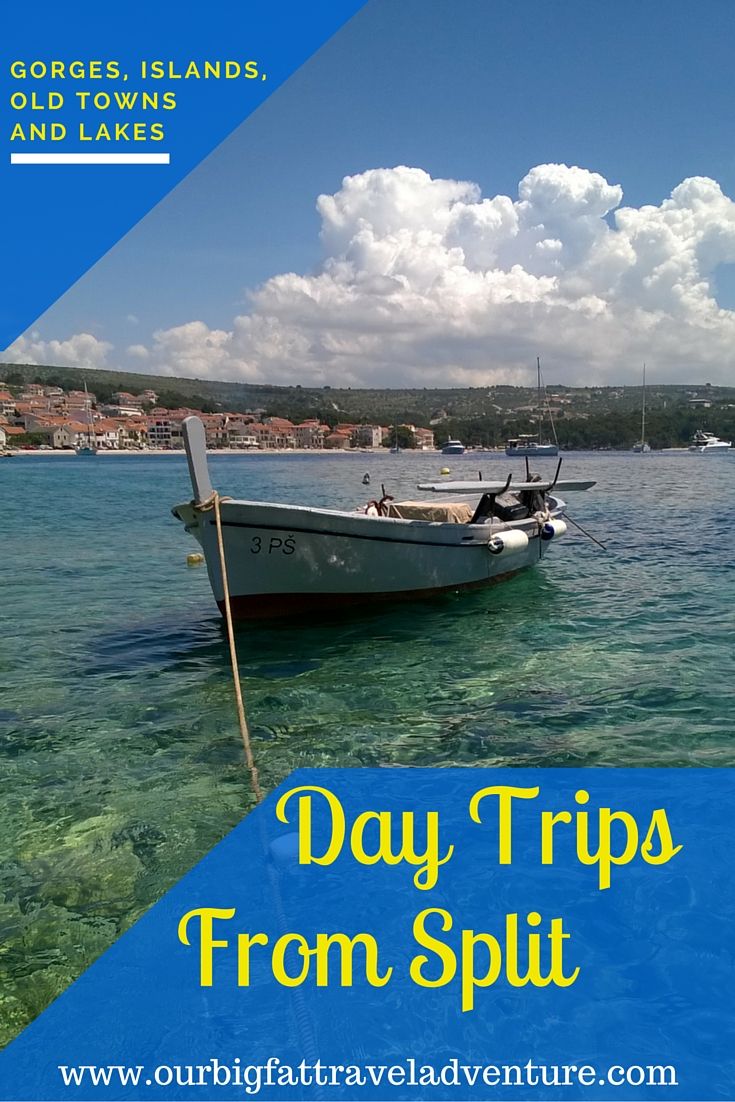 Pin Me!