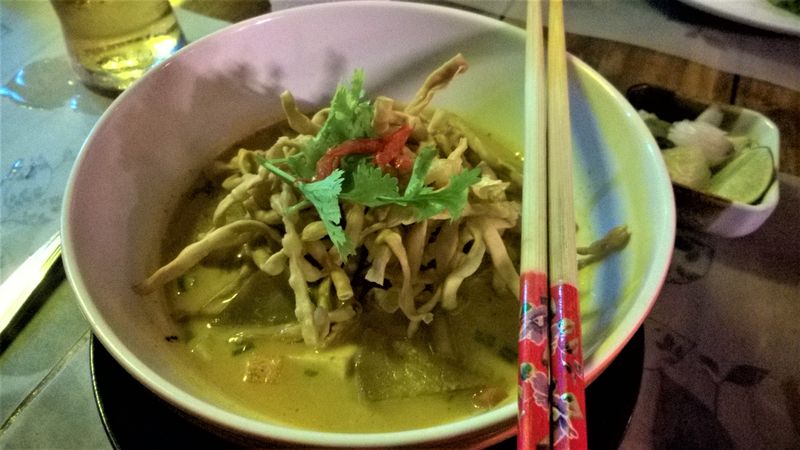 17 Feb

Best Restaurants in Nimmanhaemin, Chiang Mai

We love living in the Nimmanhaemin area of Chiang Mai so much that we barely venture into the Old City these days. Our neighbourhood is full of markets and coffee shops as well as Maya Mall, which has everything we could need including a cinema, supermarket and co-working space. Best of all, Nimman road has tons of incredible eateries, here are our favourites.
Our Top Restaurants in Nimmanhaemin Chiang Mai
These are the cafes and restaurants we  visit often in the area around Nimman Road Chiang Mai. You can read about our favourite eateries in the Old City in this post.
Why Not?
Authentic Italian food can be understandably hard to find in Thailand but Why Not? has this market cornered. We love the fact that Why Not? has a real wood-fired oven, so we usually order the margherita pizza, which costs 180 Thai Baht (THB), about £4. Pasta dishes start at 160 THB (£3.60) and there's a selection of imported meats, cheeses, daily specials and main meals like lasagne. We always get some delicious pizza bread with dipping sauce to start our meal for 30 THB (£0.70).
Where is Why Not? Soi 11, Nimmanhaemin Road, Chiang Mai.
Tidmor
Tidmor specialises in delicious Taiwanese-style pot stickers that are great for a snack or full dinner. You can order five vegetarian dumplings for 49 THB (£1.10) or 10 for 89 THB (£2), meat versions include chicken, pork and prawn and cost 20 to 50 THB more. Tidmor also has a limited menu of noodle and meat dishes for between 59 and 79 THB (£1.33 – £1.79). The vermicelli and soya dumplings are our favourites.
Where is Tidmor?  43 Soi 5, Nimmanhaemin Road, Chiang Mai.
The Salad Concept
This is the best place to find a huge leafy salad for an incredibly cheap price. You can pick five free ingredients such as carrot, raisins, nuts, seeds, pasta and egg to go into your salad and add extras like meat or cheese for 20 to 50 THB more. It comes super-sized and costs just 69 THB (£1.50). We normally order salads to go and have them with dinner at home. When we've eaten in we've also tried the soup, bread and pancakes, which are all delicious.
Where is The Salad Concept?  49/9-10 Soi 13, Nimmanhaemin Road, Chiang Mai.
K's Kitchen
In K's Kitchen, all meals cost 100 THB (£2.25) or under and this is one of our staple Nimmanhaemin restaurants for Thai food. K's serves delicious curries and rice dishes and has a great vegetarian menu; Andrew loves the pumpkin Khao Soi. If you want to make a meat dish vegetarian, you only have to ask and they'll cook you a veggie version. I often go for a vegetarian Pad Thai.
Where is K's Kitchen? 18 Sermsuk Road, Chiang Mai (Just off Huay Keaw Road). 
Rustic and Blue
Rustic and Blue is my favourite place for a blow-out (by Thai standards) meal in Nimmanhaemin and everything on their organic, farm-to-table menu looks delicious. Their warm brie salad is my absolute favourite, a hearty bowl of leaves and roasted vegetables with a rustic baguette and melted brie, which costs 255 THB (£5.80). We also love the bread and almond croissants but the soups, burgers and wraps all look tasty too.
Where is Rustic and Blue?  ­Soi 7, Nimmanhaemin Road, Chiang Mai.
Accha Fusion India
If you're looking for Indian food in Chiang Mai, Accha is a great choice. The menu is full of typical curries and rice dishes, along with naans and sides like samosas, bhajis and popadoms. The portions are large and the food tastes authentic, I particularly love the raita dip. We spent 400 THB (£9) at Accha sharing a vegetable Biryani, samosas, popadoms, naan and raita.
Where is Accha Fusion India? Soi 9, Nimmanhaemin Road, Chiang Mai. 
Healthy B Café
Healthy B Café is a vegetarian and vegan friendly café as well as a popular work and meeting space. The café specialises in healthy all-day breakfast and lunch options as well as salads, quesadillas and tons of fruit juices, tea and coffee. A Healthy B set breakfast costs around 200 THB (£5).
Where is Healthy B Café? Soi 5, Niammanhaemin Road, Chiang Mai.
Janie Scoop
If you're looking for a great dessert, this is an awesome place to get ice cream, brownies, waffles and cakes. You can buy sundaes and the ice cream comes in lots of tasty flavours like caramel, almond-vanilla, coffee and passion fruit sorbet. A hot brownie with one scoop of ice cream costs 80 THB (£1.80).
Where is Janie Scoop? Soi 5, Niammanhaemin Road, Chiang Mai. 
The Salsa Kitchen
The Salsa Kitchen serves up a range of Mexican dishes. We've only eaten here once and the ambience and service wasn't amazing. I'm including it on the list though because it's really popular and the food tasted good. The menu at the Salsa Kitchen is huge and includes tacos, burritos, quesadillas, nachos, enchiladas and fajitas. We tried the vegetarian combo platter which included three dishes for 239 THB (£5.40).
Pin me for later!
Where is The Salsa Kitchen? 26/4 Huay Kaew Road, Chiang Mai. 
Food4Thought
Food4Thought is literally just around the corner from our apartment, but because it's quite expensive we rarely go there. They do serve tasty food here though and have a nice garden area to eat in, their breakfasts seem particularly popular. We were most impressed with their guacamole, salsa and hummus. A plate of chips and dip and hummus and vegetables costs about 90 THB (£2) each.
Where is Food4Thought? Sudjai Alley, off Huay Kaew Road, Chiang Mai.
Food market outside Maya Mall
While it's a market not a restaurant, the food market outside Maya Mall (and the food court on the bottom floor of the mall) is very popular with locals and tourists. Although it doesn't offer great options for vegetarians, we've snacked from here a few times. The mango sticky rice is great and Andrew loves the banana roti stall. Dishes are incredibly cheap, from 20 to 100 THB (£0.45 – £1.20).
Where is Maya Mall? 55 Moo 5, Huay Kaew Road, Chiang Mai. 
Do you have any favourite Nimmanhaemin Road restaurants?