22 Apr

Songkran Festival Chiang Mai

Sawadee Pee Mai – Happy New Year! Last week we celebrated Songkran, the Thai New Year Festival, which is also known as the world's largest water fight. Here in Chiang Mai, the streets were flooded with people wielding neon water guns for three days of partying, parades, Buddhist ceremonies and watery fun. This was our second Songkran experience and we're so glad to be ending our time here in Chiang Mai with a splash (we leave for Nepal next week!)
What is the Songkran Festival Thailand?
It might simply look like a giant, open-air water fight, but Songkran is actually a deeply spiritual event in the Buddhist calendar that marks the start of the Thai New Year. Although Songkran dates conveniently fall at the hottest time of the year, from the 13th to the 15th April, the water element of the festival is traditionally meant to symbolise cleansing and renewal. The gentle pouring of water over the shoulder and on Buddha statues has evolved in recent years into today's famous epic 'water play'.
This year we went to some of our favourite Chiang Mai temples to watch monks performing blessings and Buddhists making offerings, praying and pouring water over Buddha statues. On the afternoon of the 13th, there was a huge procession through the city with Thai music and traditional dancers, as well as decorative floats carrying statues from the city's temples, which the spectators blessed.
The Songkran Festival 2017 in Chiang Mai
The modern Songkran madness has become intertwined with the traditional celebrations and there's a non-stop party atmosphere during the festival. Here in Chiang Mai, celebrations can last up to a week and no one is safe from being drenched. Everywhere you look there are barrels of icy water and children's paddling pools, people armed with hoses and pickup trucks carrying passengers firing water guns.
Street vendors line the banks of Chiang Mai's green-tinged moat, making a killing from selling water guns and buckets, safety goggles, plastic phone protectors, snacks and chunks of ice. Meanwhile, people haul bucket-loads of murky water from the moat to throw, while others launch themselves into its dubious depths. The city is full of people laughing, playing and dancing, all drenched with water and happy vibes.
Throughout Songkran, stages are set up with thumping music and water cannons that fire continuously over dancing crowds late into the night. Our local area, Nimman, had an open-air foam party going on, a huge stage for live bands outside Maya Mall every night, and the bars were packed with people partying until the early hours of the morning.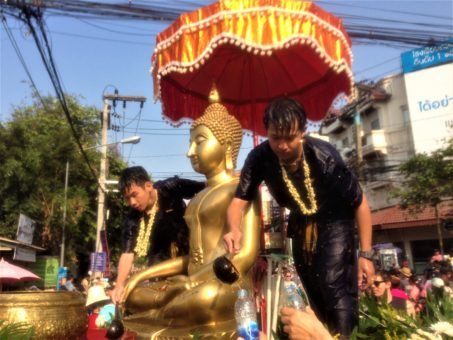 Safety during Songkran
Songkran is one of the most feel-good, vibrant festivals I've ever celebrated but as with all major holidays anywhere in the world, it does have its downsides. Thailand's roads, which are already ranked by the World Health Organisation as the second-most dangerous in the world after Libya, become even more deadly during Songkran. Although the death rate decreased slightly this year, according to the Bangkok Post, there were still 390 deaths and thousands of accidents and injuries during Songkran 2017, mostly due to drink driving and speeding.
Sadly, there are also people who spoil the fun by aggressively throwing water and aiming straight at the faces of motorcycle drivers. People suffer from ear and eye infections from being squirted in the face and stomach aches if they accidentally swallow dirty water, especially from the moat. To stay safe, protect your eyes with sunglasses or goggles, wear plenty of sunscreen and stay hydrated. I would definitely avoid riding a motorbike during Songkran, especially if you're not an experienced driver, and be alert around the roads.
Songkran marks the fast-approaching end to our time in Thailand. In fact, this time next week we'll be in Kathmandu, Nepal, preparing for our trek to Everest Base Camp! At the moment we're still struggling to finish all our work, tie up loose ends and prepare for our upcoming adventure,  but I'll share more thoughts about leaving Chiang Mai and our upcoming adventures next week.
Pin me for later!
Have you ever celebrated Songkran, the Thai New Year water festival?