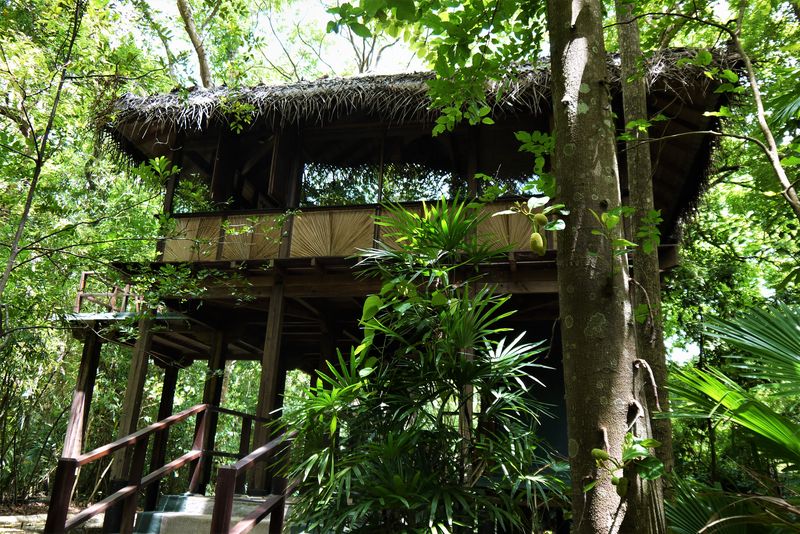 27 Jun

Diyabubula, Our Sri Lankan Jungle Hideaway

Dozens of small, furry macaque faces peered in through the panoramic windows of our jungle villa and the sounds of insects, bird calls and wind rustling through trees filled the air. Nestled deep in the heart of Sri Lanka, Diyabubula, the Barberyn Art and Jungle Hideaway, was the perfect slice of Sri Lankan paradise we needed to recover from a tough month of travel and $2 tea houses while trekking in Nepal.
Our Jungle Resort Sri Lanka
Diyabubula is no ordinary resort. Located just outside the town of Dambulla in central Sri Lanka, the boutique hotel consists of just five unique jungle villas designed by one of the most famous Sri Lankan artists, Laki Senanayake. Made from 100 year-old railway sleepers, bamboo and thatched roofs, each villa blends seamlessly with the surrounding jungle, which is teeming with wildlife including playful macaques, lizards, chipmunks and hundreds of colourful birds.
Our over-the-water villa was the ideal place to relax and enjoy all the surrounding nature. By day, we could sit on the deck and watch the monkeys play in the trees and at night, we were surrounded by stars and yellow pinpricks of fireflies. There was a desk, wifi and kettle which created the perfect space for catching up with some work, as well as an en-suite bathroom with rain shower and dressing room. From our king-sized bed we could look out at the forest through panoramic windows.
Laki's handmade sculptures, inspired by nature, are dotted around the resort and his Sri Lankan art work decorates the villas and restaurant. We were lucky enough to meet Laki, who lives just behind the resort and spends his days painting and bird watching in his stunning water garden. It was fascinating to hear about his long career as a painter, artist, architect and sculptor and listen to tales of life in Sri Lanka.
Food Glorious Food at Diyabubula
All meals at Diyabubula were vegetarian, which was perfect for us, prepared by an incredible chef and served in the intimate onsite restaurant. Breakfast was a delicious medley of fresh seasonal fruit, pancakes, toast and Sri Lankan rotis stuffed with coconut. For lunch we enjoyed a feast of Sri Lankan curries and salads with rice, while dinner was a western-inspired mix of soup and pasta dishes.
Mango ice cream, caramel pudding and banana fritters were served up for dessert and everything was washed down with fresh juice and plenty of locally-grown black and herbal tea. Portions were huge and the waiters were always keen to top up our bowls with seconds; we definitely ate some of our best Sri Lankan dishes during our stay and never went hungry!
Exploring Dambulla
You could spend all your time at Diyabubula relaxing, but it would be a shame to miss Dambulla's nearby UNESCO World Heritage sites. So, the staff organised two excursions for us with Kasun, a private driver who also drove us four-hours from the airport in Negombo to the resort. The first trip was to one of Sri Lanka's most famous sights, Sigiriya, also known as Lion Rock. We made the steep climb up hundreds of stairs to explore the remains of this ancient rock fortress and its impressive cave paintings, while being battered by strong winds.
Our second UNESCO site was the Dambulla Cave Temple, the biggest and most perfectly-preserved complex of cave temples in the country. Of the 80 documented caves, visitors can explore five which are located at the top of a hill and decorated with hundreds of golden Buddha statues and elaborate murals. The temples date back to the first century BCE and still function as a monastery today.
Diyabubula also organises safaris to nearby Minneriya National Park for elephant spotting, but we skipped this since we already had a safari planned in our next stop, Polonnaruwa. We left for this ancient city after three nights of luxury at Diyabubula and were sad to say goodbye to our jungle hideaway.
If you're looking for hotels in Dambulla, we'd highly recommend staying at Diyabubula, especially if you prefer small, independent and eco-friendly hotels. We loved the unique blend of art and nature, the peaceful setting and being surrounded by monkeys. In the interests of full disclosure, we received a discounted stay at the resort but would have no hesitation in returning, as it truly was one of our most memorable hotel experiences.
Pin Me For Later!