07 Jul

Our Everest Base Camp Trek Itinerary

Are you planning to take on Nepal's most famous trek to see the world's mightiest mountain? Then trust me, you're in for one hell of an adventure. Our journey to Everest Base Camp turned out to be one of our most incredible, challenging travel experiences to date. Before you begin, check out this Everest Base Camp trek itinerary we used during our epic hike.
Our Everest Base Camp trek itinerary
Here's the Everest Base Camp itinerary we used over two weeks in May 2017. We trekked independently and without a porter, check out what we took with us in our packing list post and find out how much our EBC trek cost here.
Day one – Lukla to Monjo
Time: Three hours from Lukla to Phakding, two and a half hours to Monjo.
Distance: 12.7km.
Elevation: 2,860 metres in Lukla to 2,835 metres in Monjo.
The first of the many challenges we faced on our trek was flying to Lukla. We were delayed for two hours because of storms and when we finally got on the tiny, 16-seater plane, we were battered by turbulence so severe we had to divert to a deserted airstrip. After four hours of waiting we had no choice but to return to Kathmandu because of the poor weather. Fortunately, the next day dawned sunny and bright, offering unobstructed views over white Himalayan peaks as we flew into Lukla's terrifyingly short landing strip.
We were elated to have finally made it and shouldered our backpacks, ready to start our trek. First, we made a beeline to a bakery, where we realised we'd forgotten our sun cream and had to buy an expensive replacement. As we made our way through Lukla's main street we saw our first yaks being loaded up with gear and marvelled at the lush valleys bordered by forested mountains.
Before you leave Lukla there's a checkpoint where you have to show your Trekkers Information Management System (TIMS) card. It was sobering to see warnings about altitude sickness and a missing poster for a French trekker, who was last seen falling off a bridge. With a mix of nervous excitement, we took our first steps onto the road towards Base Camp. To begin with the road curved steadily downwards through little hamlets, past prayer wheels, school kids, porters carrying huge loads and caravans of yaks.
It took us three hours to get to Phakding, the first stop on most groups' Everest Base Camp route. However, after scoffing down some pancakes and examining the backpack bruises on our hips, we set straight off again for Monjo, as we knew that this would make the following day's trek so much easier. The next two and a half hours were tougher and my backpack began to weigh heavily on my shoulders and hips. The path snaked alongside a fast-flowing, aqua river, through pine forests and up and down steep staircases of rock.
Knackered, we arrived in Monjo in the late afternoon and selected one of the first tea houses we came across. Although you'll pay just a few dollars for a room throughout the trek, you're obliged to eat dinner and breakfast at your tea house, otherwise you'll be charged up to 1,000 Nepalese Rupees (NPR). We dined on soup and chips, dressed in three layers of clothes plus a down jacket and hat before heading to our freezing room.
Where we stayed: Monjo Guest House, 500 NPR. The bedrooms here were quite clean but freezing cold, ours came with a private bathroom and hot shower. The dining room is warmer and food is average. If you have the strength, I'd recommend shopping around to find a nicer tea house in Monjo.
Day two – Monjo to Namche Bazaar
Time: Four hours 10 minutes.
Distance: 5.5km.
Elevation: 2,835 metres in Monjo to 3,440 in Namche Bazaar (ascended by 605 metres).
After a fitful night's sleep and a mild altitude headache, we rose early and were on the track again at 8am. The first hour was reasonably flat and we were awed by the views, stopping often to photograph the mountains and fields of flowers and cabbages. The path took us along a valley floor littered with boulders, alongside the river and up through a pine forest to some dizzyingly-high suspension bridges.
After that, the route turned into a never-ending zigzag dirt road pitted with rocks, which led us high over the valley below. At this point, we were ascending tens of metres every few minutes and my knees were aching from the weight of my backpack. It was busy, with other trekkers going up and down, as well as porters inching painfully along carrying heavy crates of food, drink and supplies.
The final section to Namche Bazaar was a solid uphill climb and I really started to struggle. My altitude headache was back and breathing was getting tougher, dust was flying up from the trail and I had to stop every few minutes to rest. Eventually, another TIMS checkpoint signalled that we were entering Namche Bazaar.
By the time we checked into our lodge I was feeling pretty rough, headachey and fatigued. A massive hash brown, pot of tea and some painkillers made me feel a bit better though and since it was only lunchtime, we headed out to explore Namche, a town we quickly fell in love with.
Where we stayed: Khumbu Lodge, 300 NPR. We really liked this place, which is located in the heart of Namche. The rooms on the top floor are sunny and fairly warm. We spent most of our time in the big dining room, which had spectacular views over the valley, served decent food and had a fire.
Days three and four – acclimatisation in Namche Bazaar
Where we stayed: Khumbu Lodge, 300 NPR.
Since Namche lies above 3,000 metres, most people stop for at least a day to acclimatise to the altitude. Since we were both experiencing sleeplessness, headaches and I was having very vivid, scary dreams, we spent two days acclimatising. We were both suffering from stomach troubles too, a common problem in Nepal. This was made even worse by the shared teahouse bathrooms and while we were trekking, Andrew had to make several dashes into the bushes.
To help acclimatise we started upping our fluid intake to at least two litres each per day. We'd buy pots of tea or plain boiled water and add our own teabags, we also used UV filtered water and avoided buying bottled water because of the environmental impact. We also used some of our water purification tablets a few times, although they had a strange taste.
As much as we just wanted to rest in Namche, we forced ourselves to take an acclimatisation hike each day, ascending a few hundred metres and then descending again to sleep, which helps the body to adjust to the altitude. In theory, these hikes should have been easier because we didn't have to carry our packs, but on the first day I had a headache and couldn't catch my breath, so we only ventured 400 metres up the hill above town and then sat in cafés all afternoon watching documentaries about Everest.
The second day I felt better and invested in some $5 trekking poles, which really helped, especially on steep sections of the trek. We made the five-hour trek to the village of Khumjung, at 3,840 metres, where there's a bust of Sir Edmund Hillary and the school he founded. On the way, we got our first proper views of Everest, slightly obscured by cloud, in the distance. After a quick look at Khumjung monastery we headed through the village of Khunde before looping back to Namche.
After Namche, conditions get steadily worse and prices for food, toiletries and medicine increase sharply, so take advantage of the comforts on offer. We took a hot shower, which cost 400 NPR each, did some laundry and stocked up on Diamox and snacks. We also bought some factor 50 sun cream, as our hands and faces had been burnt purple by the strong rays. We also spent an afternoon in Herman Helmer's bakery, where you can charge you devices for free (this normally costs between 200 and 400 NPR) whilst gorging on cake.
Day five – Namche Bazaar to Tengboche
Time: Seven hours.
Distance: 9.2km.
Elevation: 3,440 in Namche Bazaar to 3,860 in Tengboche (ascended by 420 metres).
After breakfast, we left Namche Bazaar under crystal-clear skies. My pack felt heavy and uncomfortable after a two-day break and for the first hour I had to constantly stop and readjust, which really slowed us down. To begin with we walked along a curving, dirt path on the edge of the mountain. Behind us, there was a view of the valley, river and bridges we'd passed through to Namche.
For the first time, I had to stop and pee in a bush by the roadside as clouds started to drift over and the sky darkened, while massive eagles swooped overhead. Eventually, we started down into a shaded pine forest dotted with villages and brightly-coloured flowers, which felt very European, and managed to pick up our pace. As the rain finally came down we scrambled into our waterproof trousers and jackets.
Soon after, we hit the riverbed at the bottom of the valley, which signalled the beginning of a very long, punishing climb up the mountain to Tengboche. We tried to maintain a slow, even pace, stopping often to rest, as other trekkers, horses, yaks and porters passed us. The only upside was the view of the tree-covered valley below. It took several hours to finally reach the top and we crawled into the first lodge we saw as rain thundered down again.
Where we stayed: Hotel Himalayan, 300 NPR. We wouldn't recommend staying here, the rooms were like ice boxes and there was a mouse running around ours in the middle of the night. The bathrooms were dirty with manual flush toilets that many guests didn't bother to use and the food was pretty bad. Unfortunately, there are only another two or three lodges to choose from in Tengboche, but if you have the strength to carry on down the hill to Deboche, you might find somewhere better.
Day six – Tengboche to Dingboche
Time: Six and a half hours.
Distance: 10.8km.
Elevation: 3,860 in Tengboche to 4,410 in Dingboche (ascended 550 metres).
We gratefully fled the lodge at 7.30am after an uncomfortable, cold, mouse-disturbed night during which I had to make the torturous climb out of my warm sleeping bag to the toilet twice, with no electricity to guide me. As your body adjusts to the altitude, your kidneys work overtime and you end up peeing far more than you normally would.
We could hear monks chanting in the nearby monastery as we headed down into the forest again and we were buoyed by the blue skies and views of Ama Dablam as we made our way through the forest. That morning we'd taken our first Diamox tablet to help prevent altitude sickness and as we started uphill again my hands and feet started to tingle unpleasantly, a common side-effect of Diamox. At Pangboche we stopped at a bakery, feeling disheartened that we were making such slow progress.
Mercifully, the next part of the trail was flatter and ran alongside the river into a sparse, barren valley. Here, the landscape changed dramatically; gone were the forests, flowers and birds, replaced with rocky scrubland. I felt so small surrounded by the world's most monstrous mountains, including Ama Dablam and Lhotse, with Everest lurking just out of site. Red rivers of rock spilled down their sides like trails of blood and when I stared at the mountains long enough, faces started to appear – you can see why the Nepalese believe they're spirit gods.
A perilous path above a sheer drop took us into Dingboche, a handful of coloured metal-roofed buildings surrounded by looming peaks. We spent the afternoon in the dining room of our lodge, eating potatoes, soup and pasta, chatting to other trekkers, watching the snow fall and keeping warm by the fire. By then, our appetites were huge and I had a constant craving for salted potatoes.
Where we stayed: Snow Lion Lodge, 400 NPR. Minus the pancakes, the food here was pretty good. We loved the potato, cheese and veg dish and in the attached bakery you could get delicious apple pie, cheesecake, cookies and muffins. Our room was very cold and the toilet cubicles were outside, but they flushed and the sink had running water. There was also a high-altitude pharmacy at the lodge.
Day seven – acclimatisation day in Dingboche
Where we stayed: Snow Lion Lodge, 400 NPR.
We were awoken by the stomping and shouting of a Russian trekking group, one of which had been snoring all night through the thin walls of our bedroom. Although some of the other trekkers we'd been chatting to were making the three-hour acclimatisation trip to Chukhung village and back, our energy levels were so low that we made it just 200 metres up from town, which took two and a half hours. The altitude was really kicking in by now, I was finding it hard to breathe and moving at a snail's pace.
As we walked we marvelled at the bleak landscape, wondering how locals manage to live here in the freezing conditions, with soil that's too barren to grow anything but perhaps potatoes. There are no trees, so dried yak crap is used as fuel for fires which the teenage girls at the lodges, some as young as 15, kept alight while also working hard all day boiling water, cooking and cleaning. Life up here in the mountains is pretty tough.
For the second day running it snowed in the afternoon and temperatures were too bitter to do anything but sit by the fire, play cards, chat, eat cake and drink endless cups of tea. It was nice to be without cell phone coverage or WiFi for a change and switch off our brains. Since we'd both stopped taking Diamox due to the unpleasant side-effects, we concentrated on staying hydrated and well-fed, resting and monitoring each other for symptoms of severe altitude sickness.
Day eight – Dingboche to Lobuche
Time: Seven hours including an hour's stop in Dughla.
Distance: 11.5km.
Elevation: 4,410 in Dingboche to 4,940 in Lobuche (ascended 530 metres).
The air was steely cold and the sky threatening snow as we left just after 7am. Our aim for the day was simply to beat the bad weather to Dughla, a two hour walk away. After a difficult initial slope, things got easier as we trekked along flat hillside, arriving in Dughla just as snow started to fall from the sky.
Over a flask of hot chocolate in one of the village's two lodges, we agonised over whether to stay put or trek onwards. It wasn't even lunchtime yet and the thought of sitting in the freezing lodge for the rest of the day wasn't an appealing one. However, snow was coming down in a blizzard and we could hear the distant, thunder-like rumble of what the lodge owner thought were small avalanches from Ama Dablam.
In the end, we got so cold we decided we may as well be trekking and started out up one of the most difficult passes of the trek, a sharp incline that took almost an hour to scale. This was the point when I most wanted to give up and turn back. Every step was agonising, the snow was relentless and I had to stop every few minutes and rest. Gradually, with Andrew's encouragement and a Snickers bar, we reached the top and looked down triumphantly at the hill we'd just conquered.
Venturing onwards, we were confronted with the snow-covered memorials of some of the many climbers who've died scaling Everest including Scott Fischer and Rob Hall, the expedition leaders who died in the infamous 1996 disaster. The snow had finally stopped and lay in a thick blanket which we slogged through to Lobuche.
Where we stayed: Oxygen Altitude Guest House, 500 NPR. When you arrive in Lobuche you have to pay a 500 NPR accommodation fee at a booth and then take a ticket to your chosen guesthouse. Unfortunately, we chose Oxygen Altitude, which was one of the worst places we stayed because the toilets were absolutely filthy and almost unusable. The food was poor quality and portions were smaller, yet more expensive. The only upside was that the dining room was warm and toasty.
Day nine – Lobuche to Gorak Shep to Everest Base Camp to Gorak Shep
Time: Three and a half hours from Lobuche to Gorak Shep, plus another two and three quarter hour's round-trip to Everest Base Camp.
Distance: 10km.
Elevation: 4,940 in Lobuche to 5,170 in Gorak Shep to 5,365 at Everest Base Camp to 5,170 in Gorak Shep (ascended 425 metres, descended 195 metres).
Today we made it to Everest Base Camp! We started the day unsure about whether to set out because I had a streaming cold, it was snowing again and the visibility was very poor. However, in the end we just couldn't bear the filthy conditions at our lodge and the thought of reaching Base Camp that afternoon was just too tantalising.
After an hour of trekking on a pretty level trail through a stony valley we reached another killer mountain, which I had to practically drag myself up, sucking in the thin air as I went. My legs were like lead and my backpack weighed what felt like a ton. The uphill struggle didn't stop there and we spent the next couple of hours scrambling up and down rock-strewn mounds.
Through the discomfort, we were spurred on by the yellow and orange dots of Base Camp tents in the distance and as the snow stopped, the clouds started to slowly disperse, giving us glimpses of Lhotse and Everest. The path took us above and alongside the immense Khumbu Glacier, a thick white-grey ribbon that creaked and cracked ominously as the sun thawed it throughout the morning.
It was such a relief to finally reach Gorak Shep, dump our packs and refuel before setting out on the final hour and a half trek to Base Camp. We were now at an altitude of over 5,000 metres and my cold, plus the exertion of the morning, was taking a real toll on me. Twenty minutes in we had to turn back so that I could take some painkillers and Diamox before continuing.
Because of the delay, we were some of the last trekkers to head to Base Camp that afternoon and we passed a few people we knew who were gleefully on their way back. With just a few hours of daylight left we hurried on, stopping for a few minutes of wonder when a patch of blue sky split the clouds, revealing a view of Everest for a brief moment.
It was 4pm before we finally reached Base Camp and a numb relief settled over me as we stood in the shadow of the world's tallest, most awesome and terrifying mountain. Looking out at the tents perched on the glacier, we paused to take photos by the prayer-flag covered rocks before heading back to Gorak Shep. Somehow, we'd made it. I'd completed the toughest physical challenge of my life, but it took a few days for this reality to properly sink in.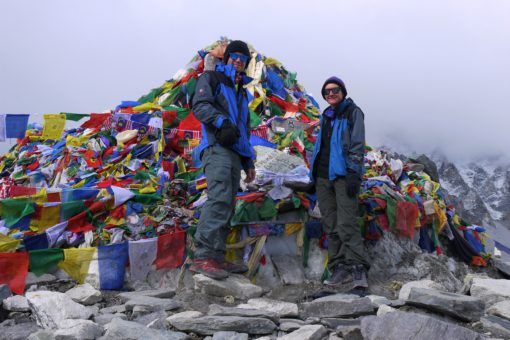 Where we stayed: Buddha Lodge, 500 NPR. There's a choice of three lodges at Gorak Shep and all are pretty cold, dirty and dismal. This high in the mountains, you have to accept that things are going to be rough and put up with the manky squat toilets, lack of running water and overpriced, unappealing food. Reaching Base Camp is worth it!
Day 10 – Gorak Shep to Pheriche
Time: 6am to 12pm. Six hours.
Distance: 10.7km.
Elevation: 5,170 in Gorak Shep to 4,270 in Pheriche (descended 900 metres).
The night we reached Base Camp was the worst of our entire trek. I awoke gasping for breath with a racing pulse, scared that I was succumbing to severe altitude sickness. By first light I felt worse with hazy vision and knew we had to descend immediately. Ironically, the sky was almost cloudless for the first time in days and had we been feeling well, we would have stuck around to trek up Kala Patthar, a popular spot to photograph Everest from.
Instead, feeling terrible, I began inching my way back down and thankfully, we didn't have to descend much for the altitude sickness to abate so that we could enjoy the most awesome views of Everest, the glacier, and surrounding peaks. Right then, feeling like crap seemed to be a fair trade-off for getting to experience this vast beauty.
The good thing about altitude is that you feel steadily better as you go down and your body is able to suck in more oxygen and work properly again. Although there were still uphill sections to tackle, the trail was mainly downhill and we were covering it quickly. It was particularly satisfying to head down those soul-destroying hills from the days before.
From Dughla we took the road to Pheriche, which lies down the valley from Dingboche. On the recommendation of some fellow trekkers, we checked into a clean guesthouse and treated ourselves to a hot shower. At 3pm we went to the daily lecture at the Himalayan Rescue Association, where we learnt some interesting facts about altitude sickness and heard stories of trekkers, climbers and porters who'd gotten into difficulty and had to be helicoptered off the mountain.
Where we stayed: Edelweiss, 500 NPR. This was by far the best lodge we stayed in on the entire trek. It was spotlessly clean, had running water, the food was good and the windows were double glazed, making it warmer and quieter than most lodges. We'd definitely recommend staying here and taking the time to go to the Himalayan Rescue Association lecture, although it may be more useful to plan your route to Everest Base Camp so you stop in Pheriche on the way up, rather than down.
Day 11 – Pheriche to Namche Bazaar
Time: 9am to 6.30pm. Nine and a half hours, including a lunch stop at Rivendell (Deboche).
Distance: 19.7km.
Elevation: 4,270 in Pheriche to 3,440 in Namche Bazaar (descended 830 metres).
After a much-needed deep sleep we left early with the goal of reaching Deboche. This was one of my favourite mornings of the trek. As we journeyed steadily downwards beneath a flawless sky we saw crisp, staggering views of the mountains which we stopped often to photograph. The weather felt milder as we went and we were quickly covering sections that had taken us hours to walk up. Despite my cold and a persistent cough, I felt increasingly better as we moved to lower altitudes.
As we approached Pangboche the trees started to return, we saw some deer and ended up alongside the river again. It was only 1pm when we reached Rivendell lodge, where we'd planned to stay, so excited by the idea of reaching the comforts of Namche by nightfall, we decided to push on. I almost regretted this when we hit some uphill portions of the trek that I'd forgotten about and the mammoth hill from Tengboche that took us an hour to get down.
Pink Rhododendron bushes and bird calls greeted us at the bottom of the valley, just as rain started to fall. Things got tougher then as we had to climb back up towards Namche, which hadn't seemed so difficult on the way down, but was now proving a challenge. By the time we crawled back into Namche Bazaar, it was getting dark and we were ready to drop after our longest day of trekking but it felt so good to be back at Khumbu Lodge.
Where we stayed: Khumbu Lodge, 300 NPR.
Day 12 – rest day in Namche Bazaar
Where we stayed: Khumbu Lodge, 300 NPR.
We enjoyed a well-deserved rest day in Namche and visited the Sherpa Museum and Visitor Centre in town. Then we simply sat in Herman Helmer's recharging our phone and filling our faces with cake.
Day 13 – Namche Bazaar to Phakding
Time: 9.20 -2.45. Five hours 25 minutes.
Distance: 10.4km.
Elevation: 3,440 in Namche Bazaar to 2,610 in Phakding (descended 830 metres).
We were sad to leave Namche Bazaar and although I was looking forward to getting back to some semblance of luxury in Kathmandu, I was also sad that our trek was almost over. My feet were particularly painful at that point because of all the blisters I'd accumulated and although we were mainly trekking down steep slopes, there were far more up-hill portions than I'd remembered.
The hill to Monjo felt particularly never-ending and it took us far longer than anticipated to reach Phakding. Still, the scenery was beautiful with fields of colourful flowers, animals grazing and the sounds of life. As rain began to fall once more, we finally reached Phakding and took shelter at another branch of Herman Helmer's where we ate pizza before checking into a nearby lodge.
Where we stayed: Sherpa Guide Lodge, 300 NPR. This is quite a new lodge with clean rooms, toilets and a decent dining room. Despite all that, we didn't find the staff very friendly and the food was on the expensive side.
Day 14 – Phakding to Lukla
Time: 6.25am to 10.25am Four hours including a half hour break.
Distance: 7.8km.
Elevation: 2,610 in Phakding to 2,860 in Lukla (ascended 250 metres).
Our final morning of trekking was somewhat ruined by heavy rain, made more miserable by the fact that we were moving back uphill. We had hoped to arrive in Lukla early to catch an earlier flight, but bad weather grounded all planes for the entire day. All we could do was hope that the skies would clear enough the following morning for us to get on our scheduled flight back to Kathmandu and thankfully, they did.
Where we stayed: Everest Mountain Home, 1,000 NPR. Even though Lukla is a relatively big town and experiences lots of trekking traffic, it doesn't have a good range of lodges. Since we were feeling pretty battered and bruised we splashed out a bit on a newer lodge with an en-suite room.
Pin Me For Later!
Do you have any questions about our Everest base camp trekking itinerary? Or did you take a different route to Base Camp? Let us know in the comments below.