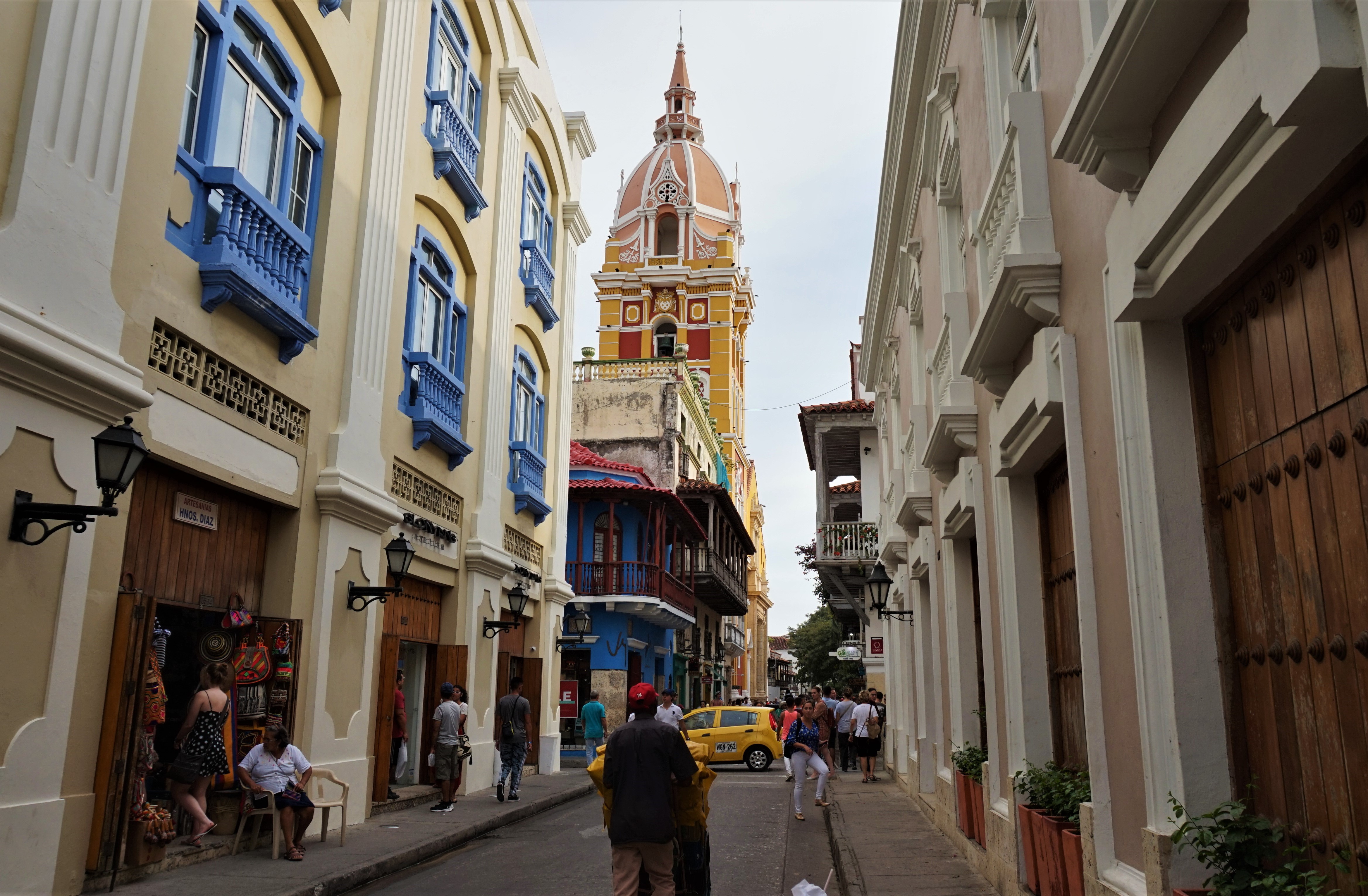 24 Jan

Cartagena Guide, Colombia

Cartagena was our first destination in Colombia and we fell for its colourful, historical charm. The port city is set on the Caribbean coast and boasts a tropical climate, 16th century UNESCO Old Town, imposing fort and nearby white-sand beaches. Colonised by the Spanish, Cartagena is Colombia's largest port and one of its top tourist draws. If you're visiting the city, find out about its top sights, where to stay and how to get around in our Cartagena guide.
What to do in Cartagena guide
We spent a week exploring the city and soaking up the atmosphere in the Old Town, you can read about our first impressions of Cartagena and Colombia here. These are some of the top things to do in Cartagena:

Wander the Old Town Cartagena– you can spend hours wandering Cartagena's walled Old Town. Stop to photograph all the buildings painted in vibrant colours, the ornate doors and shutters, streets decorated with flowers and bustling plazas. Cartagena is dotted with huge churches and historical monuments such as the striking Torre del Reloj, the clock tower. Stop in at the chocolate museum (Choco Museo) for some free samples, watch a band play in the park or sip a drink in a cobbled square.
Take a tour – to learn about the history of Cartagena, look out for the information boards dotted around the Old Town. There are also a few free walking tours available and plenty of local Cartagena tour guides you can hire for a private tour.

Castillo de San Felipe de Barajas – built in the 17th century, this imposing defensive fort sits on San Lazaro hill, from its 40-metre peak you get a great view of Cartagena and the Caribbean Sea. We took a taxi here from our apartment in Torices for $8,000COP (£2) and spent about an hour wandering around, taking photos and exploring the eerie network of underground tunnels. The entrance fee for Castillo de San Felipe is $25,000COP (£6.25).
Convento de la Popa – for even more impressive views, take a taxi or Uber up to this convent, which is perched on a 150-metre high overlooking Cartagena and the sea beyond. The convent was founded in 1607 and consists of a chapel, museum and pretty courtyard. Most drivers will wait while you look around, our Uber driver charged us $32,000COP (£8) to take us to the convent, wait for half an hour and take us back to our apartment. The entrance fee for Convento de la Popa is $11,000COP (£2.75).
Visit a Cartagena museum – learn more about Cartagena's culture and heritage by visiting some of its museums. The most popular are:
The Palace of Inquisition – a former Spanish prison and a history museum showcasing the city's indigenous culture. Address: Plaza de Bolivar, Cartagena – $19,000COP (£4.75) for adults, $16,000COP (£4) for children.
Pedro Claver's House – a museum about Claver, a Spanish priest renowned for his humanitarian work and helping African slaves during the 17th century. Address: Carrera 4, #30-01, Cartagena – $12,000COP (£3) for adults, $8,000COP (£2) for children.
Naval Museum – an interactive look at Cartagena's naval history. Address: Calle San Juan de Dios, #62, Cartagena – $16,000COP (£4).
Museum of Modern Art – contains a wide selection of art, featuring pieces from famous Colombian artists. Address: Plaza San Pedro Claver, Calle 30, #4-08, Cartagena – $8,000COP (£2) for adults, $4,000COP (£1) for children.
Zenú Gold Museum – houses a collection of gold artifacts from around the country and its history. Address: Carrera 4a, #33-26, Cartagena – free.
Emerald Museum – a look at how emeralds are mined in Colombia and a selection of different emeralds. Address: Plaza de Bolivar, #33-20, Cartagena – free.
Take a day trip to Playa Blanca – local Cartagena beaches aren't very attractive, so most visitors take a day trip to Playa Blanca instead, which is famous for its idyllic white sand and turquoise sea. Despite its natural beauty, we were a bit disappointed by the noise, crowds and constant touts. It wasn't the most relaxing beach trip we've ever taken, so if you're looking for a more peaceful experience and have a bigger budget, head to the more unspoilt Rosario islands off the coast of Cartagena.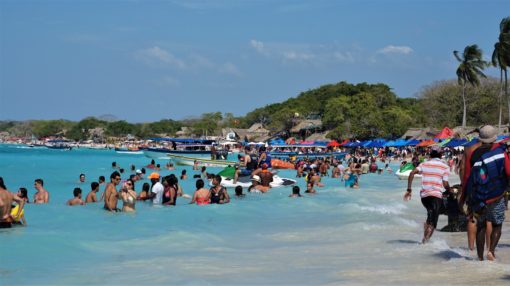 If you want to visit Playa Blanca, there are plenty of shuttle buses and tours there from Cartagena Old Town. Most leave at 8am and return at 3pm, the journey takes about an hour either way. We went with Optico tours and paid $40,000COP (£10) per person.
Places to stay in Cartagena
The Old Town and Getsemani Cartagena area are the most popular places to stay. Prices range from £15 per night for a room in a hostel dorm to £50 guesthouses and fancy boutique hotels costing hundreds of pounds per night. When we visited Cartagena in January, it was super busy and many places were booked up so we'd recommend booking in advance.
We used Booking.com for an initial night's stay at a hostel in Getsemani, which cost $90,000COP (£22.50) for a private room. We then moved into an Airbnb apartment in the suburbs, about a ten-minute taxi ride from the Old Town. This was much quieter and gave us space to work and cook meals. We stayed at Villas de Cartagena, our apartment cost £28.50 per night. If you haven't yet used Airbnb you can get £25 off your first stay using
this discount code
.
Getting in and out of Cartagena guide
We researched flights to Cartagena from Miami, USA, and found that Spirit was the cheapest airline, we bagged a flight for just £92.50 each. You can find out how we find the best flight prices here. There's an ATM at the airport and a machine where you can order fixed-price yellow taxis. We paid $15,000COP (£3.75) for a journey to Getsemani.
If you're travelling onwards from Cartagena by bus, the main companies are:
Berlinas – Marbella Station, Carrera 3, #46b-120, Cartagena – buses go to Barranquilla, Bogota, Bucaramanga, Santa Marta and a few more destinations.
Marsol – Carrera 2, #43-111, Cartagena – Buses go to Barranquilla, Santa Marta and beyond to Tayrona.
We used Berlinas to travel four hours to Santa Marta en-route to Minca. The journey took just four hours and the bus was very comfy and quiet, stopping at Barranquilla on the way.
Cartagena travel guide – getting around
Cartagena is an extremely easy place to get around. The Old Town is walkable and it takes just five-to-ten minutes to get there on foot from Getsemani. It's easy to flag down a yellow Cartagena taxi to take you to accommodation outside of the Old Town and to Castillo de San Felipe de Barajas and Convento de la Popa. It will cost you between $7,000COP and $10,000COP (£1.75 and £2.50) for a 10-15-minute journey. We also used Uber Cartagena a few times and found the price was generally $2-3,000COP (£0.50-0.75) less than using taxis, but there weren't always cars available when we needed them.
Cartagena restaurants we liked
We always scour Tripadvisor for restaurant reviews when we visit a new destination, especially to find veggie/vegan options. There are dozens to choose from in Cartagena, we found that most in the Old Town were pretty pricey, with main dishes costing around $20-30,000COP (£5-7.50). There are cheaper local restaurants outside of the walls and street snacks like arepas, as well as supermarkets and mini-marts for groceries.
Although we cooked in our apartment a lot, here are a couple of the restaurants in Cartagena we tried and loved:
Cafe Stepping Stone – this social enterprise restaurant employs young people from the local area and serves generous portions of delicious western and Colombian food. There are great veggie and vegan options, we loved the falafel burger and tried the vegan arepa with amazing tofu scramble. Our meal with drinks came to $40,000COP (£10).
Anacardos Restaurante – this was more of a swanky restaurant in the Old Town, specialising in vegetarian food. We enjoyed the veggie paella but found it was a bit pricier, at $86,000COP (£21.50) for our meal.
Top digital nomads cafes in Cartagena
We work as we travel these days, which is why we like to book apartments with a comfy work space and good wifi. If you're a digital nomad or remote worker, here are a few of the Cartagena cafes we visited and thought would be great to work in too: 
Have any questions about our Cartagena guide? Ask away in the comments below.
Pin Me For Later!