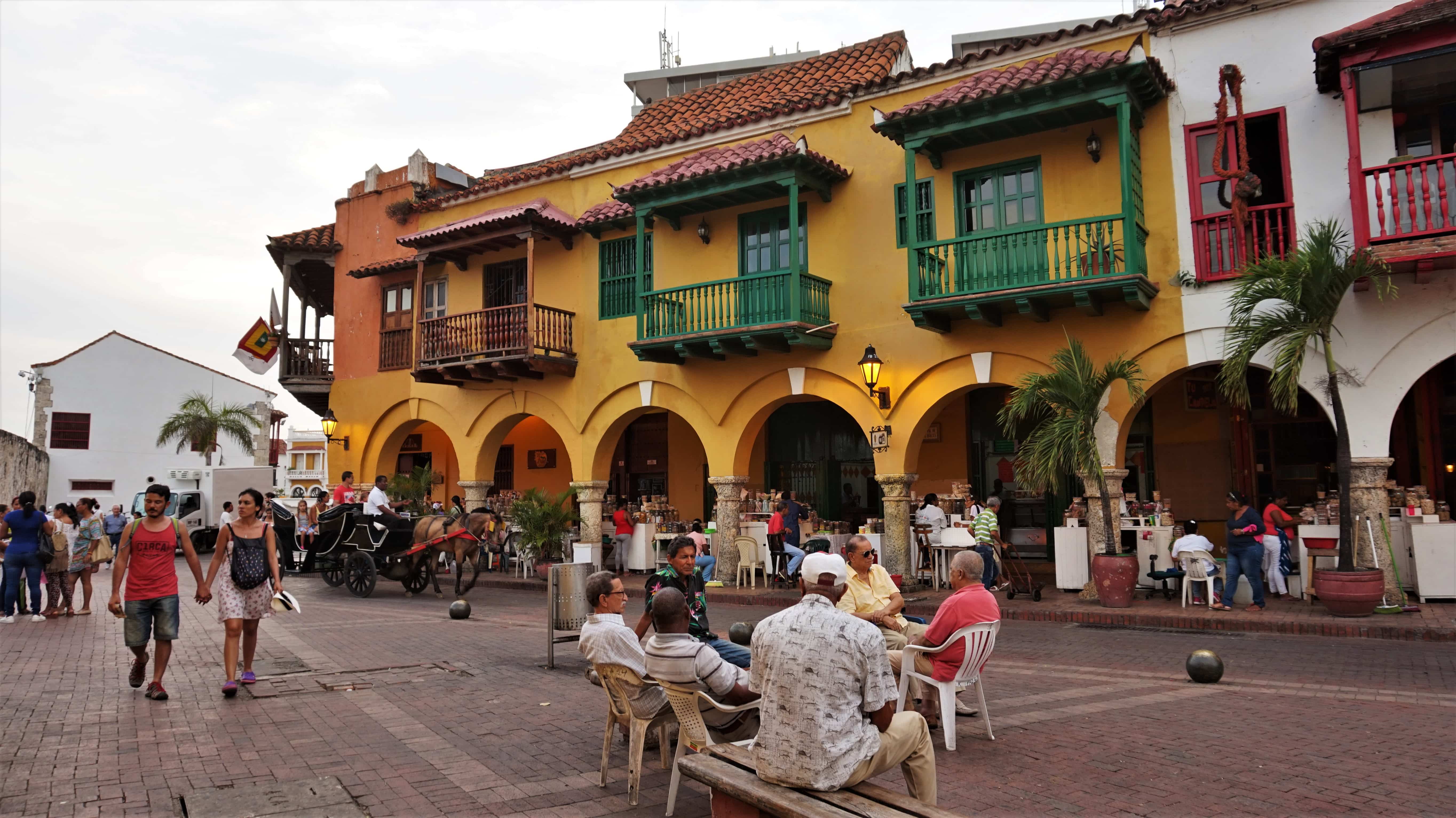 29 Jan

Colombia first impressions and being rubbish backpackers

Our first week in Colombia has been stuffed with activity. We've wandered around colourful Cartagena, taken a very un-relaxing trip to Playa Blanca, baked in the scorching sunshine and stuffed our faces with the biggest avocados we've ever seen. The week has also been a battle to balance work with exploring (as always) and come to terms with the fact that we're not really 'backpackers' anymore. Read on for our Colombia first impressions.
Week one in Colombia, Cartagena and Playa Blanca
After leaving Miami, we touched down in our first Colombian destination: Cartagena. This former colonial port was a real surprise to us, boasting perhaps the most beautiful old town we've ever been to. We spent hours exploring its colourful streets where the buildings are painted in every vibrant colour of the rainbow and decorated with ornate wooden doors and pink and lilac flowers.
We climbed to the top of stone forts overlooking both the city and the glittering sea beyond, the spires and domes of the old town planted between the modern tower blocks that line the beachfronts. Seeking even more impressive views, we took an Uber (yes, they have Uber in Colombia) up to the Convento de la Popa, where huge black sea birds swooped over the hazy vista.
Taking a day off work we decided to visit the beach, and took a bus trip to Playa Blanca. The adverts showed topaz seas lapping a carpet of white sand but conveniently forgot to show that the narrow stretch of beach is packed with sunbeds and parasols and covered in flies. Between that and the blaring boom boxes (that's a thing too in Colombia) as well as the smell of fuel from dozens of boats and jet skis, it wasn't the most relaxing beach day we've ever had.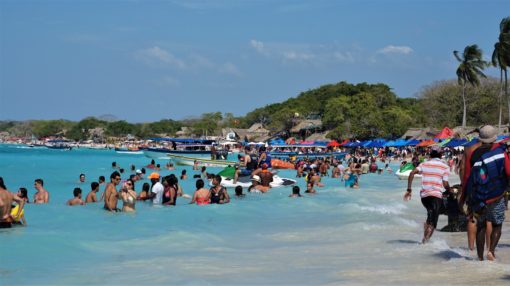 One evening we met up with Kile and Ashley, fellow travellers we first met whilst living in Chiang Mai. A balmy sea breeze flowed through the streets as we sat in a square buzzing with people, buskers and street dogs, drinking Colombian beer and chatting about travel and our various plans as expats. It was one of those nights when you feel so at peace with the life you have.
Colombia first impressions
So, how have we found our first taste of Colombia? Here are a few of the random thoughts and observations from our first week here.
The avocados are intense! Let's start by talking about the avocados. They're these giant, lime-green affairs which mash into the creamiest bowl of goodness – and they cost just 50p per kilo! I can't believe that I haven't taken a picture of one yet, but that's probably because we've been too greedily eager to stuff them in our mouths.
So is the street life. Then there's the constant sunshine and blue skies, the vibrant street life and buzz of yellow taxis and stalls selling fruit and Arepas, street-front bars and murals scrawled on walls. And the street dogs and cats – I've missed them!
You need to speak some Spanish. So far, everyone we've met here has spoken to us in Spanish, so it's super handy that Andrew speaks it well. It means we can understand what's going on, make sure we're not accidentally ordering a meaty dish, that we can give directions to the taxi drivers and connect with people more easily. After feeling constant guilt in Asia for only ever being able to master 'hello' and 'thank you', it's great to be in a place where we can use the local language. Even I can communicate a bit and understand what's going on.
Cold showers are the norm. We haven't had a hot shower yet in Colombia, and I'm not sure we'll ever get one. This is fine really when the weather is so steaming hot, you need cooling down.
It isn't as dangerous as people make out. We've all heard the stories about drug barons in Colombia and the dangers of travelling in South America. That's one of the reasons why I've always felt a bit daunted about making this trip. However, our first impressions of Colombia have been that it feels not unlike Asia. Perhaps it's just that we've had some experience travelling, or that we've only been to touristy places so far, but we haven't felt unsafe. The people  here are welcoming, touts aren't too pushy, taxi drivers don't try to rip us off and we don't feel scared to walk around at night.
Still, it pays to use common sense. Sure, our apartment landlord did warn Andrew not to have his phone out in the street and there was some sort of brawl outside our apartment on a Saturday night which the police had to break up. However, that could happen anywhere and we've certainly experienced that kind of thing in London. In fact, we actually felt more uneasy in parts of the Philippines and in Kathmandu, when Andrew was close to being pick-pocketed.
Saying that, we have been practising common sense precautions that we would (or should) anywhere in the world. We don't take too much cash out with us, keep some of our bank cards separate in case one lot is lost or stolen, and keep our valuables with us in a day pack when we travel on public transport.
It's slightly pricier than Asia. Our rough daily budget for South America at the moment is £50 for both of us. In Asia, we were roughly living on £35 and got a lot more for our money when it came to food and accommodation. You can take a look at our travel costs here.
It's noisy. So far, we've learnt that Colombian people love to play loud music. Then there's the beeping motorbike horns and street life sounds – the noise level is almost on a par with living in Hanoi in Vietnam!
You need sun cream. Funny how your body so fickly forgets what 30-degree heat feels like and how soupy humidity just slaps you in the face, sapping all your energy. Still, after a dreary grey British January, I'm not going to complain about the endless Colombian sunshine and blue skies, it'll just take us a while to adjust to the heat and, after some sunburnt feet and necks, to remember to apply sun cream in all those pesky places.
Why we're not really 'backpackers' anymore
A big thing we've been coming to terms with this week is the realisation that we can't really class ourselves as 'backpackers' anymore. After one night in a noisy hostel in Cartagena that wasn't even very cheap (£24), we cancelled our stay and moved into an apartment for a week instead. Gone are the days when we used to traipse around the streets with our backpacks when we first arrived in a destination, looking for the cheapest room, with a £10 per night budget.
Let's face it, I've never been the kind of traveller who revels in local dishes and street food. I've always travelled as a vegetarian and although I'm not as picky as I used to be, as vegans now, we can't just eat anything. This means that so far, we've spent more on food than we did back in Asia when veggie options and tofu were so plentiful. Here, we've had to seek out pricier western restaurants or cook at home.
Another big issue is work. Instead of purely travelling off our savings, like we used to years ago, now we work as we go and try to at least break even each month, if not put a little bit of money into our savings. That means that we have to slow down. We need to plan in work days and rent apartments with good wifi and a quiet, comfy work space. We can't whiz  around every few days, we have to plan around deadlines and travel slowly.
Sometimes I miss those days of being a simple backpacker, when travel was our full-time raison d'être. When we hopped around every couple of days and were out sightseeing all the time, with no real responsibilities. Overall though, I do prefer this way of travel. Maybe I sound really old, but we like having our own space now, we like peace and quiet, cooking and watching TV. We like working so that we can afford nicer hotels and to visit fancier restaurants.
We're not really backpackers anymore, and we're ok with it.
Pin Me For Later!
What's up next?
Wow, that was a long, rambly post! So, what's next? We're taking a week off in the mountains of Minca before we head to Medellin, Colombia's second-biggest city, for a month.