21 Oct

A New Life and Apartment in the Algarve

We made it to Portugal! Ever since we got here last week the sun has been shining in a flawless, cloud-free blue sky. After three days of non-stop driving, an Airbnb bug scare and a fraud alert on our bank account, we've finally moved into a beautiful home and Andrew has started work. So, want a peek into our new life and apartment in the Algarve?
Driving down to the Algarve
It was a tearful start to our journey as we bid farewell to my Mum and nephew, who we'd spent the previous day with going Harry Potter crazy at the Warner Bros. Studio Tour. On the drive to the ferry port in Dover, I kept reminding myself that one of the reasons we're moving to Portugal is so that we can see family and friends more often and that it won't be long until we're back at Christmas.
Still, the three days of driving that followed were long and disorientating, tainted with homesickness, as we headed through France and Spain. Along the way we spent the night in Tours and Salamanca, paying out over £250 in tolls and fuel as we went. Each time we drive across France we're astounded by its sheer size and steep toll prices.
Finally, on a Wednesday afternoon we crossed into Portugal and arrived in Faro to hot sunshine and tempting glimpses of the glittering sea. Wasting no time, we arranged to view an apartment we'd had our eye on and were delighted when it turned out to be just as amazing as the pictures online. Taking a deep breath, we arranged to pay the deposit and move in at the weekend.
Bug and bank dramas
Andrew started at his new school the very next day while I stayed home, catching up on emails and some work. While typing away on my laptop, to my horror, a bug scuttled up my arm and across my chest. After catching it and sending a photo to Airbnb, who assured me it was a cockroach (I was paranoid that it could be a bedbug), I had to wait for Andrew to come home from his first day at work so we could deal with the bug drama.
We had an uncomfortable conversation with our host, who agreed to refund the money for us and frantically searched for a hotel to spend the next couple of nights in. The easiest solution was a resort in Albufeira, probably the most touristy part of the Algarve. It felt strange to be surrounded by Brits on holiday while we sorted out the logistics of our apartment move.
That evening, when we went to transfer the deposit and two months' rent to our new landlord, the bank flagged our transaction as fraudulent and locked us out of the account. We spent all evening on the phone trying to get it sorted, struggling to fax ID to the bank (who uses faxes in this day and age?!) and listening to terrible hold music. Eventually, exhausted and frustrated, we managed to transfer the money in time to move in the next day.
Take a look at our new apartment in the Algarve
So, want to know where we've ended up? The head teacher of Andrew's school in Quarteira, which lies about 25 minutes west along the coast from Faro, really helped us out with providing real estate contacts before we arrived in Portugal.  After considering options in Loule and Almancil, we were drawn to an apartment complex in Vale do Lobo, one of the swankiest resort areas in the Algarve.
A wealthy, expat and holiday hotspot full of fancy villas definitely isn't our usual style and to start with I was extremely reluctant about moving there. Normally we'd look for something much more modest, in a quieter area. Here's the thing though: the Algarve is touristy. It is full of expats. While this still makes me feel like a bit of a cliché, at this point in our travels and life, we really just want a comfy place to call home.
In the end, we decided to embrace the idea of living in a coastal location and after viewing the apartment, it wasn't a difficult decision to be honest. So, say hello to our beautiful two-bedroom, two-bathroom apartment, which has a terrace and comes fully furnished, with fast wifi. It's set in manicured gardens with tennis court, gym and a huge pool.
In July and August, these apartments go for €1,500 a week, but as we're renting long term in the off-season, we're paying €850 a month. That includes use of the pool and other amenities. In addition, the apartment is a five-minute drive to Andrew's school, making for a super-easy commute, and it's just a 15-minute walk to a pristine, Blue Flag Beach. The price seemed steep to start with, taking into account that we paid a lot less living abroad in Chiang Mai and Hanoi and roughly the same amount for our tiny one-bed flat in London six years ago.
However, once we weighed things up, taking into account the size of the apartment and suitability for guests, the fact that we wouldn't need to buy any furniture (it's hard to find fully-furnished places in the Algarve) and the amazing pool, we decided it was pretty good value for money. In addition, prices we were quoted for other apartments in surrounding towns weren't any cheaper.
After living nomadically for so long and spending the last year in Airbnbs, hotels and with family, I'm still getting used to having our own place again. It's amazing to be able to head down to the pool in the late afternoons to swim and wander down to the beach for the incredible daily sunset.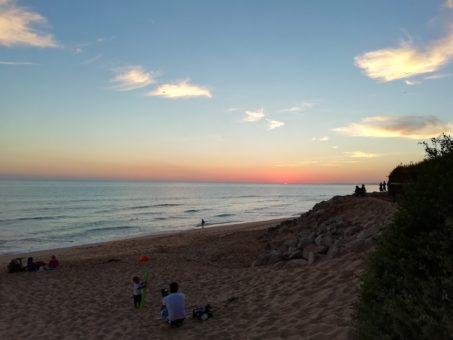 I finally have peace and space to work and we can host guests, starting with my parents who are heading over in a few weeks' time. Also, flights back to the UK from Faro can be as little as £30. Yes, it's going to take a while to get used to living in a 'holiday destination' and I wouldn't want to stay here forever. However, the lease is only for 10 months, until the end of June, and we'll re-evaluate our plans then. For now, we're just enjoying having our own lavish apartment in the Portuguese sunshine.
Teaching and settling into life in the Algarve
Andrew has just completed his first full week at work and is enjoying being back in the classroom. Teaching in an international school, he has a class of just nine year-four kids from all over the world, including France, UK, Australia, Russia, Brazil and South Africa.  He also teaches some one-on-one GCSE French and Spanish classes. From what I hear, it's very different to teaching in the UK and Vietnam, much more relaxed with a focus on arts, music and humanities. There's a pool for the kids to play in and the whole school spent Monday completing a charity walk.
For me, it has been a bit strange working at home without Andrew this week. Although I'm used to working freelance wherever I am in the world, for a long time Andrew's been with me throughout the working day, so this new lifestyle is taking a bit of adjustment. I'm not going to lie, moving to a new country can be a stressful, strange, emotional process even if you're used to travelling and living abroad, but we're off to a good start.
In the coming weeks and months we hope to  find our way around, meet people, explore the area and find some Portuguese classes and vegan restaurants. This is just the beginning of our year in the Algarve, stay tuned for updates as we settle into our new life in Portugal.