06 Nov

Top Thai Celebrations and Festivals

Imagine thousands of paper lanterns, lit by flickering candles, floating into the night sky against a full moon. This moving spectacle is the highlight of Thailand's Yi Peng festival, which we celebrated around this time two years ago. Here's a look at some more top Thai celebrations, from the famous Songkran water festival to the Full Moon Party and Loy Krathong.
5 top Thai celebrations
Having lived in Chiang Mai on several occasions, we consider Thailand our Southeast Asian home and it's a country we never get tired of exploring.  If you're planning to visit Thailand independently or as part of a luxury tour in Asia, here are some of the top Thai celebrations to plan into your trip.
1) Songkran, the Thai New Year festival
Like the idea of a giant, three-day water fight? Then you'll love one of the most famous Thai celebrations: Songkran. Around the country, locals and tourists alike take to the streets to attack each other with water guns, hoses and buckets of icy water. This is all to celebrate the start of the Thai New Year, which is thought of as a time of cleansing and renewal. This is symbolised by pouring water and smearing white talcum paste on people to bring luck and prosperity.
We've been lucky enough to celebrate the Thai New Year Songkran festival twice in Chiang Mai, where celebrations last for a week. As a major event in the Buddhist calendar, Thai people spend time visiting temples to pray, light candles and make merit as well as cleanse each other with water. On the main day of celebrations, a procession of Buddha statues, monks and floats passes through the streets and Buddhists pour water over the statues.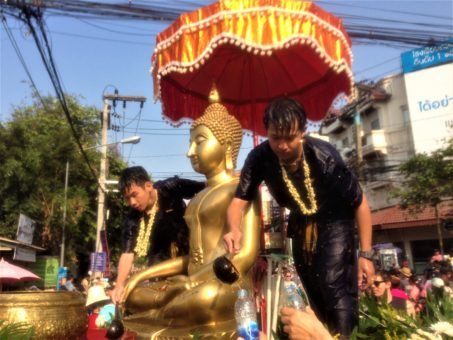 Read more: check out our blog post and videos from Songkran 2014 and 2016.
When is Songkran? Although Songkran dates were traditionally determined by the Thai lunar calendar, the festival dates are now set for the 13th – 15th April.
Where to celebrate Songkran: the Songkran holiday is celebrated all over the country. Favourite spots to celebrate include Khao San Road in Bangkok and the islands. In Chiang Mai, wild festivities run for an entire week.
2) Yi Peng, sky lantern festival Thailand
Thousands of people flock to northern Thailand every year to witness the stunning Yi Peng lantern festival. As well as releasing paper lanterns into the night sky, the three-day Buddhist festival includes religious events, lantern displays, music, parades, fireworks and food, making Yi Peng one of the most exciting holidays celebrated in Thailand. It's a time for Buddhists to release bad memories, make wishes for the future and pay respect to Buddha.
Yi Peng is often confused with a completely separate, unrelated event which is held in a nearby town called Mae Jo. When the ceremony became flooded with visitors, the event organisers set up a separate ticketed lantern release for tourists, which costs between $100 and $400 to attend. Alternatively, you can witness thousands of floating lanterns for free at the Yi Peng festival. We celebrated Yi Peng in 2017 while we were living in Chiang Mai and it was one of the most beautiful festivals we've experienced on our travels.
Read more: check out our blog post and video from Yi Peng 2016.
When is Yi Peng? The festival falls on the 12th month of the Thai Lunar Calendar, which is in November, but the exact dates vary.
Where to celebrate Yi Peng: Yi Peng is celebrated throughout Northern Thailand, but the most famous festivities take place in Chiang Mai. Top places to watch the lantern releases are around the city moat and the Ping River, as well as Wat Chedi Luang and Wat Dan Tao temples.
3) Loy Krathong, the Festival of Light
Loy Krathong is closely tied to Chiang Mai's Yi Peng festival as it occurs on the same night and focuses on the same Buddhist principles of releasing the past and making wishes for the future. However, Loy Krathong is a Thai event celebrated all over the country and people gather by the water after dark to release floating baskets (Krathongs) filled with burning candles.
The three-day event is filled with parades, beauty contests and firework displays. Krathongs are traditionally made from banana tree trunks or lilies and flowers or coins are placed inside to give thanks to the water goddesses for providing rain during the rice harvest season. In Bangkok, there's a river parade of large-scale Krathongs made by government offices and businesses, with a prize for the most creative design.
Read more: we celebrated Loy Krathong in Chiang Mai, along with Yi Peng, in 2016.
When is Loy Krathong? The festival also falls in November, on the 12th month of the Thai Lunar Calendar, with varying dates.
Where to celebrate Loy Krathong: as one of the top Thailand celebrations and holidays, Loy Krathong takes place all over the country. In Bangkok there's a huge opening ceremony on the Chao Phraya River and the historic town of Sukhothai is also renowned for its festivities.
4) The Full Moon Party
The monthly Full Moon Party is one the most famous Thai celebrations. Think neon body paint, music and an all-night party under the stars on the iconic island of Koh Phangan. According to stories, the tradition began in the 80s, when a group of backpackers held a birthday party for their friend on full moon night, then kept coming back each month. Word spread about the parties and today, they're a huge monthly event.
While we've visited Koh Phangan several times, we always ended up in quieter spots and have missed the Full Moon Party, but we know plenty of people who've visited and had a great time. If you're planning to attend, be sure to book accommodation in advance, as the island fills up quickly.
When is the Full Moon Party? Every month on the night of the full moon. There are also half and quarter moon parties.
Where to celebrate the Full Moon Party: the party is held on Haad Rin beach on the island of Koh Phangan.
5) Phi Ta Khon, the Ghost Festival
During the ghost festival the quiet farming village of Dan Sai is transformed by colourful, masked spirits who dance and parade through the streets. The three-day Thai festival is a re-enactment of a Buddhist story and a celebration of animist reincarnation beliefs. In this tale, after a long exile, Lord Buddha returned to his kingdom to such a joyous homecoming that it woke the dead, who joined the celebrations. 
We'd love to attend this lesser-known Thai festival, where villagers dress in patchwork costumes and long-nosed masks and parade through the streets with bells around their waists to announce the presence of spirits. On the second day rockets filled with good luck tokens are fired to pray for rain and there's traditional dancing, on the third day people gather to listen to monks recite 13 sermons about Lord Buddha.
When is Phi Ta Khon? The dates for Phi Ta Khon change every year but fall in either June or July.
Where to celebrate Phi Ta Khon: Phi Ta Khon takes place in Dan Sai, a farming village in the Loei province of Thailand. Many visitors stay in nearby Loei city because the village itself gets flooded with festival-goers.
What's your favourite Thai celebration or festival?