12 Aug

Top activities in Cape Town South Africa

Elephants, coastal drives, epic forest walks and safaris: our trip to South Africa was a real beauty. The three-week adventure began and ended in Cape Town, a city that fast became one of our favourite metropolises. Here are some of our top activities in Cape Town South Africa, from climbing Lion's Head for iconic views of Table Mountain to visiting botanical gardens and sailing over to infamous Robben Island.
After a torturous 24-hour journey from the UK, we arrived in Cape Town, picked up our super-cheap rental car (cost post to come) and headed to our Airbnb apartment, which boasted views of Lion's Head. I was immediately struck by Cape Town's beauty – the flat bulk of Table Mountain loomed over a city basin that sprawled out to meet the turbulent coastline. With three days to go before our Garden Route road trip, we headed out to explore the city.

Activities in Cape Town South Africa, top picks
Unfortunately, one of the top attractions in Cape Town, the Table Mountain cable car, was closed for maintenance during our winter visit in July. If you're wondering what the weather was like in South Africa in winter, we enjoyed plenty of sunshine with temperatures ranging from 10 to 30 degrees and just two days of heavy rainfall. Overall, we found the off-season's cheaper prices and quieter vibe made up for the colder weather and there were still plenty of things to do in Cape Town, here are our top picks.

Hiking Lion's Head
Looking for panoramic views over Cape Town? While many people opt to ride the cable car or trek up Table Mountain, I'd recommend hiking to Lion's Head instead. This rocky peak lies to the east of its famous sister and is nearly 2,200 feet high. It takes around three hours, round-trip, to hike this beast and the main advantage is that you actually get to see Table Mountain from the top.



We waited for a sunny day to head up the rocky, circular path, which was busy with other hikers. It was slow going because we stopped to take so many pictures of the city spread below us, with views stretching out to the sea and across the Twelve Apostles mountain range.
While the trek wasn't too tough, it did have some steep drops, loose rocky paths and ladders, grapple hooks and chains to cling to. The path divides higher up and you can choose to climb a short, but hairy, set of ladders and hooks or follow the longer Spiral Route on safer ground, which is what we did. Look out for rock-hopper birds and gopher-like dassies as you climb.
Practical info for hiking Lion's Head: it's free to hike Lion's Head and you don't need a permit. You can take an Uber to the trailhead or park at the lot, which lies on the road to Signal Hill at the turn-off from Kloof Nek Road. Pick a clear day, wear sturdy shoes and take water and snacks.
Kirstenbosch Botanical Gardens
Botanical Gardens don't usually thrill me, so I was surprised by how much I enjoyed our afternoon at Kirstenbosch. Nestled at the foot of Table Mountain, the gardens cover over 500 hectares and are filled with a diverse range of indigenous flora and fauna. Sun birds, Egyptian geese, terrapins and a host of other wildlife call this UNESCO treasure home and its 36 hectares of manicured lawns and cultivated gardens are filled with pretty flowers.
The views were reminiscent of Jurassic Park, with rock faces towering over green forests. You can spend hours wandering the various areas, which include a sculpture, fragrance and medicine garden. Follow the Centenary Tree Canopy Walkway above the Arboretum, have a picnic and explore the conservatory to see plants from across Africa.
We enjoyed walking a couple of the trails at Kirstenbosch Botanical Gardens, which lead through woodlands to a waterfall. The easy Stinkwood and Yellowtree trails were perfect for a short walk but if you have more time, try some of the longer tails like the Silvertree or the Nursery Ravine, which takes you up to Table Mountain.
Practical info for visiting the Kirstenbosch Botanical Gardens: the gardens lie 13km from the centre of Cape Town and are well signposted. The City Sightseeing Hop on Hop off bus stops there, as do Golden Arrow buses. Entrance fees for Kirstenbosch are R70 for adults and free for children up to six years old. Opening times are 8am – 7pm in summer and 8am – 6pm in winter.

Robben Island Tour
Take a trip to Robben Island to experience a slice of South African history and learn about apartheid. This UNESCO-listed island is home to a former prison where Nelson Mandela was incarcerated for 18 of his 27-year sentence, along with countless other political prisoners. It took 45 minutes to sail over to the infamous island and we were accompanied by South African primary school children in bright yellow uniforms.
All visits to Robben Island must be booked in advance through the official tour agency and once you arrive, you're put on a bus with a guide who takes you around the island. We stopped at the quarry where prisoners were forced to cut rocks every day, a pile of them now act as a memorial and is featured on the 100R bank note. I was amazed by the island's beauty, which was so at odds with its disturbing history, lush with greenery and home to penguins and tortoises.
Our bus driver was a student during the 70s college protests and gave us an account of the prison's history and life under apartheid. In particular, he highlighted the story of Robert Sobukwe, the president of the Pan African Congress party. He organised a mass protest on the 21st March 1960, encouraging black citizens to leave the ID cards they were forced to carry at home and present themselves at police stations. Sobukwe was arrested for sedition and served much of his nine-year sentence in solitary confinement on Robben Island. It was incredible to me that we'd never heard of this powerful figure in the liberation movement.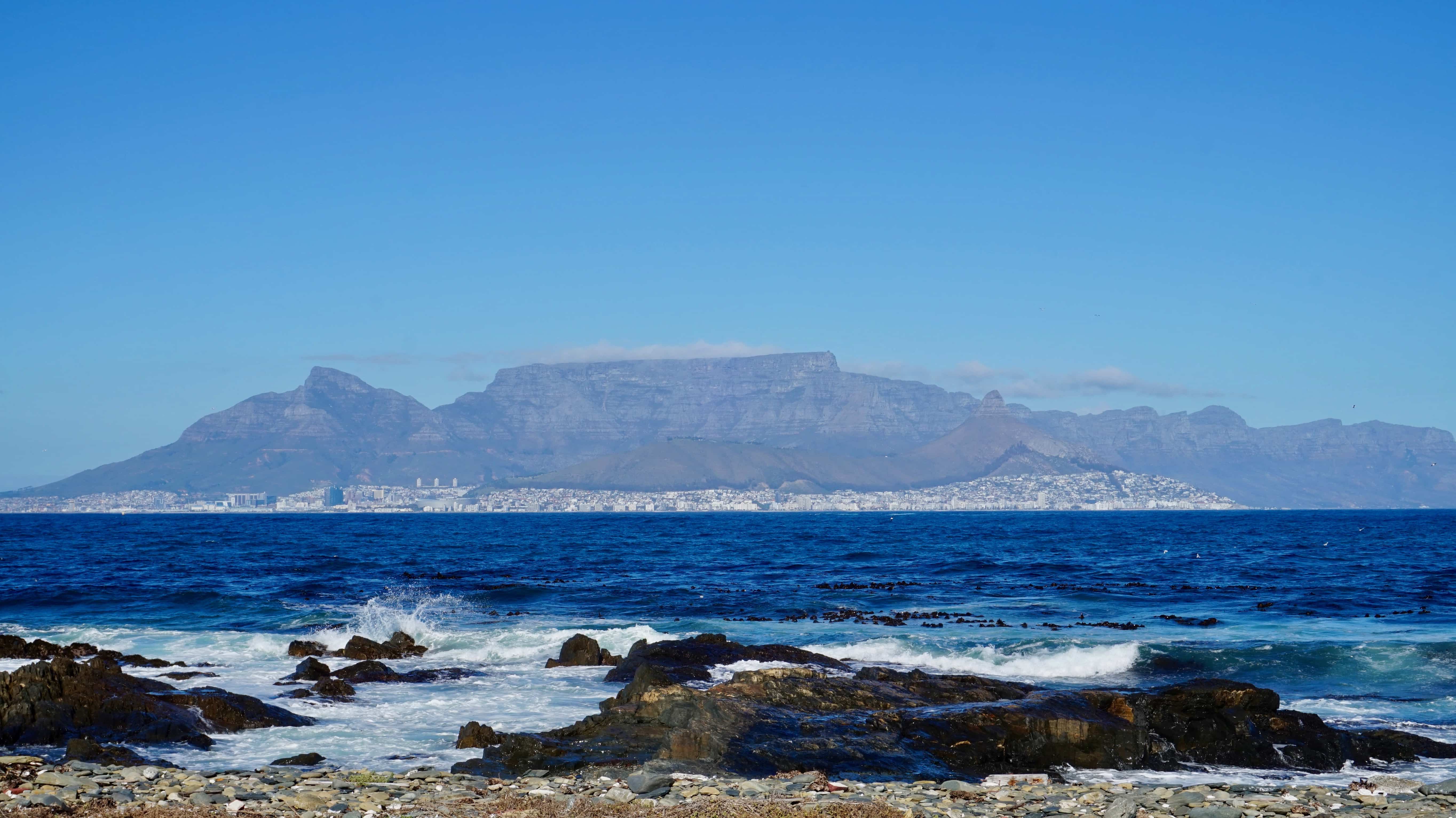 After stopping off at a viewpoint of Cape Town, we finally arrived at the maximum-security prison. We were shown around by a guide, Jama, who served five years at Robben Island in the 70s and 80s for organising a political protest at his college. Life in the prison was tough, with communal cells and bare mats on the floor. In the yard, we saw Mandela's garden where he hid part of his manuscript for The Long Walk to Freedom. The tour ended with a view of the tiny cell where he lived for all those years. 
Practical information for visiting Robben Island: it's essential to book your tour well in advance, as tickets sell out quickly. You can book them from the official website, tickets cost R550 for non-South African adults and R300 for children. Tours take around four hours and you'll depart and arrive from the Robben Island Museum on the V&A waterfront. There are ferries at 9am, 11am and 1pm, as well as 3pm in peak season.
Hop on Hop off bus tour Cape Town
Although we had a rental car, we'd been warned about safety in Cape Town and car break-ins, as well as a scam where your hub caps are removed and sold back to you by a local who 'just happened' to see them fall off. In reality, we felt pretty safe during our entire South Africa trip but we were careful to use secure car parks and stayed at a gated apartment in Cape Town. If you don't want to drive in the city, the red hop on hop off buses are a great way to explore.
To get our bearings when we first arrived, we bought a day ticket for the City Sightseeing Cape Town tour bus online, which cost just R200 per person. There are two loops, red and blue, which stop at the main tourist sites in Cape Town, including the cable car, Green Point and the V&A waterfront, offering commentary along the way.
The red loop takes you through downtown and along the winding coastal road, we hopped off at Camps Bay, an up-market beach area and the V&A waterfront. We found the longer blue loop to be just as beautiful, which takes you further out of the city through leafy terrain in Table Mountain National Park to the botanical gardens, World of Birds and Hout Bay, a peaceful cove surrounded by mountains.
Practical info for the City Sightseeing bus Cape Town: book online in advance to get the cheapest tickets, there are various combinations available. We booked the classic one-day ticket that cost R200 per person. 
The District Six Museum
The District Six Museum tells the stirring story of 60,000 people who were forced to move from the area during the apartheid regime to make way for a 'whites only' area. Originally home to a vibrant, multiracial community of people from all over the world, the district was designated a slum and people were relocated to far-flung areas of Cape Town. The community was torn apart and some older people died from shock.
The excellent, sobering museum is set in a former Methodist Mission Church and has recreations of what cramped houses were like in District Six, as well as photographs and personal accounts of living in the area and the forced removals. We also learned about the life under apartheid, the Pass Laws, protests against the regime and the current restitution work for former District Six residents.
Practical info for visiting the District Six Museum: you can find the District Six Museum at 25A Albertus St & Buitenkant Street. Opening hours are 9am – 4pm Monday to Saturday and the entrance fee is R45 for a self-guided visit or R60 for a tour with an ex-resident. Guided site walks are also available and cost R110, including museum entrance, find more info on the official District Six Museum website.
Chapman's Peak Drive and Boulders Beach
A trip to Boulders Beach to see African penguins is often listed as one of the top activities in Cape Town. We made the one-hour drive to Simon's Town in the mid-afternoon, not realising we were about to embark on one of Cape Town's most scenic drives: Chapman's Peak. You'll need to pay a R50 toll to drive this 9km route, which has 114 turns and rides high above the Atlantic Coast. We stopped at numerous turnouts for panoramic views over the sea and snaking coastline.
We spent so long admiring the view that it was 6pm by the time we arrived at Boulder's Beach and the entrance was closed. However, this saved us paying the hefty R152 entrance fee to set foot on this tiny cove, which is home to a colony of penguins. Instead, we were able to see the cute creatures bedding into their nests for the night from the wooden walkway and spot a couple hopping around on the rocks.
Top tip: if you're taking a road trip along the Garden Route from Cape Town, stop at Stony Point at Betty's Bay instead, where there's a lesser-visited colony of penguins and it costs just R25 per person to visit.
Signal Hill viewpoint
If you don't want to climb Lion's Head or ride the cable car up Table Mountain, take a drive up to neighbouring Signal Hill. The road provides epic views over the city and was once used to communicate weather warnings to ships. Today, the noon cannon is still fired every day. From the main Signal Hill viewpoint, you can watch Paragliders launch themselves off the cliff or even have a go yourself. This is one of the most popular adventure activities in Cape Town.
The V&A Waterfront
The Victoria and Alfred Waterfront is Cape Town's top tourist destination. A working harbour with views of Table Mountain and Robben Island, the V&A is also a massive entertainment centre. You'll find bars, buskers, waterside restaurants, a mall and dozens of fancy shops and market stalls where you can buy pricey souvenirs.
We loved the atmosphere at the V&A and in contrast to the gritty downtown, the area has a relaxed, safe feel. Take a look at the Victorian Clock Tower, ride the Cape Wheel, visit the South African Maritime Museum or take a sunset harbour boat trip. Jetty 1 on Quay 5 is also the spot where boats to Robben Island depart and arrive.
Kind Kitchen  Cape Town
Whether your vegan or not, I'd recommend taking a trip to Kind Kitchen while you're visiting Cape Town. This trendy restaurant in Woodstock has an incredible menu of plant-based delights, we loved the Philly Cheese steak sandwich made with seitan, cheesy chips and French Toast, as well as freshly-baked croissants. It's a bit pricey, but well-worth a splurge.
Practical info for visiting Kind Kitchen: you can find Kind Kitchen at 252 Albert Road, Woodstock Brewery. It's open Tuesday to Saturday 10am – 3pm and Tuesday to Friday 5pm – 8pm, you can view the amazing menu online.
Next up, our incredible road trip along South Africa's Garden Route!