07 Mar

What's the cost of living in Portugal?

Thinking of moving to sunny Portugal? We spent nine months down in the Algarve, tracking our living costs along the way. From rental prices to bills, food and transport, here's a detailed breakdown of the cost of living in Portugal.
Our life in Portugal
Before we jump in, here's a bit of background info about our Portugal journey. In summer 2019, Andrew accepted a year's teaching contract at an international school in the Algarve. After years of nomadic life and following a hectic year of travel in the Americas, we were keen to set up camp somewhere sunny, where I could comfortably work from home and we could begin replenishing our depleted bank account. To give you an idea of our income, teaching wages aren't very high in Portugal and Andrew was earning €1,550 (£1,350) a month, while my freelance income at the time fluctuated between £1,000 to £1,800 per month.
Our plan was to build up some savings and figure out whether Portugal was the right place to build a long-term European base. We'd travelled the country a couple of years earlier and fallen in love with city life in Porto but we had no idea what living in the Algarve would be like. Turns out, it wasn't for us and we decided to move on once Andrew's contract came to an end but it was still a great experience. If you're thinking of making the move, I hope you'll find this breakdown of our living expenses in Portugal useful.
Accommodation costs in Portugal
Southern Portugal is generally the most expensive part of the country and Algarve rentals can be particularly pricey, especially in peak summer season. There are numerous rental agencies in the area, which Andrew's school put us in touch with. After considering expensive options in Loule and and Almancil, we ended up choosing an apartment in Vale do Lobo, one of the swankiest resorts in the Algarve that was just a five-minute drive from Andrew's school in Quarteira.
The two-bed holiday apartment (read more about our Algarve apartment in this post) was set in tropical gardens with a large pool and downstairs gym, just a 10-minute walk from Vale do Lobo beach, which I think is one of the nicest in the Algarve. In July and August, these apartments rent for €1,500 a week but since we were renting in the off-season on a nine-month contract, we paid €850 a month, as well as a month's deposit.
When the sun shone, we really liked living here and made use of the pool, terrace and proximity to the beach. However, when winter hit, the apartment became a real icebox. I also really struggled with the remote location, as well as construction noise and footfall from upstairs apartments – even if we'd stayed in Portugal another year, we definitely would have moved elsewhere.
One thing to factor into your Algarve cost of living is bills. We found electricity was pretty expensive, especially if you use the air conditioning a lot. Since there was no heating in our apartment, we had to buy a gas heater to get through the winter and numerous replacement bottles, which cost about £25 each. All in all, our accommodation and bills cost more than we'd expected them to, here's a breakdown.
Expense

 

Monthly cost £

 

Monthly cost €

 

Rent

 

£730

 

€850

 

Water

 

£52.50

 

€61.50

 

Electricity

 

£52.50

 

€61.50

 

TV/Internet

 

£25

 

€29.30

 

Gas heating*

£32

€37

Total

 

£892

€1,039.30

 
*As is typical in Portugal, our apartment had no central heating so we had to buy a gas heater which cost £70, which I haven't included in the table above. The £32 listed is roughly the price of a month's worth of gas in the cold months (December to March).
Portugal food prices
Our monthly food prices in Portugal were pretty low, probably around £100 cheaper than our current monthly food costs in the UK. Since we're vegan, we tend to spend less on food than meat-eaters do and our weekly shop at Lidl was typically around £30. Other popular supermarkets in the country include Aldi and Pingo Doce. There isn't a vast range of processed vegan products in Portugal, so we ate a pretty clean diet of whole foods, fruit and vegetables. However, we did splurge on vegan treats at Apolonia, a supermarket in the Algarve that sells expensive imported vegan goods. We used to spend up to £4 on a pack on Linda McCartney sausages, which cost £1-2 in the UK!
If you avoid the tourist restaurants, eating out in Portugal can be much cheaper than the UK. Although Algarve prices are inflated compared to elsewhere in the country, we still found a handful of cheap vegan eateries to enjoy. Our favourite places were Vegan Joe's in Loule, where two mains, drinks and starters cost between £15 and £20 and Mel e Limao in Faro which cost £15 for two mains and drinks. In one of our favourite Algarve destinations, Lagos, we enjoyed Acai bowls, avocado toast and drinks at Little Breakfast for just £21 and Mexican food at Beats and Burritos for a similar price.
Expense

 

Monthly cost £

 

Monthly cost €

 

Groceries

 

£165

 

€193

 

Eating out

 

£45

 

€52.70

 

Toiletries and household products

 

£10

 

€11.70

 

Total

 

£220

 

€257.40
Portugal transport costs
While Lisbon and Porto have good public transport systems, elsewhere in Portugal, the easiest way to get around is by car. We drove our car over from the UK to the Algarve (which cost £250 in fuel and tolls) and had to get Portuguese car insurance while we were there. Our policy was through Abbeygate and cost £21 a month. Andrew used the car to get to and from school each day and we'd use it at the weekends to run errands or sightsee. Generally, fuel is expensive in Portugal, between €1.55 and €1.65 per litre. So, driving up from the Algarve to Coimbra and back on a getaway cost roughly £125 in fuel and driving up to Porto and along the Douro Valley cost £175.
On the other hand, parking is cheap in Portugal. We used a multistory carpark in Lagos for less than £2 for about 6 hours, while Porto cost slightly more at around £8 for the day. Beware that tolls in Portugal can add up, we avoided them while driving in the Algarve but spent £25 – £35 each way in tolls while travelling up to Lisbon, Coimbra and Porto. It is possible to avoid tolls completely but this can add hours to your trip. Avoiding tolls from the Algarve up to Porto for instance would add an extra 3.5 hours onto your journey!
We didn't use much public transport in Portugal, the cities are generally small enough to walk around and in the rural areas there's not much in the way of buses or trains. We sometimes used Uber to get to Faro Airport and back from our apartment, this cost around £20 each way. Working from home, I was able to walk to the shop and down to the beach every day.
Expense

 

Monthly cost £

 

Monthly cost €

 

Fuel

 

£51.25

 

€60

 

Car insurance

 

£21.30

 

€25

 

Total

 

£72.55

 

€85

 
Entertainment costs in Portugal
We didn't spend a huge amount of money on entertainment while we were living in Portugal, unless we were going away for a weekend or during a school holiday. We'd often go to the local cinema which cost about £12 for two of us, while attractions like visiting Sagres cost as little as £2.60 each. Our most expensive activity in the Algarve was a £50 (for two people) Benagil Cave boat trip. Attractions such as the Bussaco Forest near Coimbra cost just £4.30 each while an hour-long cruise along the Douro Valley cost £8.60 each. Here's a breakdown of a four-day trip to Porto and the Douro Valley as an example of how much travel in Portugal can cost: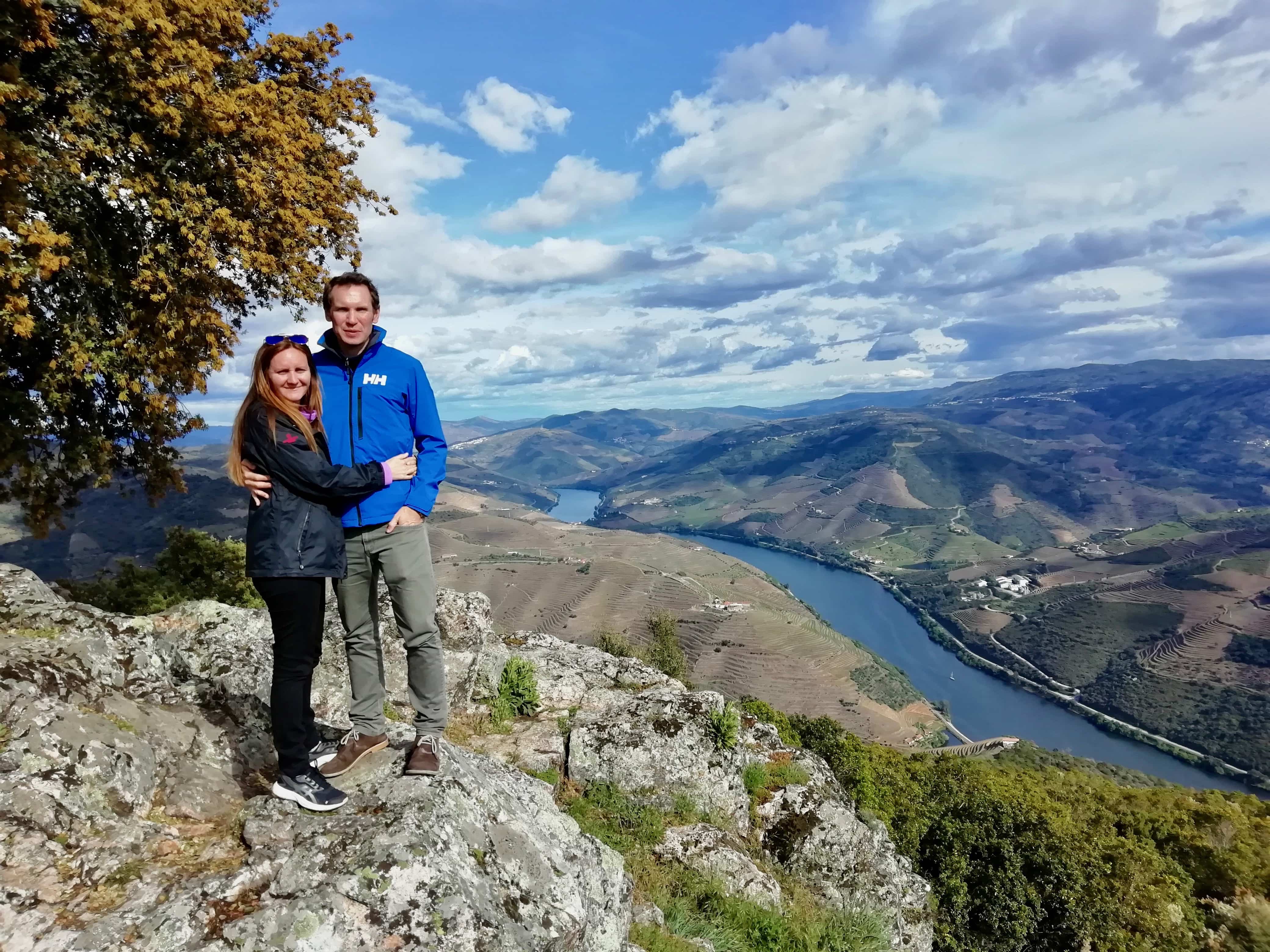 Expense

 

Cost in £

 

Cost in €

 

Airbnb in Porto for two nights

 

£70

 

€82

 

Hotel in Peso da Regua

 

£87

 

€102

 

Fuel

 

£175

 

€205

 

Tolls

 

£73.60

 

€86

 

Parking in Porto

 

£8

 

€9.40

 

Food

 

£120

 

€140.50

 

Entertainment

 

£17.20

 

€20.10

 

Total

 

£550.80

 

€645

 
Cost of living in Portugal: miscellaneous expenses
We lived a pretty quiet life in Portugal and didn't have many miscellaneous costs besides our monthly laundry bill. Annoyingly, there wasn't a washer at our apartment complex so we had to make regular trips to the laundrette, which cost £20 – £25 a month based on doing one or two loads a week and using the dryers in winter.
Whenever we needed clothes we had easy access to typical shops in a huge, newly built mall, Mar Shopping about 15 minutes away from us. It had stores such as H&M, Primark, The Body Shop, Ikea and Zara. There was even a Sports Direct a few miles away but prices didn't differ much from the UK.
Our average cost of living in Portugal
So, here's a total of how much it cost to live in Portugal while we were there in 2018/19. This doesn't include the extra trips we took around the country during the school holidays or the cost of several trips we made back to the UK for Christmas and a wedding. Spending roughly £1,250 a month, I think we managed to live a pretty frugal life in what can be a pretty expensive destination. In my opinion though, our accommodation was overpriced considering how cold and noisy it could be and I think we could have found cheaper options and lived for even less had we moved to central or northern Portugal.
Expense

 

Monthly cost £

 

Monthly cost €

 

Accommodation and bills

 

£892

 

€1,039.30

 

Food and household goods

 

£220

 

€257.40

 

Transport

 

£72.55

 

€85

 

Entertainment

 

£20

 

€23.40

 

Miscellaneous

 

£45

 

€52.70

 

Total

 

£1,249.55

 

€1,457.80

 
What do you think of our Portugal living costs? If you're moving to the Algarve and have any questions about our experience, leave a comment below.