02 Mar

Our 10-year Travelversary

On the 3rd of March 2013, we left the UK on a one-way ticket to New Zealand, clutching brand-new carry-on size backpacks and little else besides a modest savings account and a desire to break free from London life and see the world. We thought we'd be gone for two years but somehow, a decade later, we've managed to carve a nomadic life for ourselves. Sat here writing this, on a terrace above Lake Atitlán while a hummingbird flits among hanging flowers, I still can't believe this is our life. How on earth did we get here?
Escaping into a life of travel
I wish I could have bottled that first taste of travel, that feeling of intense freedom, the tidal wave of new places and experiences that we enjoyed during our first bout of travel. We were such novices, zipping around New Zealand, cramming adventure into every moment (and blowing our budget) on skydives and heli-hikes, visits to glowworm caves and volcanic treks. Every day the landscapes got more stupefying – a parade of white-sand beaches, glittering glaciers and mountains topped with emerald lakes. It was magic, no days spent stifled in an office, no morning commute through constant UK drizzle – we'd escaped.
The months flew by and we continued at breakneck speed through Australia and Asia, gobbling up destinations and experiences along the way. One day we'd be camping in the Borneo rainforest or hiking rice terraces in the Philippines, the next island-hopping in Indonesia or trawling night markets in Thailand. We whizzed from one bucket-list destination to the next: The Great Barrier Reef, Angkor Wat, Bali and Halong Bay. We gorged on sparkling temples and tangled jungles, motorbike-choked cities and powdery beaches. I blogged and journaled in wonderment about it all.
My memories and blog posts from that time are filled with movement; long rickety bus journeys and overnight sleeper trains, bumpy tuk-tuks, crowded jeepneys and tumultuous boat trips. There were noisy hostels and bug-riddled beach bungalows, bouts of food poisoning, rip-offs and arguments, budget (and bus) breakdowns, encounters with thieving macaques and many sleepless, mosquito-filled nights. But on the flip side, there were passion-fruit shakes and waterfalls, neon sunsets, five-dollar massages and banana pancakes – so many banana pancakes. Travel presented the highs and lows of any lifestyle, only magnified and intensified by a thousand.
Creating a nomadic lifestyle
So much has changed since those simple backpacking days – the world is a different place. When we left in 2013, the word Brexit hadn't been invented, there had been no Trump presidency or war in Ukraine. Who could have imagined back then that a global pandemic would shut down the entire travel industry and close country borders? What a decade to live through.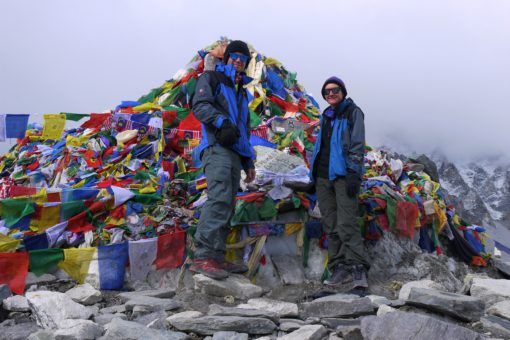 Throughout it all and despite being grounded in 2020, travel has remained the constant thread in our lives. We may have evolved from those budget backpacking days and I might not blog at the same pace (and my god how the blogging sphere has changed since 2013), but our passion for exploring hasn't dwindled. It's been a bumper decade of globe-trotting across six continents. We've hiked to Everest Base Camp, gone on safari in South Africa and sailed down the Amazon; visited Bolivian salt flats and Californian beaches, European Christmas markets and Sri Lankan tea plantations. The more we travel, the more we realise there is to still see in the world.
Making long-term travel sustainable though has been a 10-year process of trial and error, of TEFL teaching in Vietnam, housesitting, building my freelance travel writing business and finding ways to make money with nothing but a laptop and a wifi connection. Andrew has taught online, in the Algarve and at a London school during the height of the pandemic. I'm amazed every day that we can make a remote living, from anywhere in the world. People actually pay me to write about travel and I've even had work published in The Telegraph – a career highlight and something I never could have imagined when I quit my office job in London ten years ago.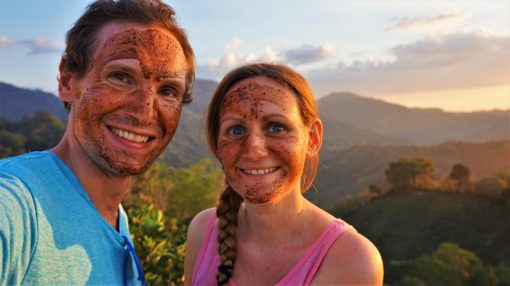 Looking to the future
Over the last decade, while our family and friends have been busy buying houses, having kids and changing jobs, we've been carving our own messy, unconventional path, all in a quest to build the life we want to live. Along the way, we've done things I never dreamed we would: bought a Tiny House, gone vegan, got hitched in Thailand and moved into an RV to explore North America. It hasn't all been smooth sailing and our ideas and plans change constantly – like everyone else, we're a work in progress. However, I've learned that when you put yourself out there and dare to live out your weirdest dreams, life delivers in the most surprising ways.
So, what's next? The true answer is we have no idea what the next decade will bring. We're still no closer to figuring out where we belong in the world but we know it's together. Right now, we're focusing on the present, on this wild road trip in our RV across the USA and Canada. One thing I know for sure is that we'll never be done with travel.