16 Jun

Places in Australia we'd Love to Visit

I can hardly believe that it's been almost a year since we set off on our travel adventure. The memory of getting on that one-way flight to New Zealand last March with a new, uncertain life of indefinite travel ahead of us is still so vivid to me.  When we first set out I thought that we'd be able to explore the main sites of each country within a few weeks or a month, tick that country off our list of places to go and move on. I was completely wrong; instead we've left almost every single country we've visited wanting to come back and see more of it in the future.

Australia is one of the countries we can't wait to re-visit again one day. During the five weeks we spent backpacking in Australia last year we finally grasped just how big the country was; although we tried to see as much as possible, we barely scratched the surface of this incredible place.
Best Places we've visited in Australia so far
We crammed a lot into our whirlwind tour of Australia; a visit to Melbourne followed by a week with Andrew's relatives in Sydney and a three-week road trip down the East-Coast from Port Douglas to Byron Bay. Along the way we saw incredible Australian animals and got to hold a koala, we snorkelled on the Great Barrier Reef and sailed the Whitsundays, we drove the Great Ocean Road, lounged on beaches and visited the Neighbours set. It was incredible. Here are the best places to visit in Australia based on what we've seen so far:
Melbourne
We instantly fell in love with Melbourne and started to daydream about moving there one day. I love big, bustling cities full of people and life and this one had a quirky, almost European feel to it; it reminded me of London, my favourite city of all-time, with its picturesque south bank, excellent museums and lively restaurants and bars. While in Melbourne we got to fulfil one of our long-time ambitions and take a tour out to the Neighbours set, we met Karl Kennedy and had a hilarious time at the trivia night.
Hervey Bay
This was our favourite stop along the East Coast. We found many of the other coastal destinations were overrun with tourists (particularly the young, drunken British variety) so we loved the fact that Hervey Bay was quieter and less touristy. We enjoyed walking along the wide sandy beach watching locals fishing off the pier, having barbeques and walking their dogs. I also had one of my favourite afternoons in Australia cycling around the bay from the harbour down along the esplanade as the sun set over the sea in the distance – magical.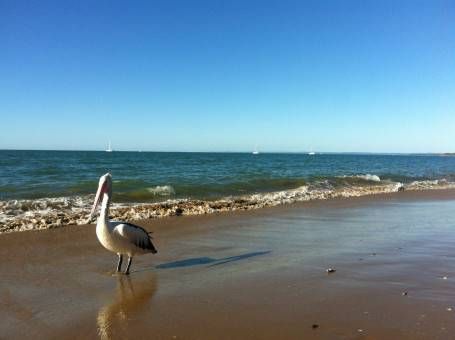 Sydney
Although we didn't fall as hard for Sydney as we did for Melbourne, we still enjoyed visiting this iconic city. We had the pleasure of staying with Andrew's relatives who were kind enough to drive us over to the stunning Blue Mountains and lend us a car so we could feed some kangaroos and get up close to koalas at Featherdale Wildlife Park. Of course we also had fun taking in the city sights; strolling around the famous harbour and watching the sun set over the mighty Opera House. We also had time to get a ferry out to Manly Beach where we ate delicious ice cream and spent the afternoon watching people learn to surf.
Top Places in Australia we'd Love to Visit
There are so many other places to visit in Australia and we can't help dreaming of returning to Oz; here are the places we long to explore when we do get back to the land down under:
Adelaide – I have some family living here and have heard that it's a beautiful city with a unique feel and tons of museums and parks to visit. I'd love to feed my city addiction by spending a few days in Adelaide.
Alice Springs – visiting one of the top Australia attractions, Ayres Rock, is a bucket-list experience we never got around to fulfilling while we were in Australia. We'd like to rent a van and drive through the real outback across the country to Alice Springs, explore Ayres Rock and experience a taste of aboriginal life too.
Perth – Australia is so huge that we never got around to seeing any of the west coast so we'd definitely head over to Perth to see how it compares to the more touristy east side of the country. After having great experiences in other Australian cities I'm looking forward to seeing what Perth has to offer.
Tasmania – after seeing pictures of Tasmania and reading about its unspoilt beauty I seriously regret not going there when we last visited. I'd definitely make sure we found time to head over to Tasmania to discover the beautiful beaches and national parks as well as chill out in the city of Hobart for a while.
Melbourne and Sydney – we couldn't go back to Australia again without revisiting Andrew's awesome relatives in Sydney and going back to our favourite Australian city: Melbourne – who knows, we might never leave second-time around!