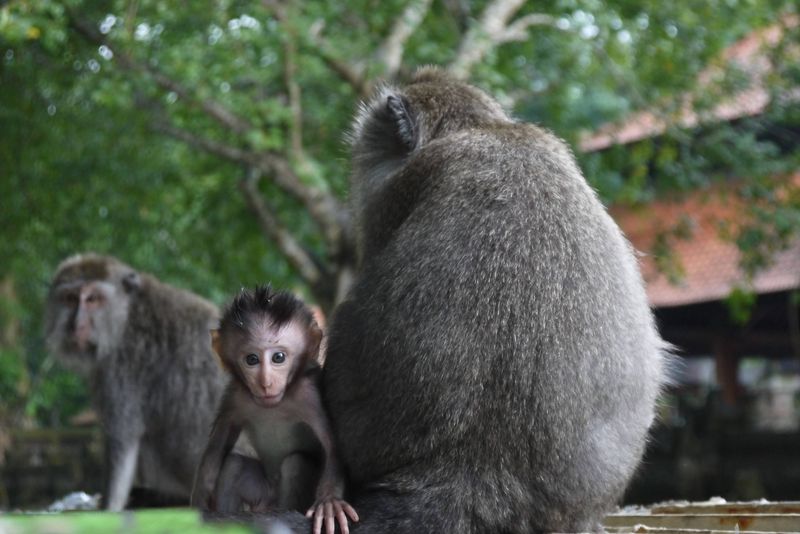 03 Jul

Terror in the Monkey Forest

I'm a great fan of monkeys and apes. Back home my mum and I often visit Monkey World, an ape rescue centre in Dorset; when we went on safari in Kenya my favourite animal wasn't one of the impressive big five, it was the gangster of the animal world – the baboon. So, I was pretty excited at the prospect of getting up close to some Macaques at the Monkey Forest in Ubud – that was, until they started attacking us.
The Perils of the Monkey Forest
If you've never heard of the Bali Monkey Forest, here's the lowdown. The forest forms a sanctuary for the monkeys, who are considered sacred and well protected; there's even a temple inside the forest where people go to worship. Somewhere along the line the forest also became a tourist attraction. Visitors can stroll through it and see the monkeys up close, watch them play and eat, there's even a woman outside the entrance selling bananas to feed them. Sounds like fun, right?
Before we even arrived we started hearing horror stories about the Monkey Forest; animals stealing cameras and wallets, chasing people and worse still, biting. A word about Macaques and monkeys in general – they might look cute but even the small ones are incredibly strong and have very big incisors. A bite can be extremely painful at the best of times, but in Bali there's another hazard to consider – rabies.
The disease is quite widespread in Bali, we were warned by a doctor in Jakarta not to touch any animals on the island and to make sure we had our pre-rabies vaccines before we visited. Rabies can spend up to two years incubating in an animal before any symptoms appear and a bite from a rabid animal can be deadly if you're infected and don't receive treatment fast.
Since we'd already had our rabies vaccinations, however, we weren't too worried. We'd be sensible and only take a camera with us so as not to attract the monkeys, we were prepared – it couldn't be that bad, could it?
Pin Me!
The Attack
Approaching the entrance to the forest we saw, with delight, the first monkeys swarming around the gate, playing, eating fruit and climbing around. As we ventured further in we stopped to watch the cute baby monkeys and some older, greedier ones snatching the best fruit dropped by the tourists. One man carrying a bag of fruit was pursued by a large monkey, who stood up on his hind legs snatching at the bag until its contents were empty.
We'd been there barely ten minutes before the rain started. It rained every day in Ubud, not just a light drizzle but furious, fat drops of rain which fell thick and fast, pelting and soaking you to the skin, causing the pavements to turn into rivers. We knew enough to just wait it out under shelter for the storm to pass.
When we emerged we stopped to watch a small monkey playing in a puddle, spellbound by its cuteness. Then, abruptly the monkey turned on Andrew, leaping gracefully onto his shoulder, nipping around his neck and working his way down to his waist. With seasoned ease, he promptly shoved his skinny, thieving hand deep into Andrew's pocket, rummaging around for treasures. Horrorstruck, I watched as the monkey turned his attention to our camera case which, although firmly closed, was soon unzipped by the little pickpocket, who grabbed a lens cap and hopped down. I was relieved that he'd finally gotten off Andrew without biting or scratching him and with the help of another tourist, we managed to retrieve the lens cap.
More wary now we ventured on. While many of the smaller monkeys and the mothers nursing babies seemed to keep away from people, others were attempting to mug visitors; one  tried unzipping a woman's backpack while she wasn't looking, another made a grab for a man's trouser pockets.  I saw one pretty stupid tourist kneeling down, his arm outstretched, attempting to lure a small monkey onto it for a photo opportunity. He succeeded in getting the monkey onto his arm, but jumped up again in shock when it promptly bit him, breaking the skin.
Andrew and I were both feeling pretty uncomfortable by this point and began heading slowly back towards the exit. In an attempt to keep the monkeys away from us, Andrew tucked the camera under his t-shirt; in hindsight this probably made things worse. The animals knew he was hiding something and began galloping alongside him, grabbing for his pockets, getting up on their back legs and threatening to leap onto him. We walked faster, almost breaking into a run.
"Drop your banana Mister," shouted one Monkey Forest employee.
"We don't have any bananas!" Andrew yelled in response as another monkey joined the chase. I gave in to panic and began to dash ahead, straight for the exit, hearing another tourist call:
"They can smell it on you…"
"I haven't got anything!" Andrew cried angrily as we sped to safety.
Check out the video of our brief visit to the Monkey Forest:
Escaping the Monkey Forest
Yes, we were literally chased out of the Monkey Forest, but at least we escaped unscathed. Our brush with the monkeys didn't stop there, as we walked past the exit later in the day, Andrew was mugged of his chilli popcorn by one sneaky gangster waiting outside the entrance.
Apparently there are an average of three bites a day at the Monkey Forest; I'm sure countless other tourists have their possessions robbed. While you can't exactly blame the monkeys – they're wild animals who've learnt that humans provide a source of food and carry interesting things around in their pockets – a visit can still be a scary experience.
So, a word of warning: if you're heading to the Ubud Monkey Forest, please be careful not to take anything with you. Cover up and wear closed shoes as the animals are likely to jump on you; don't bring food or try to touch the monkeys; respect them for the wild animals they are.